Lucas "Bubzkji" Andersen has been in an unenviable position ever since signing for Astralis. Having signed as part of what was supposed to be a revolutionary six-man roster in July 2020, opportunities have been hard to come by for the 23-year old Dane. Bubzkji's form in 2019 was strong, putting up a 1.12 rating, but he has not come anywhere close to those levels at Astralis. That was until recently, where he initially replaced Nicolai "dev1ce" Reedtz after his move to NIP and then Lukas "gla1ve" Rossander during his paternity leave, appearing in six straight events.

And Bubzkji did everything that could be asked of him in those events, showcasing his precise aim and confident playmaking. But he will not play at the Major he worked so hard to qualify for, a decision that has evoked sympathy and come under scrutiny. gla1ve has not played competitive CS:GO for months; Emil "Magisk" Reif and Peter "dupreeh" Rasmussen's contracts expire in December; Philip "Lucky" Ewald is a rookie. But they were all chosen ahead of Bubzkji.

The optics are clear, whether it has basis in truth or not; Bubzkji is not part of Astralis' plans for the future. Why else would they field what is essentially a dead team in the most important tournament of the last two years? Of course, there is far more nuance to Zonic and Kasper Hvidt's decision than that question suggests. So why did they make that decision? And are they right to?
Bubzkji's Aggression
The number one reason for Bubzkji's benching is his preference to be an entry-fragger. An aggressive rifler, he is confident in his ability to take duels and make risky plays. In isolation, this is not an issue – a good entry fragger is one of the hardest profiles to master in CS:GO. Yet, he is competing with dupreeh, Astralis' best player, and gla1ve, the best in-game leader in the world, to get his favored role. Even after Bubzkji's recent uptick in performances, you would be hard-pressed to find anyone who would take him over dupreeh or gla1ve.

So, if Astralis wanted to take Bubzkji to this major, they would have had to move somebody out of their role. This is a challenge he is up for, saying to HLTV that he "needs to learn harder roles as well" in an effort to "mold into a different type of player". It is also something he has done before, subbing for Xyp9x on Nuke in parts of 2020. This map may have suited Bubzkji more than others in Xyp9x' roles, given that ramp is a position with a lot of head-glitches, highlighting his strong aim; it is hardly B on Mirage.
There were positives from the experiment: Bubzkji was notably harder to push off of the ramp, staying to fight far longer than Xyp9x was inclined to. Teams could not take ramp control safely with a single flash anymore, betting on Xyp9x taking the safe option. It also opened up the option of lobby flanks, such as his 4K in a 2v4 against mousesports in December 2020, where Bubzkji won three consecutive 50-50 gunfights.

However, there is a reason Astralis returned to Xyp9x long-term. On HLTV Confirmed, gla1ve infamously called Bubzkji "a bit too aggressive" in Xyp9x's roles, and this can be seen in the same game against mousesports. In a 4v2 at 3-0, he rushes up vent straight into a player holding squeaky. Later on, he pushes lobby in a 5v3 and again falls without impact. It is unfair to expect Bubzkji to suddenly become passive overnight, but it is similarly unfair to expect Astralis to choose to play him out of position when they have the perfect support player in Xyp9x. Moreover, Xyp9x has renewed his contract with Astralis until 2025 and was their highest performing player at LAN in Cologne, shutting the door on this option for good.
Could Bubzkji replace Magisk?
In a more recent game on Nuke, against Vitality in BLAST Premier Fall Groups last month, Bubzkji took Magisk's roles, with Magisk taking up both gla1ve's in-game leadership and in-game roles. Bubzkji was lurking around squeaky often, with Magisk doing far more entry work than usual. On the CT side, Magisk played as the rotator, a spot that gla1ve has made iconic with his pushes under silo, whilst Bubzkji took Magisk's spot on top of hut.

So, could Bubzkji have replaced Magisk for the major? Magisk has dropped from a 1.10 rating in 2019 to a 0.99 rating in 2021, although in-game leadership and a natural drop off from not winning most matches does contribute to this. Magisk's aggressive lurks suit Bubzkji far better than Xyp9x' support role, and based on that nuke map it worked – Bubzkji went 25 and 13, top-fragging in a server with Mathieu "ZywOo" Herbaut on it.

But, this is just one map; on inferno, Bubzkji was a straight swap for gla1ve, brawling in banana on both sides of the map. And, similarly to dupreeh, it is very difficult to argue Bubzkji would perform better than Magisk in the roles that took him to #5 in HLTV's 2019 rankings, even acknowledging Magisk's contract deadlock.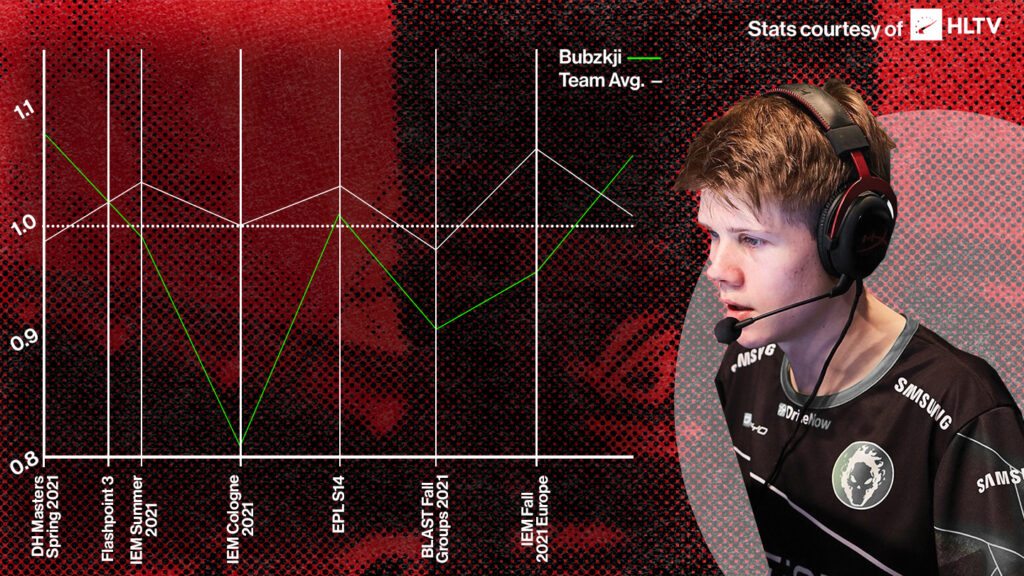 That contractual stalemate does make Bubzkji's 2022 an interesting proposition. If Magisk and dupreeh do not renew their contracts and Kristian "k0nfig" Wienecke (a like for like dupreeh replacement) signs as rumored, we could very well see Bubzkji in Magisk's roles next year in a new look Astralis. But if this is the case, why did Bubzkji not replace Magisk for the Major?

Bubzkji may be less suited, but he should be more motivated than an outgoing Magisk, and picking up experience in a new role would be invaluable for Astralis' next chapter. On the other hand, is the major the place to try out Bubzkji in a completely new role? Replacing Magisk, who has been Astralis' best player alongside Dupreeh recently, adds even more pressure onto the experiment. Astralis are defending three consecutive major titles and even withouta concrete future Magisk should not be short of motivation to defend that.

It is also important to remember that these rumors are unconfirmed – there is a world, however unlikely, where Astralis win PGL Stockholm, causing dupreeh and Magisk to re-sign. Astralis could even sign another player alongside k0nfig, keeping Bubzkji as the 6th man. There is also the matter of Danny "zonic" Sørensen's future, with radio silence since his expected replacement, Nicolai "HUNDEN" Petersen, was banned for two years by ESIC.

Whatever zonic's future, he is still the coach of Astralis — meaning it is largely his decision as to who plays for them at the major. If he is to leave, can you blame him for wanting one more tournament with the core four players that made counter-strike history under his stewardship? It is tough on Bubzkji, but from a short-term sporting perspective, there is no justification for choosing him over gla1ve, dupreeh, Magisk, or Xyp9x.
Here's a pet theory:

What if HUNDEN's ban, means that zonic is retained by Astralis, and that split originally was one of the contractual gripes between Astralis and the 3-man core (Magisk, dupreeh, Xyp9x)?

— Phillip Rasmussen (@PHedemark) October 18, 2021
What about Lucky?
The truly vulnerable spot on Astralis' major roster is that of Lucky. The 18-year old AWPer was far from their first choice, with Jaxon reporting failed approaches for both Asger "farlig" Jensen and Frederik "acoR" Gyldstrand. He is understandably raw, with a 0.96 rating against top 20 teams since his arrival on Astralis reflecting poorly compared to Bubzkji, let alone dev1ce. This makes replacing him with Bubzkji, and restoring the roster that secured top four at IEM Cologne, has to have been considered.

Of course, rating is not everything. AWPing is easier on LAN with reduced peeker's advantage, and Lucky will learn quickly from zonic and gla1ve. At the same time, it is unreasonable to expect him to perform anywhere near the level of an S-tier AWPer. Investing $4,750 into a player most gun rounds has to return dividends, and Lucky has not done that often enough in his first three events in black and red. Bubzkji would be forgiven for feeling aggrieved at being snubbed for such an inexperienced player.
If the motivation to choose Magisk, who is likely to leave in January, over Bubzkji lay in prioritising short-term sporting aspirations to retain the major over the Astralis of 2022, then why could Bubzkji have not replaced Lucky? It would be a mistake to judge an 18-year-old after just three events in a new — and incredibly high pressured – environment. We also cannot see practice, where Lucky might have impressed zonic far more than Bubzkji. But Lucky will need time to achieve his potential, and he will not have that time before the Major. It is not harsh to say it would be a shock if he showed real consistency in Stockholm, whereas Bubzkji finally looked comfortable in an Astralis shirt.

One stumbling block to this move is the return to the AWP for dupreeh. This would be a dream scenario for Bubzkji – he would have the room to "f*ck around and still own people" as he did on Mad Lions. However, would it be worth moving dupreeh out of his comfort zone to make room for Bubzkji? Astralis may not expect Lucky to replace dev1ce overnight but he is still a primary AWPer. With that comes a natural comfort that can only come from wielding the sniper for your entire career. If gla1ve and zonic can convert Lucky's glimpses of talent into a consistent AWPer, while allowing dupreeh his usual freedom, Astralis can become serious dark horses for this major.

Another point to consider is that Astralis has had Bubzkji on their books for more than a year now. To Zonic, gla1ve, and Hvidt, he is somewhat of a known quantity. They have far more information with which to decide to bench him than anyone in the community. It is undoubtedly harsh on Bubzkji to bench him, but it is no coincidence Astralis can now return to the same roles that got them their dynasty in Counter-Strike.
Role Balance
Astralis' perfectly balanced roles were one of the key foundations for their era. Replacing Markus "Kjaerbye" Kjærbye with Magisk freed dupreeh to return to his old roles. Since that move Astralis have picked up an unrivalled level of experience playing with each other, playing off each other's tendencies.Their dynasty was dismantled in — but not by — the online era, but this experience means Astralis are still one of the teams that benefit most from the return to LAN. They are veterans, something that will be even more useful at a major with so many rookies.

Their decision, and this article, may age poorly. Dupreeh and Magisk may lack motivation to step up as Astralis' key players and go on to depart in the new year. But what if Astralis do activate the gear that has been missing in the online era? What if they use their nous, role balance, and incredible knowledge of each other's game within that structure to stage a run deep into the playoffs?

Sacrificing Bubzkji, as they have repeatedly done since his signing, to achieve this balance is rightly controversial, and begs the question of why Astralis signed him in the first place. Bubzkji and Astralis must have known it would be difficult for him to usurp gla1ve or dupreeh, and even more difficult for him to change his entire playstyle. Unless he has been promised a key role in next year's roster, it is hard to imagine Bubzkji renewing with Astralis in eight months time.

Regardless, in isolation, the decision to bench Bubzkji for the PGL Major is the right one. Role balance is a boring answer, but it is what got boring Astralis their boring era. You never know, they might just go on and bore us in Stockholm too. Zonic and Hvidt, rightly or wrongly, have put faith in the old core for one last dance.
And, as harsh as it is on Bubzkji, this core do deserve this chance to go to Stockholm with the structure that secured them three back to back majors. Perhaps for the last time, we will see Dupreeh and gla1ve barrelling into bombsites side by side, Magisk sweeping up multi-kills on defense, Xyp9x converting clutch after clutch, and the familiarity of zonic's roar after every round win all in the same side.

How can you deny them this one, final, lunge at greatness?