ATK is a South African organization, based in Mexico, playing in NA tournaments, and they just picked up two Scandinavian players. Among them was Jonathan 'b0denmaster' Bodenmalmtook, who had been on the Lilmix active roster since early 2020 and had been a part of the organization since 2018. With this being his first time out of Europe, he took no time to make an impact in NA. He put up an incredible stat line in his first game with ATK in the ESL Challenger League. The Swedish AWPer put up 89 kills with only 55 deaths in an intense three map series over Third Impact, which included a 6-14 comeback from ATK to win the final map 28-25. Considering the fact this team was only put together in the last few days, this scoreline is a result of sheer individual skill and experience from b0denmaster and the squad.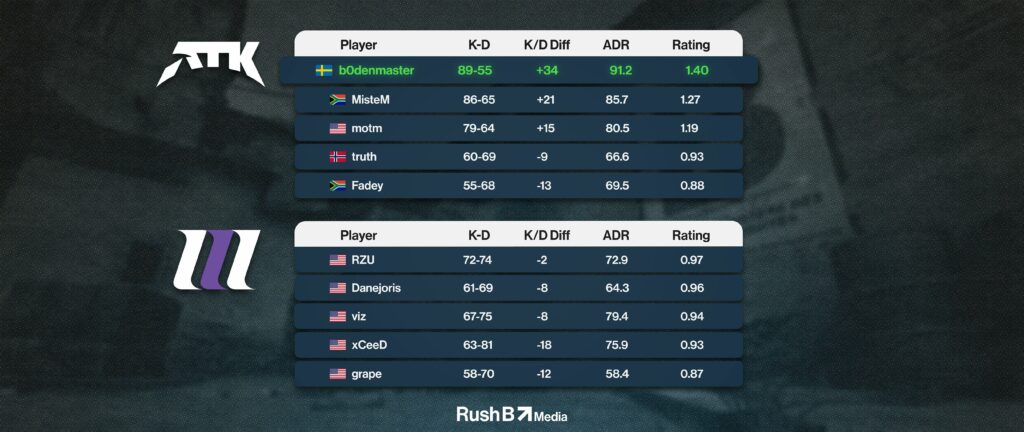 After one of the greatest debuts in Challenger level history, B0denmaster took the time to answer some of my questions.
What made you transition from EU to NA, and with that in mind was there a specific reason you chose ATK?
There was no specific reason for me choosing ATK and moving to NA except that I was looking for a new challenge. When Daniel (ATK'S coach) asked me if I was interested to give it a try, I wasn't doubting for a second. I knew that this would be a good challenge for me.
You were a part of Lilmix for a long time. Was there any reason you have only switched teams now?
Well, we had a great success in Lilmix. But in the end, things started to get a bit bumpy and we had a rough time to get back to the team we were used to be. Changes had to be made and unfortunately I was the one that had to leave the squad. There is no bad blood between me and the players and I'm still working with the organization behind the scenes. 
What has the process of moving to Mexico and meeting your new team been like?
Everything happened really fast. I was signing a contract on a Monday and 15 hours later, I was on a flight to Mexico. It was a long trip obviously and I'm happy to be here with the boys.
What do you think contributed to your fantastic performance in your first game with the team?
Well, we haven't practiced anything yet so we were pretty much playing on our individual basis and experience. I got a lot of room to do my things yesterday which led to this performance.
How has the transition into your new roles been?
The roles for me as an AWPer will pretty much be the same. I'm gonna have to adapt to the playstyle that is being played in NA but I think it will suit me well in terms of the way I'm playing.
What was the atmosphere in the team like after that first game?
The atmosphere in the team is great and it feels like the team have gotten themselves a new start with me and truth. We have a lot of ideas on how to adapt our gameplay and I think we can do some real damage in the future against top teams. 
Can we expect more of the same and what are your goals for this season?
I'm pretty sure we can expect more of me in the future. I'm hungry and motivated to make this trip a success and help ATK to climb in the rankings. I haven't set a proper goal for this season yet, but I assume it would be to qualify for playoffs in ESL Challenger and have a great impact in the server.