Remove the nameplate. Remove all your preconceptions. What if there was an AWPer, with a 1.25 rating in 2021, available for $10,000? What if, in addition, that AWPer was highly marketable, with 73K followers on Twitter and 1700 Twitch subscribers?

This mystery AWPer is, of course, Owen "smooya" Butterfield. Stats are not everything, but his are simply extraordinary. That 1.25 rating this year is the fifth highest of anyone in Counter-Strike. His impact rating keeps pace with his conventional one, with a remarkable 1.26. For context, Florian "syrsoN" Rische has a 1.14 and — against more similar opposition to the Briton — Tomáš "oskar" Šťastný has a 1.16. smooya is an AWPer capable of taking the game to his opposition and winning his all-important opening duels.
Smooya's time at movistar riders
Granted, this individual success has largely been against tier 2 opposition, but you can only beat what is in front of you. Movistar Riders were the most successful part-Iberian team, with wins at ESL Masters Spain and the RTP Arena Cup. Yet, they did come up short against stronger opposition, with a disappointing 11th in ESEA Premier 37, and exits at several closed qualifiers for bigger events.

smooya, however, cannot be held responsible for this. In Sinners' title-winning ESEA Premier Season, oskar's performance drew a lot of praise. But, just as important was his sidekick's performance, Adam "NEOFRAG" Zouhar, who also had a 1.25 rating. Movistar had no such sidekick for smooya, the closest being Alejandro "alex" Masanet's 1.02 rating.

Against elite opposition, this trend continued. smooya dropped a 1.23 rating against Mousesports. Against FURIA the day before, this time in an IEM Summer Closed Qualifier, smooya recorded a 1.56 rating in a 2-0 win for Movistar. The Riders may have built their system around their star AWPer, but this level of parity, even in a small sample size, can only indicate one thing: smooya is too good for this level.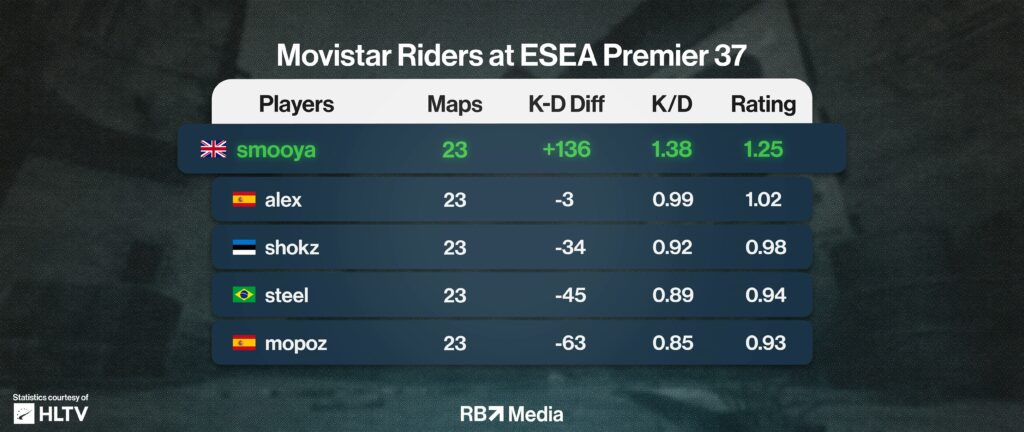 why have no Pro League teams taken a gamble on Smooya?
Now, to address the elephant in the room. Top 20 teams are not stupid; they are all aware of smooya's stats. They are also aware that his infamy precedes him. He has been—although Richard Lewis has now apologized — crowned the 'Rat King' on By The Numbers, banned from FPL, and has participated in several misadvised twitter arguments.

Even once at Movistar, despite visibly maturing during his time on the bench in the summer of 2020, smooya was not immune to controversy. In March 2021, he left an official match before it was over and then had to re-join the server. This was made even more embarrassing when his teammate won the clutch, and his team won the match. Although this was an isolated incident, it does show that his signing is not completely risk-free.
In an earnest interview with Richard Lewis, smooya appeared genuinely remorseful for this. The most revealing story was how, after winning Dust II in the ESL One Cologne final, smooya still had a "tantrum." He refused to talk to his jubilant teammates because he went negative and "cared more about stats than…winning." All present-day smooya had to say about this was that he wanted "to punch that kid."
Lewis, correctly, points out just how young players are, something that is often forgotten in esports. smooya was 19 when he was cut from BIG. When he was having that tantrum backstage at Cologne, he was 18. Counter-Strike professionals have the misfortune of their worst moments playing out in the public eye. All teenagers make mistakes, even ones with an incredible gift for the game.

There are difficult characters in every sport. Oleksandr "s1mple" Kostyliev, arguably the greatest player of all time, was also (rightly) labeled as toxic once upon a time. Even though smooya is not as skilled as s1mple, it is important to remember his story. s1mple has largely overcome those issues with age, at least publicly. There is no reason smooya cannot do the same and take his second chance at the top echelons of CS:GO.
The problem is finding where smooya should get his second chance. Roster moves seem easy to suggest from the outside, but we are blind to important intangibles like team balance and cohesion. With a few months to go until the major, it is fair that teams want to maintain the status quo. A new player, especially in a role as important as the AWPer, will require a lot of micro-management before a team is up to full speed with all their strategies. And that's before parting with a chunk of their RMR points.


Which teams should be looking?
Alternatively, the impending major can be a reason to take a gamble. The honeymoon period is a real effect, and adding an explosive and motivated AWPer like smooya is a perfect catalyst for one. There are several teams hovering around the top 20 with AWPers struggling, and they should, at the least, consider an upgrade. Moreover, smooya has an immense dedication to his game, telling of how he used to wake up at 7 AM with gob b to watch demos. He should be able to get up to speed quicker than most.

The obvious pick is FNATIC, who have picked up compatriots Alex "ALEX" McMeekin and William "mezii" Merriman. Despite a strong Pro League as a team, their AWPing position remains under threat. Jack "Jackinho" Mattsson is inexperienced and has looked far better as the primary AWPer since taking the AWP back from Jesper " JW " Wecksell. Yet, it is incredibly difficult to argue with current evidence that he is a better player than smooya. Three roster moves in such a short period of time might prove to be a real setback but smooya, on paper, would improve FNATIC.
Valentin "poizon" Vasilev is another AWPer under threat. Complexity have signed British GM Graham "messioso" Pitt, which might imply more roster moves soon. Poizon has never really shown the potential that forced Complexity and OG into a bidding war for his talents. Since returning from illness, the Bulgarian has a rating of just 1.04. HLTV ratings should not be the only factor, but a primary AWPer is the one role where low ratings cannot be excused. The investment of $4750 in nearly every gun round must be made on a player who can dominate the server. Poizon has failed to do that consistently at Complexity.

Mousesports' Frederik "acoR" Gyldstrand has also struggled in 2021, with a rating even lower than poizon's: 1.03. Considering Mouz's foundations on Moneyball principles, signing smooya so cheaply would be a suitable gamble. An initial $10,000 investment into Smooya should bring dividends both economically and inside the server. Removing an AWPer that rejected Astralis this year would be questioned but Mouz are currently wasting ropz's career-high form. A change should be taken soon, whether that comes internally or with a roster change.
Smooya's future?
Economically, smooya does not even need to accept any of these offers if they come. 1700 Twitch subscribers provide a life that is more than comfortable. The path to being CSGO's most popular permanent streamer is wide open, as is the switch to VALORANT. smooya knows this and is still desperate enough to publicly state that he would accept "50% of your AWPer's salary" tomorrow to get back on a team. He still has something to prove, to himself and to us.

Teams seem to think they know what they are getting with smooya, that the cocky and combative AWPer is more trouble than he is worth. In thinking this, they run the risk of ignoring just how talented he really is. smooya is a tier-one AWPer available for relative pennies. There remains a risk of attitude problems at his new team; personality does not change overnight. But this is a competitor who knows his second chance could easily be his last.
After a year of purgatory, on the bench, or playing in ESEA Premier, smooya will know just how fortunate he was to have been on that stage in Cologne. If he wastes his second chance now, there will be nobody to blame other than himself. It is not up to him whether he gets that second chance. It will require an organization willing to cut their AWPer, or at least run their contract down. Regardless, there is enough of an upside to signing smooya that he should be on the minds of many a GM or coach.

Inevitably, there is a risk to signing smooya (as there is for every roster change) but there is also a risk to standing still. It is likely that he would be an upgrade for multiple teams. It is a fact that he would be cheaper. So, who will take the chance?