It's 2017, the Brazilians have been dominating the turf of Counter-Strike for more than a year. Amongst them there's one name that stands out the most — it's "the man, the myth, the beast" — Marcelo "coldzera" David. After being named 'Player of The Year' for two consecutive years, with two Major MVP medals under his belt, coldzera makes a case for being one of the most accomplished players to ever play the game.

In the past few years however, coldzera's form has dropped off substantially. Ever since he joined FaZe Clan, things haven't gone as he had hoped. Even though his stats haven't been that awful, it's far from what you expect from the Brazilian Terminator. After his 2-year contract with FaZe concluded, he was acquired by Complexity to stand in for Kristian "k0nfig" Wienecke. According to reports, he is expected to stay as a part of the Juggernaut at least until the major. Let's dive into coldzera's endeavours with his former teams and what his future holds.
A comparison of the in-game leaders
coldzera reached his zenith playing under Gabriel "FalleN" Toledo. He was not only an impeccable caller, but he excelled at evoking his players' full potential. When coldzera left MIBR, the most common doubt that arose was if he would be able to perform on the same level under the leadership of Nikola "NiKo" Kovač — one of the most passionate and diligent players, who will go to any extent to push his team over the line. When coldzera and Helvijs "broky" Saukants joined FaZe, the team needed an in-game leader, and when his teammates were in averse, NiKo accepted the challenge with open arms. A few tournament-runs deep, it became apparent that even though NiKo wasn't a horrible caller, he wasn't especially good at it. According to coldzera, NiKo has always struggled to find solutions to mid-round crises. Even though he possesses remarkable game-sense, as a leader he would fail to make the best out of a situation. Sometimes, due to his poor reading of the opponent, he would lead his team to a more armed bombsite, resulting in a round loss. In an interview with Richard Lewis, NiKo's former teammate Finn "karrigan" Andersen explained that NiKo was great at calling around himself. While it would benefit him and give him more room to make plays, his teammates were often left disjointed. The defense would be caught pants down even by the basic textbook plays, and sometimes even crumble while sitting in man advantage situations.

Benjamin "blameF" Bremer, on the contrary, is an ingenious all-round caller. He has a knack for finding holes in the oppositions' defense and then laying out carefully planned executions. However, his transition to an entry-fragger after the departure of k0nfig has presented itself as a hurdle to his calling. As a leader needs to bind his team together, he needs to be aware about his teammates whereabouts and is required to keep an eye on the radar. This divides his attention and dwindles his own play making ability. Despite this fact, blameF's entry fragging skills have looked impeccable so far. In ESL Pro League Season 14, the Dane recorded a success rate of 54.8% in opening duels. On the T-side, he was the second-highest rated player in terms of opening duels with a rating of 1.25. Now with coldzera to provide further assistance as a secondary caller, blameF can bloom even more as an entry-fragger.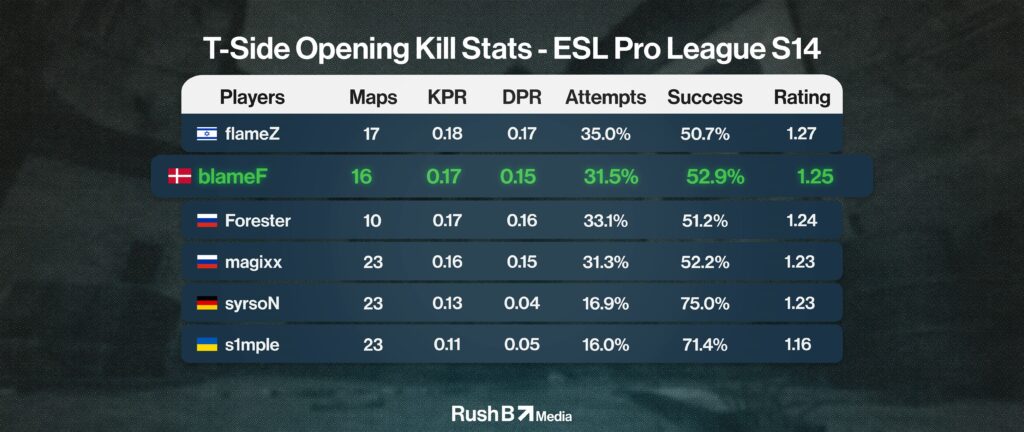 coldzera's star potential and the balance of the team
FaZe Clan has carved a niche for themselves in CS:GO for having a super-team which can annihilate any opponent. Having the best players for every role is a dream for any team, however, for a star player like coldzera, it means that you are not always the centerpiece of action. Unlike his previous endeavors in teams where he got the best roles, in FaZe, he has had to share that prospect with his teammates. When the Brazilian first joined the international roster, he was given his former positions on Mirage (short), Overpass (B-rotation), Nuke (rafters). However, he was stripped of his iconic roles like ivy on Train, pit on Inferno, and he also had to become the anchor of B bombsite of Dust II. On the T-side, after Olof "olofmeister" Kajbjer stepped down from the roster in May of 2019, coldzera had no choice but to become the dedicated lurker of the team as his replacement. Aurimas "Bymas" Pipiras was too inexperienced for the role. Even though coldzera was no stranger to lurking, he wasn't able to yield the same results.

His arrival to the Juggernaut changes everything. coldzera can have a lot more freedom to enhance his play-making ability, an aspect he didn't get to explore as much on FaZe. With Justin "jks" Savage in the team to anchor sites, coldzera is not needed to be glued to a particular bombsite. Before ESL Pro League Season 14, coldzera took it his stream to reveal that he was going to play the event without mentioning the team. Even though it didn't go down as expected and Niels Christian "NaToSaphiX" Sillassen ended up as the stand-in, it indicates that blameF already had roles cut out for Patrick "es3tag" Hansen and coldzera. Therefore, coldzera is likely to fill the void left behind by the stand-in on most maps, which is B-rotation on Dust II, ramp on Nuke, B-rotation on Overpass.

On Mirage though, as jks anchors the A site, things might get complex for complexity. With its iteration with Will "RUSH" Wierzba and k0nfig, RUSH would anchor the B bombsite while k0nfig played short. However, in EPL 14, it was NaToSaphiX who would anchor the B bombsite with either es3tag or Valentin "poizon" Vasilev. Since coldzera likes to play short, either es3tag will be asked to anchor the B site or coldzera will have to do it himself. On Inferno, which has remained the permanent ban for Complexity ever since Train was removed from the map pool, coldzera's stats are impeccable. On LAN, he is the second highest rated player of all time on the map. Further, the Juggernaut only boasts a 33% win-rate on Vertigo against top-20 teams. Thus, it won't come as a surprise if they decide to perma-ban Vertigo instead of Inferno from now on. Ancient still remains a mystery as coldzera is yet to debut on the map and Complexity have only played it once.
Online Counter-Strike and the Major
The unsolicited transition to online Counter-Strike has been a turning point for the whole of its player base. Playing from home has given players a sense of comfort, as it has relieved them of the pressure of facing a tightly packed crowd. As they feel more comfortable, it encourages them to vie for more duels. Sometimes, it makes them go for redundant plays which they might not go for on LAN. It has thus made the tactical aspects of the game less substantial. It also takes off the advantage of composure, and consequently has made upsets more prevalent.

For coldzera, playing on LAN has always been a source of invigoration. In an interview with Dot Esports, coldzera mentioned how online turf has never been a comfortable place for him. "Even when I was the best player in the world, I played worse in online matches," he said. A cheering crowd has always ignited his confidence and has made him thrive under pressure. On the contrary, he believes that playing online makes him dull and causes fatigue. His 1.06 HLTV rating has been his career worst rating so far. His last LAN appearance in February of 2020 goes on to show how the online era has been the preeminent reason in the Brazilian's declining form.

The return of the Major brings out another prospect for coldzera. Having been left out of competing at StarLadder Berlin Major, when he was benched from MIBR due to internal disputes, he will be eager to compete again at the highest stage of CS:GO. After culminating individual performances at Majors, it is found that coldzera tops the chart with a godlike 1.25 rating. With blameF delivering as an aggressive entry fragger, poizon being consistent as an aggressive AWPer, a versatile es3tag finding consistency, jks as a reliable support and coldzera to provide the firepower desired, the team might have all the cogs to make the Juggernaut project come to fruition. With the PGL Stockholm Major on the cusp of its inauguration, the roster will have to do with the little time they have to find cohesion and develop strats. However, not only will it be coldzera's prime opportunity at shutting his skeptics, but also for the likes of blameF, poizon, jks, and es3tag to find their footings at the top.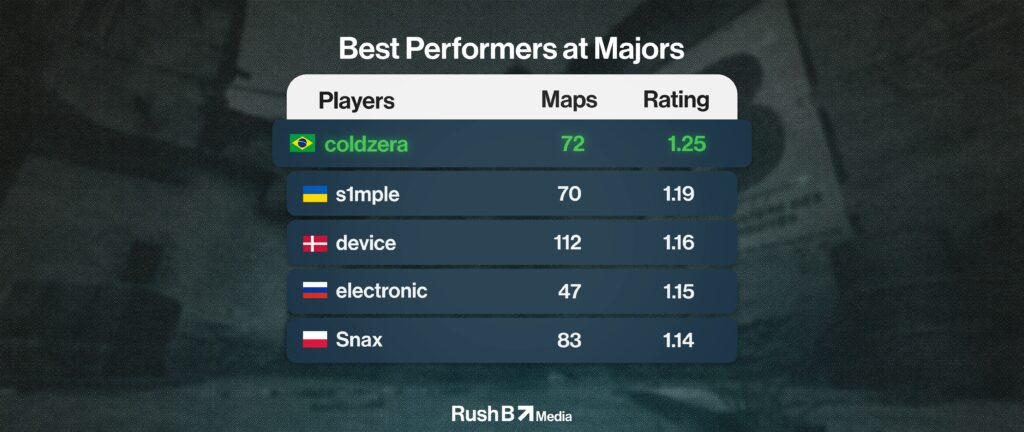 Catch coldzera's debut for Complexity in Group C at the BLAST Premier Fall Groups as he will look to demolish his former team FaZe Clan at 19:30 CEST.
Image courtesy of DreamHack