To start, I'll ask a question. What makes any sports match interesting? Is it the incredible level of the players? The strategic intricacies? The chance of a truly deserved upset? All of these are fair answers, but they all rely on one thing – jeopardy. If there is no incentive – positive or negative – players are not playing at their absolute best. New strategies are saved. Upsets have asterisks.

This might seem an obvious thing to say, but it is relevant: the best format is the one with the most incentive for teams throughout. The recent, but already infamous, IEM Fall best of one round-robin format failed to provide this. I thought this was worth exploring further, especially after PGL's recent confirmation that Stockholm 2021 will use the same Swiss format used at Valve majors since Atlanta 2017.
Why did ESL use round-robin at IEM Fall?
The group stage format evokes a strange passion in people. In soccer, the Champions League's announcement of a switch from bo2 round-robin to Swiss was met with fury. There were complaints of it being too forgiving to the superteams, with multiple chances to survive an upset. The same fact is usually flipped as a positive in esports, since multiple elimination decreases the impact of luck or off-days, giving more chance to the 'best' teams to recover.

It is an inevitable fact that tournament organizers benefit from the most recognizable teams progressing through their tournament. The higher the viewership, the more value sponsors and the TO get from broadcasting and hosting the match. A match featuring Astralis will be more profitable at this major than one featuring Copenhagen Flames.
To a cynical mind, this explains ESL's decision to use round-robin at IEM Fall. In the format, every team plays the same amount of games meaning the popular teams – the ones that attract viewers – are guaranteed five best of ones no matter how well they are performing. Playing every team also negates the need for seeding, whereas a team can feasibly gain an advantage by having an easier draw in the first round of GSL or Swiss. If a team, as Fnatic did at IEM Fall, loses all five matches it is hard to argue the format was responsible.

However, round-robin in esports normally necessitates smaller groups, and it is common to see a 'group of death' emerge if seeding is not used to split the field. Of course, the same can be said of GSL, with Group D at ESL One Cologne 2016 as an example. That group featured SK, Fnatic, FaZe, and G2. G2, ranked 2nd, were eliminated after just two best of one losses. Ultimately though, this is a problem solved with seeding; groups of death are much rarer in all formats now than they used to be.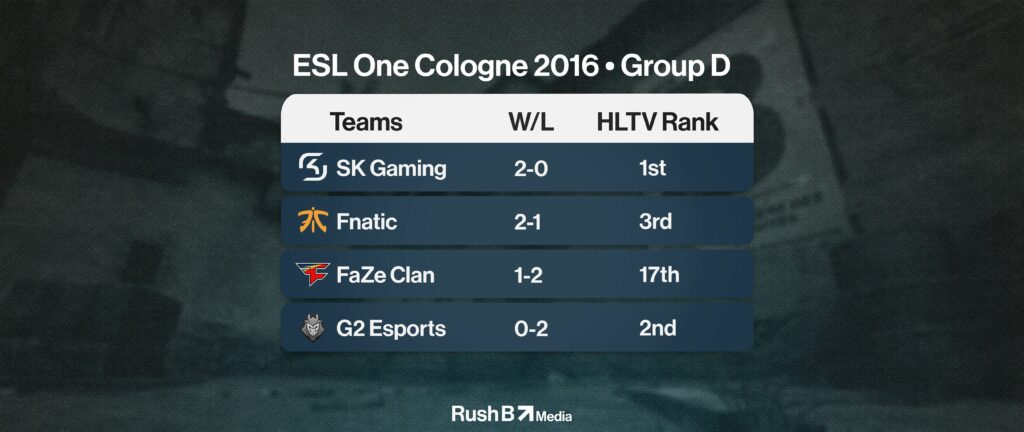 Unfortunately, luck of the draw will be present in any format that is limited by time. Round-robin's flaws are largely due to the small groups and best of one format. The problems that hamper esports – tiebreakers; games going past midnight; needing HLTV and Liquipedia staff to educate the community on 'scenarios' – are simply not present in a thirty-eight week season that round-robin is used in by traditional sports.
Tiebreakers, Dead Rubbers, and Professionalism
Even in a thirty-eight-week season, however, the main flaw of round-robin is visible: how often teams have nothing to play for. Take the example of Group D at ESL Pro League Season 14. On the final matchday, Gambit lost 0-2 to Ninjas in Pyjamas, a result that should have been a massive result for the Ninjas. Yet, this was no watershed moment, because the result did not affect Gambit at all. No matter what happened on matchday 5, they would qualify in first place. NIP, instead of playing the best team in the world like the rest of the group, faced a Gambit with zero incentive to play at their very best.

These players are professionals, and competitive pride should make them try even if the format does not reward victory. But, they are human too; it is natural for performance to drop off. In Swiss, teams have the same motivation as their opponent. Winners' games are motivated by a desire to secure their place in the next round, secure in the knowledge that the earlier they qualify, the more favorable draw they will get (on paper). Losers' games have even higher stakes, with a simple knockout principle: the winner survives, the loser edges closer to elimination. The final day of Swiss, with the dual motivation of hope for playoffs acting at the same time as fear of elimination, is as exciting as most knockout matches.
Contrast these simple yet high stakes with the chaos of a final matchday in round-robin. This chaos offers its own sense of excitement, as the community scrambled to discover what results meant in terms of tiebreakers and the RMR points. But, the format should not be the driving force behind the chaos, the game and teams should be. Watching CS:GO should be simple, with the stakes made clear. Swiss does that; round-robin requires you to check Twitter whilst games are ongoing.

This is especially true at an RMR. They bring sticker money and the ability to show off sponsors, as well as your own talent, to a far larger audience than regular events. There should be no asterisks to involvement in a major via the format. If a format allows teams to blame the variance of best of ones or forces them to play past midnight, it has failed.

Ultimately, best of one round-robin lets teams off the hook and leaves us with more questions than answers. IEM Fall should be the final nail in round-robin's coffin. And ESL would be wise to let it be its funeral in tier one Counter-Strike. Would Copenhagen Flames or Fiend have qualified in a Swiss or GSL system, or did they just benefit from the format? It is a harsh question, but it has to be asked.
Upsets in a flawed system lose some of their power; these teams might be the next Gambit, the shining example of the open circuit working as it should. However, qualifying out of a best of one round-robin group stage is flawed evidence for that. The good news is that PGL's announcement of a Swiss format for the major means we will get a more representative look at the newcomers to the tier one scene. But it is still a shame that IEM Fall, a tournament on LAN, with such high stakes, has been reduced to a medley of asterisks and questionable outcomes.
PGL Stockholm 2021 and the return of Swiss
Another key source of contention at IEM Fall was the use of best of ones – and PGL has announced they will use them too in 0-0, 1-0, 0-1, and 1-1 games at the Major. However, with the changes to the economy, best of ones are more viable now. The blue shell effect – when a game introduces mechanics to help the losing team – of rising loss bonus is far stronger now the threat of being reset to a measly $1400 loss bonus is gone.

This, combined with the low price of the M4A1-S and GALIL, makes best of ones more viable. In the past, teams could snowball pistol rounds into a 7-1 lead with just two victories in gun rounds. Now, the same lead would require three or four. Best of ones are not ideal, but they are far more representative than they used to be and are much easier to consume for a casual fan than a three-hour best of three. Elimination and progression games will remain best of threes, so PGL has done well to fit a fair format into four days while maintaining jeopardy at all stages.
It is important to remember that the vast majority of CS:GO events run strong formats. In the online era, thirteen out of seventeen s-tier events used a version of GSL, with four using round-robin. That is why tournaments like IEM Fall stick out like a sore thumb – and why PGL's return to Swiss is so welcome. Round robin is a flawed format, but variety between tournaments remains important. ESL's twist of 8-team GSL groups does well to differentiate tournaments, and Swiss now has strong associations with the majors but there is risk to overusing GSL in an already oversaturated circuit. Regardless of its association with Valve-sponsored events, it would be a shame if PGL Stockholm was the last time we see Swiss in an S-tier event until the next major.

That being said, variety should never come at the cost of quality; IEM Fall should be the last time we see round-robin in such an important S-tier event. The one exception to this could be ESL Pro League: 4-team GSL is too similar to BLAST, 8-team reserved for huge events like Cologne, and shipping 24 teams out to Malta at the same time for Swiss is a logistical nightmare. But, in RMRs and Grand Slam events, there is no excuse for tournament organizers using a format like round-robin. Teams, players, and fans deserve better.