You may not believe in oSee supremacy, but Josh "oSee" Ohm is one of the best at his job in not just North America, but the world.
Flashy AWPers come and go. Some leave their mark on the game blowing the mind of fans, while others have their career pop like a flashbang. But for oSee, it is more than just a game of point and clicks. The newly acquired American AWPer for Team Liquid has been king for flashbang usage, ranking among CS:GO's elite when setting up his teammates.
The Start of Something Special
Having originally linked up with ATK in the fall of 2019, heads were turned with impressive victories over North and G2 at the ESL Pro League Season 10 Finals before oSee and his teammates signed with Cloud9. After a string of promising performances at Dreamhack Open Leipzig 2020, IEM Katowice 2020, and FLASHPOINT 1, the coronavirus pandemic finally caught up to CS:GO and offline events became under imperil.
The landscape shifted and a new era of CS was ushered in. Teams were strengthened from playing in the comfort of their own homes along with the latency discrepancies that came with online play. Among the upstarts was oSee's Cloud9.
Cloud9 took the North American scene by storm, knocking on the doorsteps of the best teams with their rigid system and utility usage, but they were more than just a group of upstarts. They were a well-oiled machine, each member being an integral part of the system, with a unique playstyle that set them apart from other teams. In a time where struggle was prevalent, their teamwork raised their ceiling and allowed them to flourish. Players were captivated and fans were enamoured by their flashbang utilization.
"Our opponents' playstyle and positioning definitely had a role in the way we used our flashes per game but I don't think that was really something we had a focus on," said Johnny "JT" Theodosiou, the in-game leader for Cloud9 and oSee's teammate at the time, when asked whether if their opponents playstyle had a hand in how they used their flashbangs. "Josh and the rest of the team's flash use came from hours and hours of server work and discussion between ourselves on how we want to correctly organize our utility, be it on executes or defaults."
In 229 maps under the Cloud9 and ATK banner, oSee topped the board for flashbang success and most opponents flashed per flashbang thrown. Although he was behind JT for average blind time and flashbangs thrown, oSee led the way for flashbang assist (FA) per round. His flashbangs created space for his teammates and allowed them to secure some easy frags.
"Like most other AWPers, Josh would save his flashes for late round to ensure that the riflers on the team had a much easier time entering a site," JT said. "With a lot of reps over the years we played with him, I think he became close to perfect in the way that he used his flashes, great timing and a good choice of what nades to throw in every situation."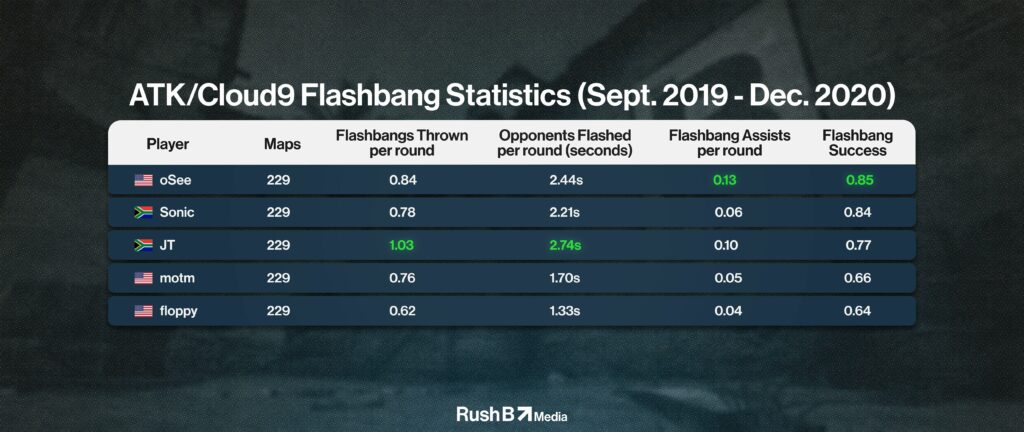 Analyzing oSee's Flashbang Statistics (2020-2021)
oSee was a key part of JT's system and his contribution played a big part in the team's success with their rise to prominence during pandemic CS:GO. "oSee is very good at organizing an execute and coming up with plans on the fly. He's basically an IGL's best friend, he helps a lot with the calling and always throws the perfect utility in the moment," JT remarked.
When asked about the time the two spent theorycrafting together, JT stated that they did not spend a "crazy amount of hours" finding new flashes but two had a mutual understanding on how they wanted to use their flashbangs. "I will say though that oSee is a very hard working individual in everything he does, and if he had to fix or find something new, he would work at it until it's done," he added.
Among players with at least 50 maps played against top 30 opponents in 2020, oSee recorded the highest flashbang success rating at 0.89 and his 0.13 FA per round was also the highest out of any player. Whenever oSee threw a flashbang, his opponents were blind for 2.49 seconds which ranked him 7th among all players.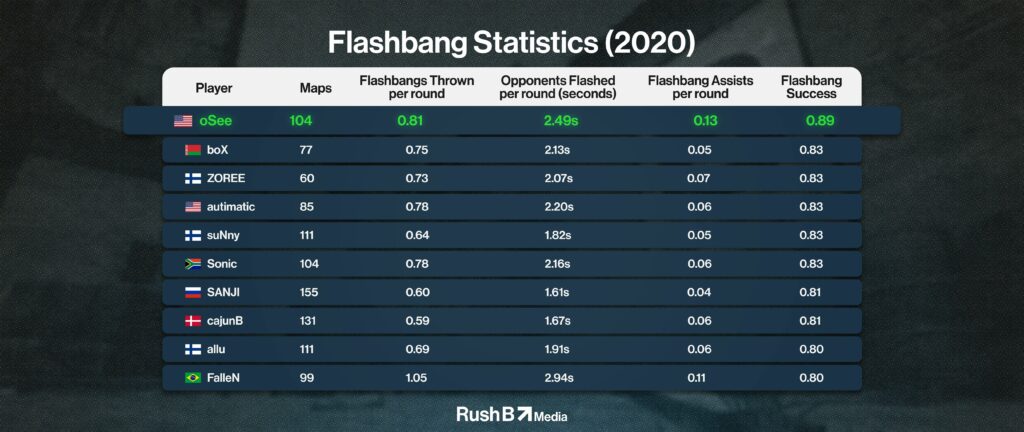 The quality of competition in North America leaves a lot to be desired and with the repetition of playing the same opponents, it can be easy to see why one would be wary of oSee's statistics. However, in five months, between the qualifier to DreamHack Masters Spring 2020: North America (the first North American pandemic CS:GO event) and the end of oSee's tenure on Cloud9, the AWPer recorded 10+ FAs on 17 different occasions.
oSee's ten FAs against Envy at the qualifier to DreamHack Masters Spring 2020: North America helped them lock down a spot at the event. At the event, Cloud9 finished group play with a 2-1 record as oSee's 12 FAs propel the team to victory over Evil Geniuses and Gen.G. In the first round of the playoffs, Cloud9 faced off against MIBR with oSee securing 11 FAs before bowing out to Team Liquid in the following round. oSee recorded double-digit FAs in three out of five series that the team played, helping them secure a 4th place finish.
At ESL One: Road to Rio – North America, oSee recorded double-digit FAs in four series with three taking place during the playoffs. His staggering 17 FAs against Envy was a main factor in their quarter-final victory as eight came on the decider map of Dust2. oSee recorded 13 FAs in the semi-final, taking Gen.G to three maps but his team fell short this time around. In the 3rd place decider, Cloud9 was heavily contested by Team Liquid but oSee's 11 FAs helped his team overcome the struggle and secure the 2-1 victory.
The qualifier to cs_summit 6 North America saw oSee post 11 and 12 FAs against New England Whalers and Yeah as Cloud9 secured 2-0 victories over both teams. In their group stage opening match, oSee posted 14 FAs against Gen.G en route to victory. The two faced off once again in the group decider as oSee one-upped his previous performance with 15 FAs but Gen.G came out victorious this time around as Cloud9 placed 5th.
Due to oSee's proficiency with the flashbang, Cloud9 made deep runs at DreamHack Masters Spring 2020, ESL One: Road to Rio, and cs_summit 6. With multi double-digit FAs performances against Team Liquid, Evil Geniuses, FURIA, MIBR, and Gen.G, oSee played a huge supportive part in why Cloud9 was able to go toe-to-toe against the giants of NA.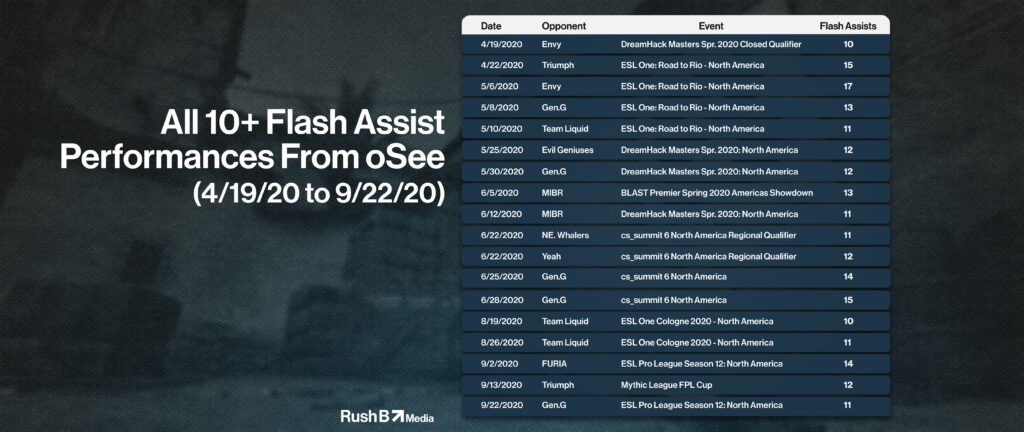 2021 was no different for oSee as he was once again at the top of the leaderboard when it comes to utilizing the flashbang. Although oSee's flashbang numbers dropped across the board last year, he was still one of the best at his job as his flashbang success and FA ranks him 4th and 2nd. Average opponents flash time was where oSee saw a big hit as he slid down to 14th.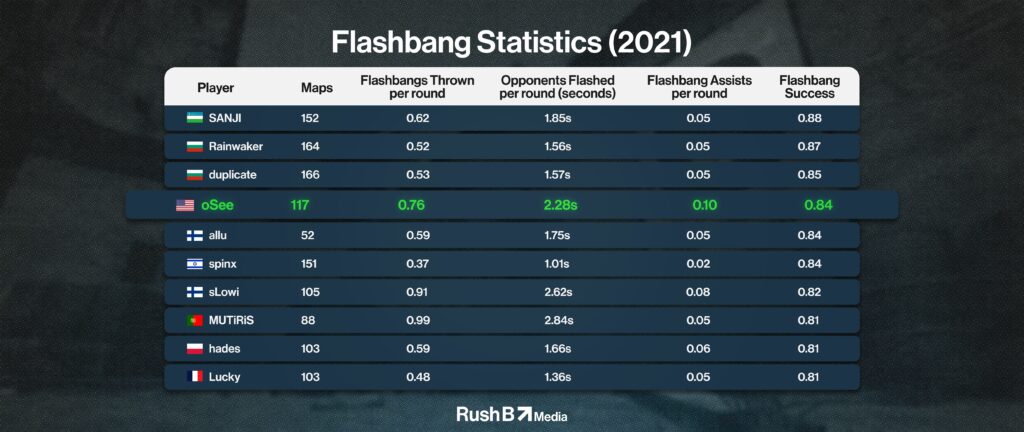 Is oSee Worth His Salt?
In 2021, not only did oSee's flashbang success rating drop by 0.05, he flashed his opponents 0.21 seconds less on average and recorded 0.03 less FA per round while achieving a similar flashbang usage rate. So what exactly was the cause of variance between 2020 and 2021 you may ask?
Opponents now had a whole year's worth of demos to study oSee's flashbang positioning and pop time. Due to pandemic restrictions in 2020, oSee's competition was mainly limited to Team Liquid, FURIA Esports, Evil Geniuses, Gen.G Esports, and 100 Thieves. Last year, oSee and his Extra Salt (ES) teammates qualified for big events, presenting them the opportunity to compete versus European giants such as Team Vitality, BIG, and Astralis. The team conducted three excursions to Europe for these events while participating in lower-tier tournaments that featured top 30 teams such as forZe, Copenhagen Flames, SINNERS Esports, MAD Lions, DBL Poney, and ECSTATIC.
Could it be that when playing against higher level European teams, oSee and his trusty flashbangs faltered when it mattered most? The next section explores the three trips oSee made to Europe and how his flashes fare in each one.
Trip 1: April 2020
BLAST Premier Spring 2021 Showdown
Calling Belgrade, Serbia home, oSee and his teammates immediately got off to a rocky start as they were eliminated on the first day of the BLAST Premier Spring Showdown 2021. ES lost their one and only matchup against Team Spirit in 2-0 fashion, with oSee recording a total of three FAs.
Although there was a lack of FA from oSee, he was actually quite effective with his flashes, scoring a flashbang success rating of 1.05 and opponents flashed per round rate of 2.75 seconds, with both metrics out-performing his 2021 numbers, albeit he only played two maps.
Funspark ULTI 2020
The next event fared better for oSee as his team beat BIG, Dignitas, and forZe on their way to the grand finals. Against BIG, oSee posted six FAs with four coming on their map pick of Train, which ES won convincingly with a 16-6 scoreline. The series against Dignitas was quiet for oSee as he only tallied two FAs. In the upper bracket final versus forZe, oSee recorded 14 FAs with six of them coming on the decider map as ES scraped by with a 19-17 win on Nuke. The AWPer also secured the most kills at 71 with 33 of those coming on the Nuke, along with a series-high rating of 1.20.
Having reached the grand finals, oSee and his teammates were once again matched up against BIG. ES quickly got off to a 2-0 advantage thanks to a 1-0 map advantage from coming through the upper bracket. One map away from securing $150,000, the South African-North American squad was reverse-swept by the Germans in a close affair as all four maps lasted at least 29 rounds. BIG AWPer Florian "syrsoN" Rische led all players with 18 FAs, while oSee was only one behind Rische with seven of his assists coming on Overpass, the decider where ES narrowly lost 16-14.
oSee had his best European event yet as all his flashbang metrics surpassed his 2021 averages. Similar to the BLAST Premier Spring 2021 Showdown, oSee enjoyed great success in the flashbang success and opponents flashed per round categories. This time around, oSee's teammates capitalized on his flashes as he doubled his FA per round rate which proved to be the difference between making the grand finals and being eliminated in the first round.
Spring Sweet Spring #1
At Spring Sweet Spring #1, ES had their hands full clashing against some of the best tier 2-3 European teams. The team got off to a quick 2-0 start beating Lyngby Vikings and Copenhagen Flames as oSee led all players for FAs in both series, locking down nine and ten FAs. Needing just one win to secure a playoff spot, ES couldn't close it out as they lost to EPG Family, SINNERS Esports, and SKADE with oSee recording a total of 11 FAs across all three series. He concluded the event with his flashbang statistics almost mirroring his 2021 averages.
DreamHack Masters Spring 2021
The last event of the trip saw ES lose their opening matchup against Astralis 16-8 on Nuke. Dropping to the lower-bracket, the team squared off against Team Vitality taking it to three maps as they defeated the Frenchs on their map pick of Dust2 before being eliminated. oSee secured only one FA against Astralis and eight against Team Vitality, which put him second behind Dan "apEX" Madesclaire's 11. Although faltering against Astralis, oSee picked it against Team Vitality as he enjoyed a successful event with his flashbang metrics above his 2021 averages.
Regardless of ES's results, oSee was able to show that he could put up the same flashbang numbers in Europe as he put up a 0.96 flashbang success rating, 0.10 FAs per round while blinding opponents for an average of 2.65 per flashbang.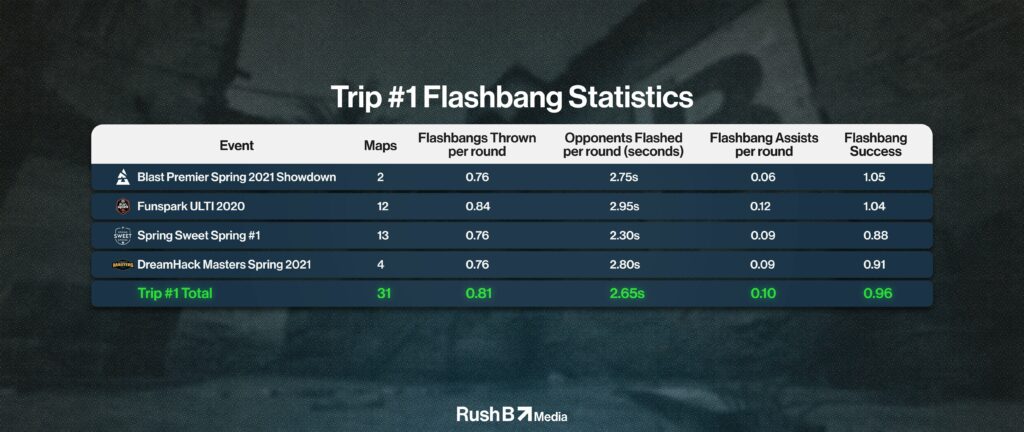 Trip 2: June 2021
IEM Summer 2021
During ES's second trip, oSee and his teammates saw a similar result to BLAST Premier Spring 2021 Showdown and DreamHack Masters Spring 2021 as they sent packing home after three maps. They concluded the trip with a round-difference of -28 after a BO1 and BO3 loss against G2 and Astralis. Against G2, Extra Salt lost to a scoreline of 16-2, but oSee showed off his flashing prowess with six FAs which led all players on the server. The other nine players on the server combined for five FAs. In the lower bracket, ES clashed against the Danes again, losing 2-0 with oSee recording a total of three FAs. Across the three maps, oSee registered a 0.93 flashbang success rating, 0.13 FAs per round, and averaged a blind time of 2.92 seconds for every used flashbang. However, the statistics were heavily skewed from the match against G2.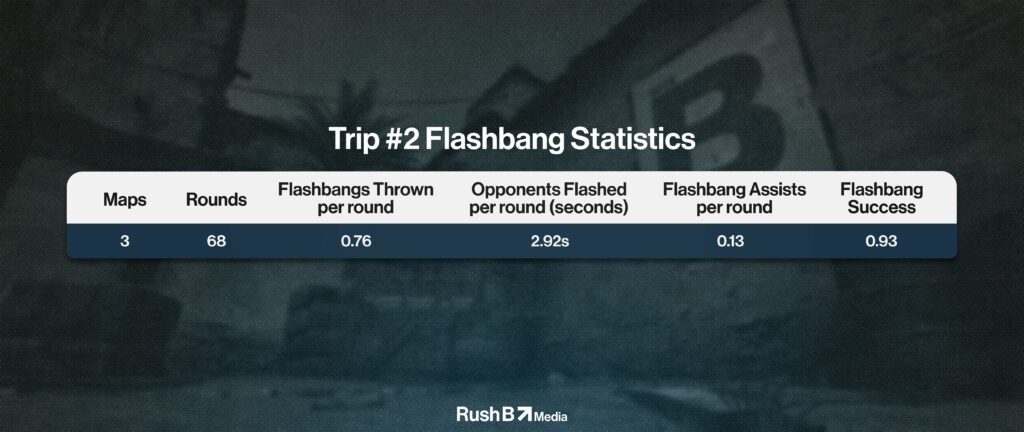 Trip 3: November 2021
Pinnacle Fall Series #3
Kicking off their last trip of the year was the return of a familiar face. Ricky "floppy" Kemery, who previously played on Cloud9, reunited with oSee and JT after a brief dabble in VALORANT. Pinnacle Fall Series #3 marks the first international event with Kemery as the team got off to another quick 2-0, setting up another grand finals appearance. The team secured 2-0 wins over MOUZ NXT and DBL PONEY as oSee posted two and four FAs. In the grand finals, ES faced off against ECSTATIC losing 16-13 and 16-14 in a hard-fought series with oSee leading all players on the server with five FAs.
oSee concluded Pinnacle Fall Series #3 as his worst event on European soil with the $200 grenade. Not only did he throw less flashbangs, his flashbang success rating and assist both dropped, while opponents were flashed 0.39 seconds less compared to his 2021 average.
ESL Pro League Season 15 Conference
The last event of the year for the team saw them clash with other ESL Pro League Tour Challenger event winners from across the globe. ES fought off Sprout, the winner of ESL Meisterschaft: Autumn 2021, in a three-mapper as oSee led all players on the server with FAs at 12. Seven of them came on the decider map of Inferno as oSee helped power ES to a 16-8 win.
In the next round, ES kicked things off with the Australian-New Zealand outfit Renegades, who captured the Oceania edition of DreamHack Open September 2021. Once again, oSee led all players on the server with nine FAs as ES swept Renegades to a 2-0 victory.
Meeting MAD Lions in the final round, ES came back from a 1-0 map deficit to secure a spot at ESL Pro League Season 15. oSee did not lead the server with FAs this time, but he was second with six and played a huge role in ES's comeback as he secured 49 of his 64 kills on the final two maps.
Having concluded his final trip to Europe, oSee saw his numbers drop compared to the other two trips as he recorded a 0.73 success rating, 0.10 FAs per round, and a blind time of 1.63 seconds. Although he played an instrumental role in the team's victory over Sprout and Renegades at ESL Pro League Season 15 Conference, his flashbang success rating and blind time both dropped this time around.
Trip #3 Flashbang Statistics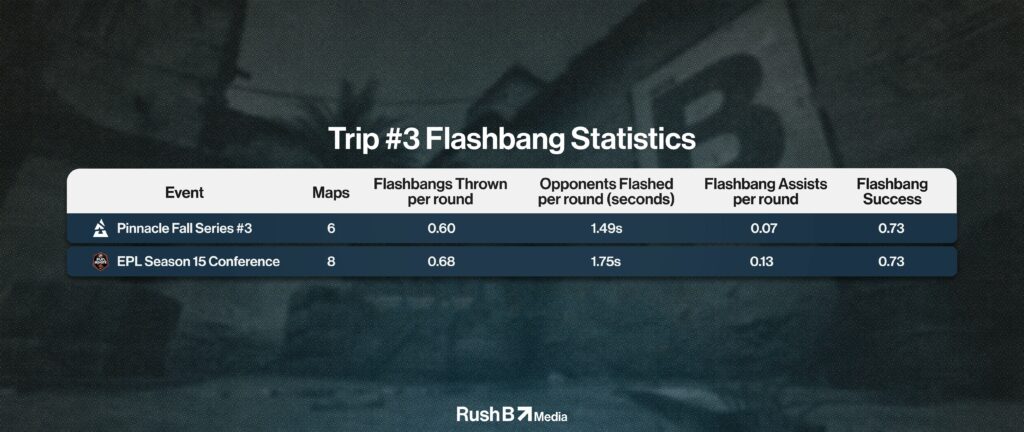 Take It With a Pinch of Salt?
While his 2021 flashbang statistics did drop, oSee demonstrated that he can reproduce his 2020 numbers while replicating his mastery against European opposition. So why did oSee's numbers drop?
The last trip for Extra Salt was also the first for Ricky "floppy" Kemery. Since floppy joined the team, oSee has thrown 0.18 less per flashes round, flashed opponents for 50 seconds less on average, recorded a lower FA rate, and seen his flashbang success rate drop by 0.1.
oSee's 2021 Flashbang Statistics (vs top 30 opponents)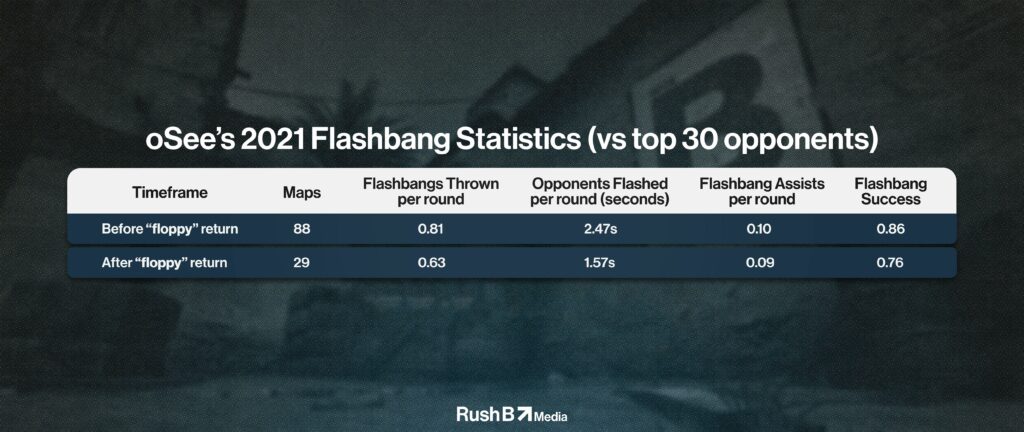 Given the small sample size of 29 maps that oSee and floppy have played together, it's preemptive to assume that floppy's arrival negatively affected oSee's flashbang statistics. New teams have to work out their kinks when there is a roster move, which may have involved a responsibility change for oSee.
"It's easy to rack up high flash statistics when you play in a very specific way. When floppy came back, we started playing a more loose style for a number of reasons. Lack of practice being one and also everyone being very comfortable with playing on the fly," JT explained.
Nevertheless, oSee has been consistently one of the flashers that the game has to offer in recent times. His ability to put up elite flashing numbers and help with secondary calling will help bring stability to Team Liquid. While his map sample size against international opponents is small, oSee has proven that he can perform up to expectations when given the chance.
"He can improve any team just by his natural talent of leading and organizing the mid rounds, and that goes a long way when the majority of the time he's going to be the guy at the back throwing key utility like any other AWPer. And of course his insane fragging abilities are a plus too," said JT.
oSee will make his Team Liquid debut at the end of this month when his team takes on FaZe Clan in their opening matchup at BLAST Premier Spring Groups 2022.
All data used is provided by HLTV.org