As the off-season shuffle is in full swing, RBM's writers are highlighting the best, and their favorite, available players. In this article, Daniel Khurgin shines a spotlight onto 23-year-old benched entry and Danish talent Lucas 'Bubzkji' Andersen.
One of the most talented players to burst onto the scene in 2020, Bubzkji turned heads with his time on Mad Lions. Astralis picked him up, aiming to mold him into the tier one star he has the potential to become. Unfortunately, his time on Astralis was not very meaningful to his development, and now he sits on the bench looking for a new home to represent. Despite his year-long setback, the 23-year-old Danish entry fragger still has plenty to offer the scene, and he warrants a place to shine in top tier Counter-Strike.
A Tricky Situation
Bubzkji's first appearance on a competitive professional team came in the form of Tricked in March of 2019. On Tricked, he met with his teammates that would eventually rise to notoriety on Mad Lions later on. Tricked was a spectacular developing experience for Bubzkji, no doubt in part due to Nicolai 'HUNDEN' Petersen's leadership. HUNDEN had been known for having a keen eye in the Danish talent scene. He was particularly skilled in picking up young, developing players and molding them into professional-caliber stars.
HUNDEN did just that for Bubzkji, creating an aggressive entry fragger capable of opening sites all on his lonesome. Bubzkji averaged a 1.18 HLTV rating on Tricked, an amazing stat line for arguably the hardest role in the game. Among his successes on Tricked, Bubzkji attained his first HLTV trophy with a victory at the V4 Future Sports Festival 2019. There, they overcame Virtus.Pro, MOUZ (then mousesports), MIBR, and NiP to come away victorious. Bubzkji shined in that tournament, winning the MVP with a staggering 1.23 HLTV rating.
Bubzkji's time on Tricked didn't last very long, but not for any terrible reason. The whole roster was simply acquired by a new organization, one where he would go to accomplish even bigger and better things.
The Roaring Lions
Bubzkji first made a name for himself on Mad Lions with a young and hungry Danish roster. When the core of the team was acquired in late 2019 from Tricked, they immediately showed good results, finishing in a joint 3-4th place at Dreamhack Open Sevilla 2019. Bubzkji himself performed admirably, finishing the tournament with a 1.14 rating, a sign of future success.
Mad Lions repeated their success in early 2020 with another 3-4th place finish at another Dreamhack Open, this time in Leipzig. Despite not making it to the finals, Bubzkji was the second highest rated player at the tournament with a 1.28 rating over the whole event. His skill was quite visible, and anybody watching the tournament would be impressed by his prowess. These two events were great notches in the belt of the Danish team, but teams really started to take attention after their next successful venture, the first Flashpoint tournament.
The Lions were the favorites coming into the tournament while ranking 12th in the world. Nevertheless, their victory was exciting, taking back a cool half-million dollars for first prize. Once again, Bubzkji was the stand-out performer in the tournament, collecting a whopping 1.22 rating over 28 whole maps. Keep in mind, Bubzkji is playing quite possibly the hardest role in the game, entry fragging. At this point, it was clear that Bubzkji possessed insane talent, and the only question would be if he would achieve tier one success with the Mad Lions, or find fruitful results in greener pastures.
To The Stars
Bubzkji's venture into tier one Counter-Strike began when Astralis bought him out from his contract with Mad Lions. For any professional Danish player, Astralis was the end goal. It seemed like Bubzkji had already made his way to the pinnacle of Counter-Strike. However, at this time, Astralis were in a terrible state. For context, the last time the Danish team had made a roster move was in early 2018 after winning their first Major. Since then, the team had won three back-to-back-to-back Majors. They were on fire and there should have been no reason to warrant a change.
But, the move to online Counter-Strike as a result of the pandemic had not been kind to the best of all time. Two of their players, Andreas '⁠Xyp9x⁠' Højsleth and in-game leader Lukas "'gla1ve⁠' Rossander, took a mental health leave, and the organization found themselves scrambling to fill the vast chasm left by the two four-time major winners.
Bubzkji was not first on the list of Astralis. In fact, he wasn't even the second. Bubzkji joined the team after Astralis tried to patch in two completely different players who weren't up to the task. Both Jakob 'JUGi' Hansen and Marco 'Snappi' Pfeiffer were tried before Bubzkji, but neither stuck on the roster for long. Then, in a confusing message to the CS community, Astralis announced that Bubzkji and his other new partner on the team, Patrick 'es3tag' Hansen, were not simply brought in as replacements for the members on leave, but as full-time members.
The Seven-Man Roster: Brilliant? or Ill-Advised Pipe Dream?
So, in the span of a few months, the team which had completely dominated the landscape of top tier Counter-Strike made no less than four roster moves in addition to pioneering the idea of a seven-man roster in tier 1 CS. When first announcing this drastic change, Zonic announced, "In the coming months, all of our available players will get to play, and our priority will always be to go into tournaments with the strongest possible roster."
Of course, a seven-man roster only works if all seven players are actively playing. For the first few months, Xyp9x and gla1ve were still on leave. So, for those first few months, Bubzkji had to play in a new team that was unaccustomed to change. In addition, that team had recently lost their in-game leader and needed one of their role-players to transition into that role, never a comfortable scenario.
Combine all that with the fact that Astralis picked Bubzkji, an entry fragger, to replace Emil 'Magisk' Reif or gla1ve when their own entry fragger, Peter 'dupreeh' Rasmussen, was still on the team. Bubzkji was relegated to a different role, not the entry-fragging role he was accustomed to, but rather one he was completely unprepared for and uncomfortable with.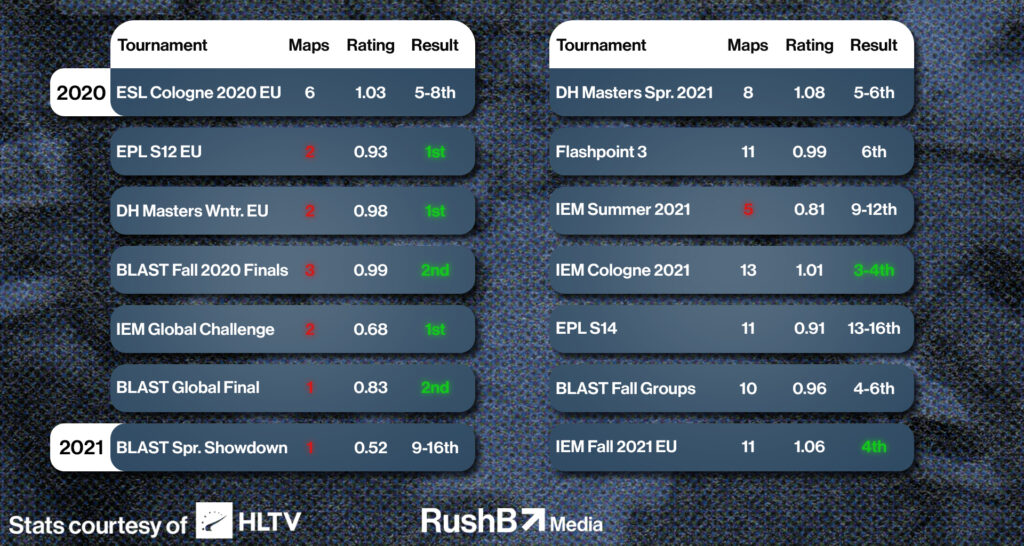 Seventh Wheel on a Five Wheel Car
It's natural then, to see why Bubzkji floundered in his first few tier one outings. He didn't perform well at all in his first event, performing the worst of his compatriots at ESL One Cologne 2020 Europe. His biggest snub, though, came during ESL Pro League Season 12 Europe. At that point of the year, gla1ve had returned from his leave giving the team some much-needed direction. Of course, though, that meant that one of Bubzkji or es3tag had to leave the starting line-up, and spectators could smell the blood in the water.
The first match versus Complexity, the team decided gla1ve would take es3tag's place, and the team promptly lost in a 0-2 fashion. Immediately, the team decided to switch it up and see how their fortunes changed with es3tag instead of Bubzkji. Unfortunately for the young Dane's career, things were quite stellar after that. Astralis proceeded to sweep the rest of their group. It was slightly touch-and-go with a loss in the playoffs to domestic rivals Heroic, but the historic lineup struck back with a vengeance in the lower finals and then won the tournament outright.
As one can imagine, winning a tournament where Bubzkji was on the bench severely reduced his playtime. Not to mention that one of two losses the team experienced was the one series with him. Bubzkji didn't even perform poorly in that game either, especially not from someone who had to give up his preferred roles.
Astralis also won Dreamhack Masters Winter 2020 Europe. Bubzkji was present in that tournament too, again for a whopping two whole maps. The team substituted him in for Xyp9x when they played Nuke in the playoffs, winning both maps he participated in.
It was clear at this point that Bubzkji was not a real starting member of the Astralis lineup, despite the marketing when he was first announced. He seldom played, and when he did it's simply to fill in on Nuke. His utilization was also non-existent in any of the RMR tournaments or Major due to Valve's rules discouraging six-man lineups. It's those very same rules which pressured Vitality into eventually removing Nivera, who was performing incredibly well as a sixth man.
As time passed, Bubzkji was eventually integrated into the starting lineup slightly better, taking his place in IEM Cologne 2021, for instance, where Astralis finished in a solid 3-4th place. Nonetheless, it was clear to see that Bubzkji was the sixth wheel and not a true member of the starting roster. All this culminated in Bubzkji being officially listed for transfer, and Astralis actively seeking to send him to another club.
It's somewhat funny that even when Dupreeh, Magisk, and the team's coach, Danny 'zonic' Sørensen left the team in the closing months of 2021, Astralis still chose to buy out two new players for the team instead of actually giving Bubzkji a true shot at the starting lineup. Even with only three confirmed members for 2022, Bubzkji did not fill one of the two open spots on the team.
Bubzkji's Playstyle and Entry Fragging
It's clear that Bubzkji has been criminally underused in Astralis. He exploded onto stardom with his immense impact as an entry fragger. I cannot blame Astralis for using Dupreeh as an entry fragger above Bubzkji, only one of them has lifted a Major trophy after all, and four times at that. Nonetheless, if they wanted a simple rifler, they should have chosen somebody else for that role.
In any case, Bubzkji broke out of his mold at Astralis. In an interview with HLTV in September of 2021, he noted, "I can't really be a one-trick pony that I kind of was in MAD Lions, where I could just play all of the roles that I liked, and then I would be super confident. I need to fit into the team and it is a whole different dynamic, I need to learn harder roles as well."
While it's admirable that Bubzkji is willing to adapt to different roles and team environments, I'd like to disagree with his statement. He doesn't need to change his roles to fit with a team. He's such a talented player that, in my opinion, teams need to change for him, not the other way around. He excelled in one of the hardest roles of the game, the entry fragger. It's intangibly difficult to make space for your team and take the first engagement. Map control is a notoriously difficult concept to boil down into a single number, but from the eye test, Bubzkji excels at taking space. When he was his uber-confident self on Mad Lions, he took an incredible amount of map control for his team and never turned away from the first fight. It's exactly that confident aggressive playstyle that made him so exciting to watch on Mad Lions and the lack of that playstyle that made his stint on Astralis so frustrating.
For example, Mareks 'YEKINDAR' Gaļinskis wreaked absolute havoc on the scene in early 2021 by out-aiming almost everyone in heads-up aim duels that he would create as the entry fragger for Virtus.Pro. He simply opened up bombsites by himself, and it was an absolute pleasure to watch from a spectator's perspective. I believe that Bubzkji has the potential to be a Danish YEKINDAR if only some team actually put him in the role he excelled at.
To pull another example, Aleksander 's1mple' Kostyliev, once gave up the AWP, his preferred weapon, to Ladislav 'GuardiaN' Kovács. s1mple thought he could have more impact with a rifle, even though he was incredibly gifted with the sniper. At the time, GuardiaN was an extremely competent AWPer and traded blows with the best. But, when you have the best player in the history of the game, you tend to want to put him in the best possible position to succeed. s1mple, and NaVi for that matter, started performing much better once he was allowed to use his preferred weapon once again. There's something to say for giving a player the best opportunity to succeed, especially if it means giving them the role they've been most fruitful with.
Conclusion
In closing, Bubzkji's time in Astralis has been nothing short of disappointing and frustrating. Of course, he was ecstatic to join the best Danish organization of all time, but they criminally misused his abilities on the server, putting him in positions where he was absurdly unprepared. He was completely out of place in the server, and that's only when he was on the server in the first place. Bubzkji's legacy on Astralis, after nearly a year with the organization, will be him warming the bench for the majority of the time.
This terrible stint should not define one of the best Danish talents in the scene. Bubzkji proved his worth putting up massive numbers on Mad Lions, and his poor performance on Astralis does not reflect his true capabilities in top tier Counter-Strike. He was caught up in an ill-fated seven-man roster experiment bound for failure. Bubzkji is an absurdly capable entry fragger and as soon as someone recognizes that and puts him in a position to succeed, I'm sure he'll rise to the occasion.