As the off-season shuffle is in full swing, RBM's writers are highlighting the best, and their favorite, available players. In this article, Gonçalo shines a spotlight onto 22 year old Swedish hybrid and free agent Jack 'Jackinho' Ström Mattsson.
Who is Jackinho?
Before ascending to tier-one Counter-Strike, Jackinho played in multiple minor tournaments with various teams, consisting mainly of Swedish mixed teams. After several good performances, and partially due to a good relationship with Ludvig "⁠Brollan⁠" Brolin, Jackinho, earned a spot in fnatic, replacing the legendary Robin "⁠flusha⁠" Rönnquist.
The scorch trials
As soon as it was reported that the Swedish organization was trying to bring Jackinho to the team, fans started to question his skills, what role the 22-year-old would play, and whether he would be completing a 6-man roster, or who he was replacing. Despite all the uncertainty, Jackinho himself was seeing his dream become true.
The questions were quickly answered, as the fnatic roster was very transparent with the changes they were making. Jackinho replaced flusha in his role, which came with a lot of pressure, after all, there was an unproven young player trying to fill flusha's shoes, which isn't a piece of cake. flusha, active player since 2009, has a long list of career achievements, like 3 Major wins, 1 Major MVP, and a lot more trophies in his cabinet, and Jackinho only had played in 15 HLTV reported matches. With the 22-year-old playing as a rifler, the big green belonged to Jesper '⁠JW⁠' Wecksell. From a statistics point of view, this decision was questionable simply because Jackinho was known only for his AWPing skills and JW's ability as a hybrid was respectable.
Jackinho's debut with the renowned organization came against Complexity on January 25th, 2021, in cs_summit 7. The team found early success during the competition, reaching the grand finals where they lost to Virtus.pro.
Despite that early success, the team failed to qualify for IEM Katowice after losing to OG and then MIBR during the Play-in. The team also performed poorly during the 13th season of ESL Pro League where they finished the group stage tied in points with last place. After some smaller tournaments not going their way either, Flashpoint 3 came around, and with it the chance to get some RMR points, but fnatic once again didn't show any kind of form as they were rapidly thrown out of the competition. IEM Summer went the same way and it dictated the end of the Swedish roster as it was, with JW and Maikil 'Golden' Selim leaving the team, being replaced by William 'mezii' Merriman and Alex 'ALEX' McMeekin. ESL Pro League Season 14 went a bit better after the changes, with the team making it to the play-offs but going out in the first round. The team failed to qualify for BLAST Premier Fall 2021 through the Nordic Masters Fall 2021 but managed to qualify for IEM Fall 2021 where they didn't manage to get a single win. After that competition, Jackinho was benched, replaced by Owen 'smooya' Butterfield, and later released by fnatic.
The oasis in the desert
Despite the bad results, no one can blame Jackinho for not doing his part. The 22-year-old came into this fnatic roster with only 15 maps recorded in HLTV, with his only "somewhat professional" experience being a 5-day stay with Red Reserve, a small Swedish organization.
Not playing his role for half a year, and then having to play in a different language is not ideal for a young talent who doesn't have prior experience on that level, but Jackinho showed glimpses of his ability and, most importantly, showed consistency throughout his stint with fnatic. During his tenure with the Swedish organization, Jackinho averaged a 0.98 rating, 67.2% KAST, and a 0.67 KPR, which are some solid numbers for an inexperienced player playing in tier-one for the first time, and, despite being average stats, they can show how Jackinho can develop as a consistently good player in the future.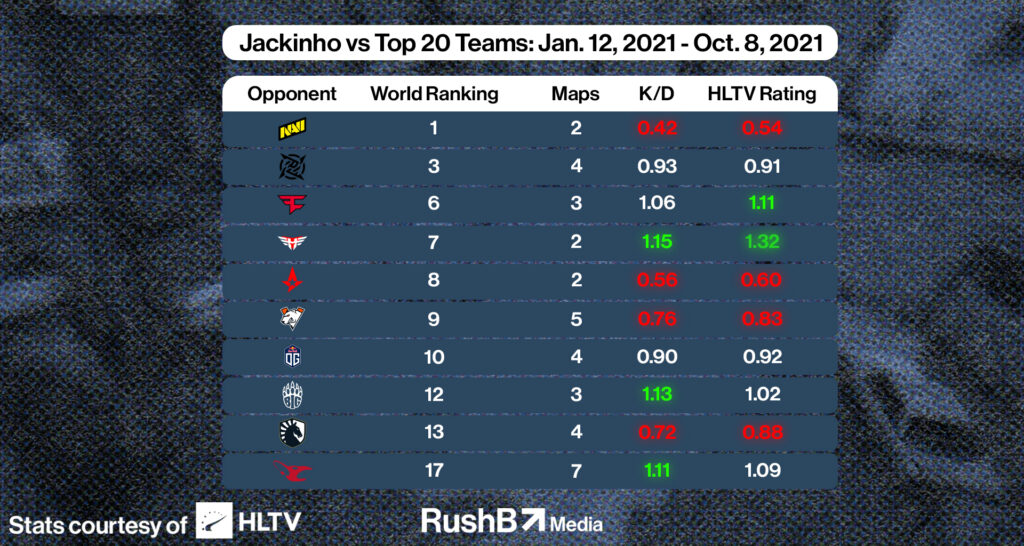 Alongside his consistency, fast reflexes, and thinking as an AWPer, Jackinho came out as an incredibly clutch player. For instance, the 22-year-old won all of his eight 1v2s while in fnatic, adding to that, Jackinho also won the only 1v3 he played. In 1v1 clutches, Jackinho lost 10 times, but won 14 times, keeping a positive record.
Where to now?
Jackinho is a diamond in the rough who can ascend to a top 20 AWPer status if included in a good atmosphere. Personally, I don't think he was given enough time at fnatic to show his true potential, and it wasn't the best environment for him to grow despite the objective of the organization to rebuild at the time they acquired Jackinho.
Since November 29th, 2021, the Swedish player has been a free agent, promoting himself as both an AWPer and rifler. There have been no reports about his future, so one can only speculate and create imaginary scenarios.
For me, the best thing that could happen to Jackinho is Nicolai 'device' Reedtz going back to Astralis and NiP picking the 22-year-old as their AWPer and joining a young group of players with high skill ceilings such as Fredrik 'REZ' Sterner, Nicolas 'Plopski' Zamora, and Hampus 'hampus' Poser. Despite this group's enormous potential, they lack consistency, and, sometimes, leadership from a veteran, meaning, they would need a 5th player with a lot of experience.
For some people, the best option for Jackinho would be for him to join an established tier 2 team, in order to get a lot of playing time in tournaments like Snow Sweet Snow or Malta Vibes Knockout Series. One team that fills these prerequisites are MAD Lions, who are in need of an AWPer. Yes, it would be a step back in his career, reputation-wise, but sometimes you need to take a step back to take two steps forward, and that is better than not playing or playing regional tournaments in mixed teams. A similar option to joining a tier 2 team would be joining an academy roster as more and more are getting established and competitive. Joining one could also be the next chapter of Jackinho's career, but this seems unlikely given his age as WePlay only allow one player over 20 in an academy roster competing at their event.
Any team looking to create a young core in order to develop it needs to have Jackinho's name at the top of their target list. It's mind-blowing that a consistent player, with great potential, and who can play both as an AWPer and rifler, hasn't found a team yet. Jackinho has a bright future ahead of him, let's hope teams see that.