As the off-season shuffle is in full swing, RBM's writers are highlighting the best, and their favorite, available players. In this article, Daniel Khurgin shines a spotlight onto 25 year old Russian rifler and benched player Nikolay 'mir' Bityukov.
When teams peruse through the files of benched players or free agents this off-season, they will see many players tossed to the curb. Dozens of players sit on the sidelines ready to step in. But they are all there for a reason. Some of them are legendary players who have dipped in form, while some are prospects who were not quite able to make it to the big leagues. Some of them are solid second and third-tier players who just happen to find themselves out of a team at the current moment. But, of all the players to choose from, one stands out as an ideal player for a title-competing team. On the unfortunate end of a transfer listing, mir finds himself looking for a team coming into 2022. More than anyone else in the scene right now, he deserves his place in top-tier Counter-Strike.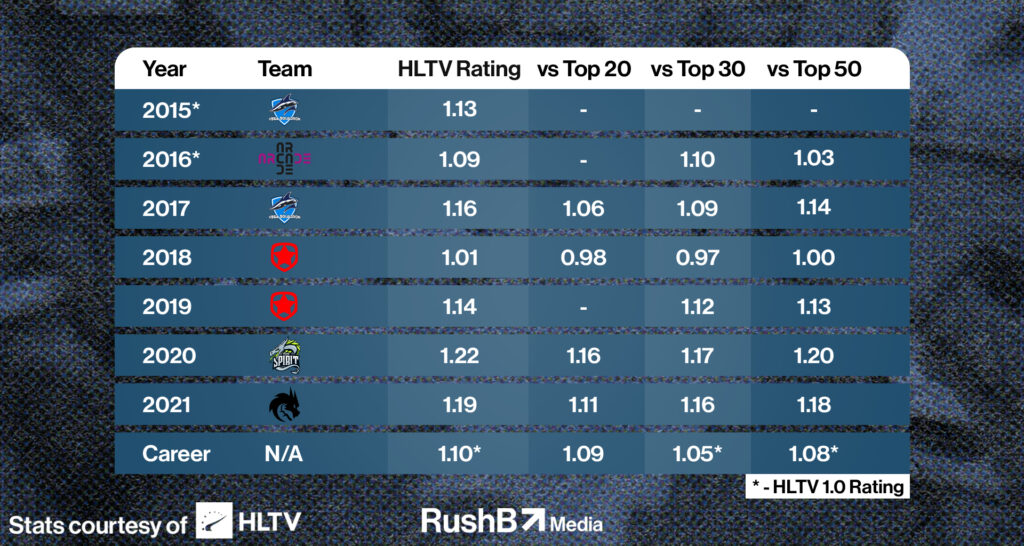 Rating Demon
Unlike other benched players for whom I may advocate, mir doesn't need any caveats or explanations to discard poor results. Simply speaking, mir doesn't have poor results to explain away. In the past two years, he has put up a 1.21 HLTV rating against his competition. mir doesn't hunt for low-impact frags either. He's put up an even more gargantuan 1.26 HLTV impact rating in that same period. He's a monstrous player and an absolute menace inside the server.
It is of note that he's not putting up 1.2 rating games against the world's best constantly. When he played for Spirit, the team he's currently riding the bench for, the team played in many CIS-only events, so mir had plenty of opportunities to boost his statistics by grinding mix teams into the ground. Nonetheless, in the last two years he still possesses a 1.12 HLTV rating against the top 20 teams in the world. He's a proven star against the apex of the competition. In a market full of players who either never played well against top-tier opposition or have their best years behind them, how is mir still without a team?
That's a rhetorical question. It's rhetorical because I don't have the answer myself. mir has been putting up impressive numbers in tier one Counter-Strike since his initial stint in Vega Squadron back in 2015. It is possible that mir simply knows his own value, and is unwilling to go to any team which isn't a top CIS organization. Due to his first language not being English, he might be limited to Russian-speaking teams. At the same time, Natus Vincere, Gambit, and Virtus.Pro are all quite stable in their rosters and might be too hesitant to make any roster moves as LAN comes back online. Whether that's the truth or just needless speculation, I don't know, but it's certainly a possibility. From the very beginning, he started out blazing hot, recording a 1.13 adjusted HLTV rating that year. Since then, he hasn't let off the gas.
mir's Beginning
After a positive eight months in Vega Squadron, mir moved to Arcade for a short while. Of course, he performed there too, easily putting up the best numbers on his team. After just a brief five months in Arcade and another few months in various mix squads, mir found himself back of Vega Squadron, this time on a more permanent basis. He spent over a year on that roster where he stood out as a CIS talent.
Again, of course, mir was the best player on the team. He led the team in rating and fragging power, propelling them to the main stages of multiple Majors. The team was ultimately unable to secure any important trophies, but mir's performance piqued the interest of the scene. He quickly turned heads and impressed the more prestigious organizations in the CIS region.
Gambit Esports
After a year and a half on Vega, mir was benched and transfer listed. But his performance was not in vain as Gambit picked him up to patch together their roster. The CIS organization had recently won a Major in 2017, but their roster quickly fell to shambles after the fact, leading many to call it a fluke run. Nevertheless, they needed a player to patch a hole and picked mir to fill that role.
mir struggled more on Gambit than he did on any other team. As stated, the team was in freefall after their spectacular Major victory, and simply adding a player can't fix a flailing roster. Players were swapped routinely, never a beneficial environment. Despite all the negative aspects, mir still managed to escape with a positive rating and helped the team achieve a 3-4th finish at ESL One: New York 2018.
Team Spirit
mir then moved to his most recent endeavor, Team Spirit. With Spirit, he truly made a name for himself internationally as a consistent and reliable rifler always able to put up great numbers in the face of adversity. With mir, Spirit began to take larger and larger scalps. In the early months of 2021, the CS community rumbled about a CIS era, where teams from that region began sweeping international competitions. Gambit, Virtus Pro, and the legendary Natus Vincere were all making deep runs and locking out final slots. Combine that with a Winstrike turned Entropiq roster that was nipping at the heels of the top 10, the CIS competition was tougher than it had ever been.
Even with the fiercest competition the region had ever seen, Spirit, with the massive help of mir, rose to the occasion. We have a wonderfully convenient regional ranking system for this period, the RMR system. In this ranking, Spirit emerged third overall for the CIS region, a spectacular result for the organization and of course mir himself.
mir has had an incredible career with Spirit. In total, he has only three events with the team where he posted less than 1.00 HLTV rating, and even then, not by much. In total, he averaged a 1.20 rating with the organization and an even higher impact rating. Together, they achieved third place in IEM New York 2020 CIS and a semifinal finish at IEM Katowice 2021. Altogether, they peaked at number six in the world according to HLTV, again largely spearheaded by mir's fragging ability.
Conclusion
In truth, it is hard to fathom why Spirit decided to place mir on the transfer list. He is a gifted player who would make a wonderful career player for any organization. He is only becoming better with age, and as he faces steeper and tougher challenges, he takes them in stride and steps up to the occasion. Far and away, he is the best player currently without a team, and it would be a shame to not see him in the server soon.
No excuses need to be made for mir. He has not had bad luck or never had an opportunity. mir is not in a slump, and he is nowhere near being washed. He is a complete stand out from the rest of the market. mir is in the prime of his career, and perhaps not as his peak. Who knows how much better he could become. He routinely tops the FPL leaderboards, continuing to practice his aim, coordination, and game sense. There should be no reason that he is not on a team right now. Looking upon the list of free agents and benched players available for pickup, mir is the absolute gold standard. mir has proven himself on the biggest of stages and any team looking for a fifth must look at him first before anyone else.