Arrival to FaZe Clan
After a grueling 12-14th finish at the StarLadder Berlin Major, the wounded FaZe Clan was in dire need of a roster shuffle. It was rumored that the international squad was aiming for Aleksi "Aleksib" Virolainen to lead the team. But it didn't take long for Nikola "NiKo" Kovac to discard them by claiming that Aleksib wasn't the right fit for the team, which meant that the Bosnian would take up the reins once again. But who was going to fill the void for FaZe then?

With a core of NiKo, Håvard "rain" Nygaard, and Olof "olofmeister" Kajbjer Gustafssonr, their need for firepower was dismal, but what the veterans needed most was some young blood to revitalize their hunger for winning. And at the age of 18, Helvijs "broky" Saukants became the perfect choice for the international roster. Not only did he possess the much-needed drive but he also gave room for Marcelo "coldzera" David to fit into the team. The two young and old talents were paired up, on the B bombsite of most maps, where broky was tasked with creating space for coldzera to frag out.

At first glance, it looked like a viable strategy as not only would it help coldzera in finding more impact, but it would also mean that his supervision would groom broky. However, it wasn't broky's failures that failed to realize that agenda, but it was his success.
Journey to an AWPer
As he progressed through officials, his confidence developed, which clearly reflected in his games. Even the fact that he was playing alongside Counter-Strike legends didn't intimidate the young Latvian in the slightest. It quickly became apparent that broky was gifted with a keen sense of judgment, some of the sharpest reflexes, and a great composure to back it up. With a guy of this caliber, a support role would be a waste of his talent. And so, broky was soon handed the responsibility to wield the sniper for the team.

Results instantly started to pour out for broky. In BLAST Premier Spring Series 2020, the first event he attended as the primary AWPer, he was the third highest-rated player with a 1.38 rating, even beating that of s1mple. Before that event, he had negative ratings in 6 out of 10 events he attended under the FaZe banner. But ever since he has become the primary AWPer, he has only had a single event where he failed to manage a positive stat-sheet.
Recent form on the T-Side
T-side rounds haven't come by easy for FaZe. This shaky T-side has been a prolonged restraint for Finn "karrigan" Andersen's team. After being a map up against OG in IEM Fall 2021, FaZe was heading to a comfortable 2-0 against OG after they put up a gigantic 14-5 lead. However, their feeble T-side didn't manage to fathom a single round after that as OG won 11 rounds in a row to close out Inferno. The major cause for this hassle has been their inability to find opening kills. In the last 3 months, they have the lowest Opening kill percent of any of the top 10 teams. Even though rain's best efforts have kept FaZe out of hot water, the rest of the team's contribution to the opening kills tally has been dismal.

A large chunk of the blame also goes the way of broky, whose passive nature has been superfluous. It may even come as a surprise to many that broky is the most passive AWPer out of all the AWPers belonging to the top 20 teams. In the last 3 months, his attempt at opening kills has only been 12.8%, even lower than that of Jame and sh1ro by a fair amount. This number has dropped even down below 8.5% on the T-side. In 2020 under NiKo's reins, the Latvian found far more impact at the start of the round where he had 12.1% on the T-side (14.1% overall). And so the question arises, is broky's inability to find opening kills the primary reason for FaZe's crumbling T-side?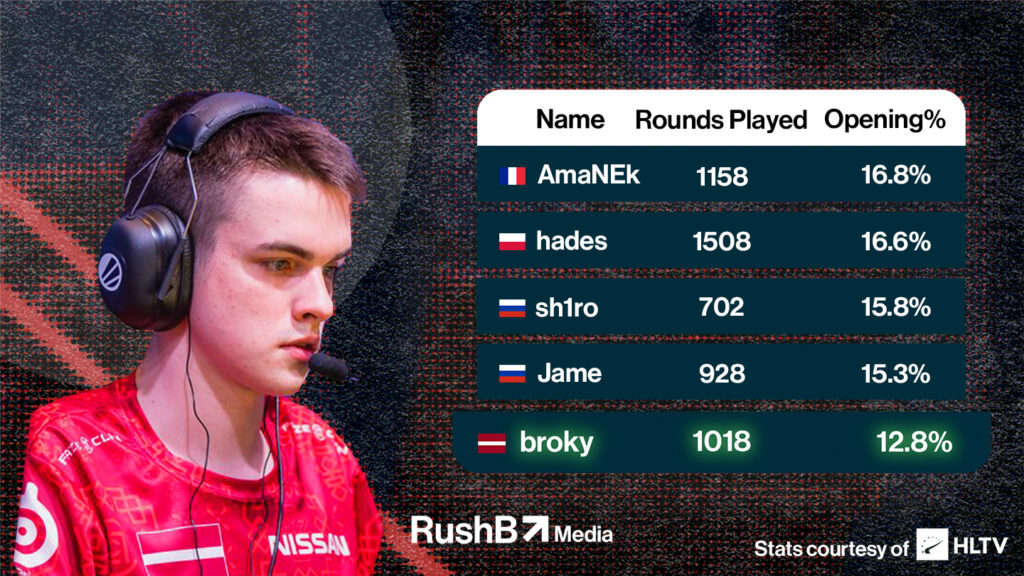 Recent form oN THE CT-SIDE
The CT-side of FaZe has been smooth sailing so far. They boast the highest Round Win % amongst the top 10 HLTV ranked teams. And it has been broky doing most of the heavy liftings with his big green on the defense. In the last three months, he has been the 5th highest rated CT player with a 1.28 HLTV rating (top 20 teams).

A complete contrast in broky's character appears during the defense. He becomes far more dynamic than he is as a Terrorist. He has found 71.8% success in the 17.1% opening attempts he has made in the last three months. His success rate stands tall at the top of the table among the top 20 teams. Not only has he been finding pivotal opening kills, but he has also done a magnificent job at holding down sites. After getting impressed by broky's up close AWPing around pillars, Twistzz made a funny remark calling him "dildo master" in a match against Complexity. Although sometimes his sloppiness and his redundant re-peeks have often been the cause of lost rounds. But you'd want someone like broky, who is fueled by excitement, to be set free and play his game.
Clutching Ability
broky has played beyond his years for the 2 years he has been in FaZe. His imperturbable nature has contributed massively to his clutching ability. In 2020 especially, the 19-year-old was ranked 4th in terms of 1vX situations won. He had 70 clutches to his name, keeping him on the same page as some of Counter-Strike's legends. However, his success rate of 66.1% in one-on-one scenarios in the same year stands taller than that of shox (53.3%), zywoo (60.9%), blameF (56.2%), and s1mple(58.1%). In 2021, however, broky has gone quieter during clutches. With only 34 clutches won this year, he even falls short of his teammate Russel "Twistzz" Van Dulken's tally of 36.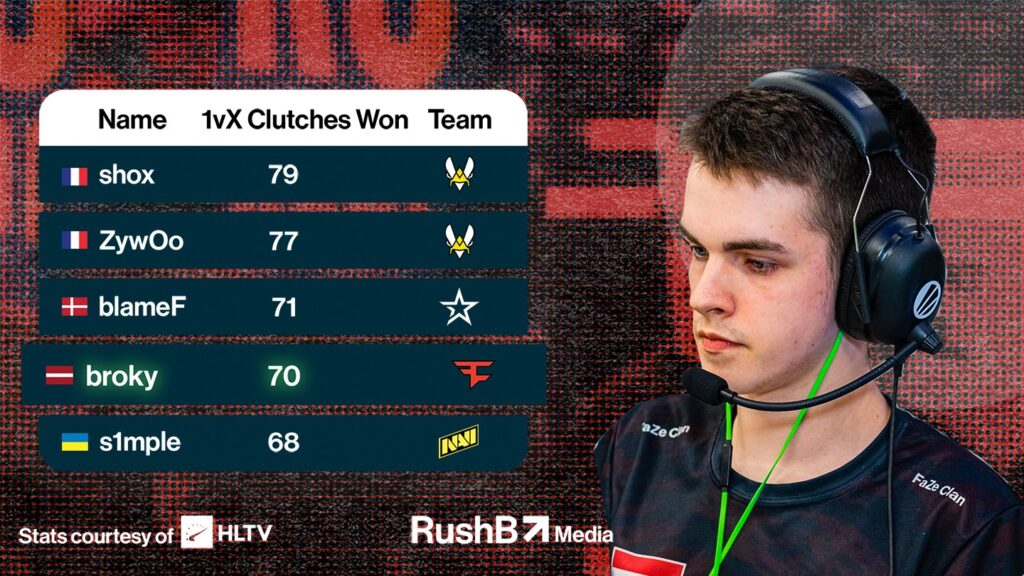 Stockholm Major
After a long wait of 2 years, broky will be making his Major debut in the PGL Stockholm Major. karrigan has already made it clear that he won't be satisfied by anything less than a semifinal appearance. For that dream to materialize, broky will have to fire on all cylinders. The Bo1s are surely going to make the journey harder for FaZe. But since "every game is every game" for the young Latvian, he has stepped up whenever it was needed by the rest of the squad. But will the Temple Priest listen to the prayers of countless FaZe fans for their first Major trophy? Only time will tell.
Catch broky live tomorrow at 10:00am CEST when FaZe Clan locks horns with Team Spirit in the PGL Stockholm Major Challengers Stage to begin their Major quest.