North American Counter-Strike has been in a constant state of turmoil throughout recent years. It feels like a lifetime ago Cloud9 won the 2018 Boston Major, and Evil Geniuses and Team Liquid reached their peak powers in 2019, where they both at one point claimed the number 1 position in the world. Looking at the state of the scene in 2021, it could easily reduce a North American Counter-Strike fan to tears. Cloud9 is gone for now, Liquid appeared visibly dysfunctional as of late, with players openly waiting to go their separate ways prior to the benching of three of the players, and Evil Geniuses being the laughingstock of the PGL Major in Stockholm, with Damian 'daps' Steele having recently eluded to the internal strife the team had faced. The scene has faced many troubles, such as the struggles of the three teams mentioned, and an exodus of talent which will be discussed. This article however will also point to the positive signs which could result in a potential rejuvenation of the scene going into 2022.
Valorant as a Competitor
June 2, 2020 marks the date that changed the face of North American Counter-Strike forever. This date signalled the release of Counter-Strike's first serious rival in the competitive FPS space in esports, as Riot's first person shooter VALORANT launched to much fanfare. While European pros did dabble in the game at launch, when the games competitive scene began to burgeon, no real current tier 1 professional players made the jump to the game. Adil "ScreaM" Benrlitom, who was playing with GamerLegion at the time of the switch, had not really competed in top tier CS since his stint in Team Envy in 2018. As for Elias "Jamppi" Olkkonen, while his switch came at the start of 2021, it was made more out of necessity as he had failed to have his VAC ban overturned in a controversial lawsuit, which made competing at a top level far more difficult.
North American Counter-Strike would face a much more arduous task in retaining their top talent in comparison to the European scene. Nick "nitr0" Cannella, the former Liquid IGL, who led the team to win the Intel Grand Slam in impressive fashion in 2019, before departing the organization after over five years of playing alongside Jonathon "EliGE" Jablonowski. Two weeks removed from his departure, on August 14, 2020, nitr0 would leave Counter-Strike altogether with the announcement that he had joined 100 Thieves VALORANT division in a move that shocked the CS:GO esports community. The move developed merely a year after the team's Intel Grand Slam success and signified that Valorant was a serious option for any North American pro, even in the top tier.
Following the dissolution of Cloud9's self-proclaimed 'Colossus' in April 2021, Ricky "floppy" Kemery seemed to find himself in a difficult position. As one of the brightest upcoming talents in Counter-Strike, let alone just in North-America, floppy found himself with minimal viable options in CS:GO. The 21 year old had previously voiced his disinterest in playing Riot's FPS, however, with nowhere else to turn in terms of a competitive career, he joined Cloud9's VALORANT division.
The departures of nitr0 and floppy to VALORANT are perhaps two of the most high profile moves to the rival FPS that we saw in North America, but they are far from the only ones. High profile names such as Timothy "autimatic" Ta and Joshua "steel" Nissan, as well as rising stars such as Sam "s0m" Oh and Matthew "Wardell" Yu jumped across to compete in VALORANT. This trend is often cited to have occurred as a result of organizations in the region viewing the running of NA CS teams as not financially viable, with Chaos dropping their roster, who were on a tremendous upward trajectory at the time, being a prime example.
As 2021 draws to a close, floppy has returned to the scene where he made a name for himself. Extra Salt acquired floppy's services in October and would go on to impress during a recent stint in Europe. Current rumours also point towards the aforementioned nitr0's return to CS:GO in 2022 under the Team Liquid banner that he had played under for so long. While these are two of the most high profile names to return to the Valve title, there appears to be a litany of other established NA players returning, including autimatic, Austin "Cooper" Abadir, and Ryan "freakazoid" Abadir. This re-introduction of experienced players into the scene will hopefully instil some firepower into whatever team they end up on, while also indicating that North American Counter-Strike can now be a viable career path again for upcoming pros.
Revamped Rosters
Going into 2022, nitr0's imminent return to Liquid's CS:GO roster will not be the only change in Tier 1 of NA. A shuffle is imminent in NA with Liquid and EG in the process of revamping their rosters. With the advent of VALORANT into the esports scene coupled with the effects of a global pandemic, these rosters have seen a steady decline in form which has led to these changes. As of writing this article, EG have retained the services of Tsvetelin "CeRq" Dimitrov and Vincent "Brehze" Cayonte, while also signing former G2 coach Damien "maLeK" Marcel. A revamped roster including former Cloud9 major winning trio Will 'RUSH' Wierzba, Jake "Stewie2k" Yip and autimatic is rumoured as of now. Liquid's line-up going into 2022 also remains unconfirmed, however the four confirmed thus far include EliGE, Joshua "oSee" Ohm, Richard 'shox' Papillon and Keith "NAF" Markovic who are expected to be joined by the aforementioned nitr0. In a sense, these moves, coupled with the potential re-emergence of the international LAN scene as COVID hopefully eases up somewhat, may mark a fresh start for the top two teams in North America, following a rather stale period through 2021.
Rise of Extra Salt
Another promising sign for the North American scene going into 2022 is the recent success of Extra Salt. In their most recent stint across the Atlantic, although they did not get the opportunity to play against tier 1 European competition, floppy and co. put in solid performances. They took 1-2nd place in ESL Pro League 15 Conference after beating Mad Lions, Renegades, and Sprout, before coming 2nd place at Pinnacle Fall Series 3, beating Mouz NXT and DBL Poney before falling to ECSTATIC in the final. While the side has asserted their dominance on their home turf since the floppy signing, the promise of Extra Salt may have been hindered going into 2022 by their loss of up-and-coming AWPer oSee to Liquid.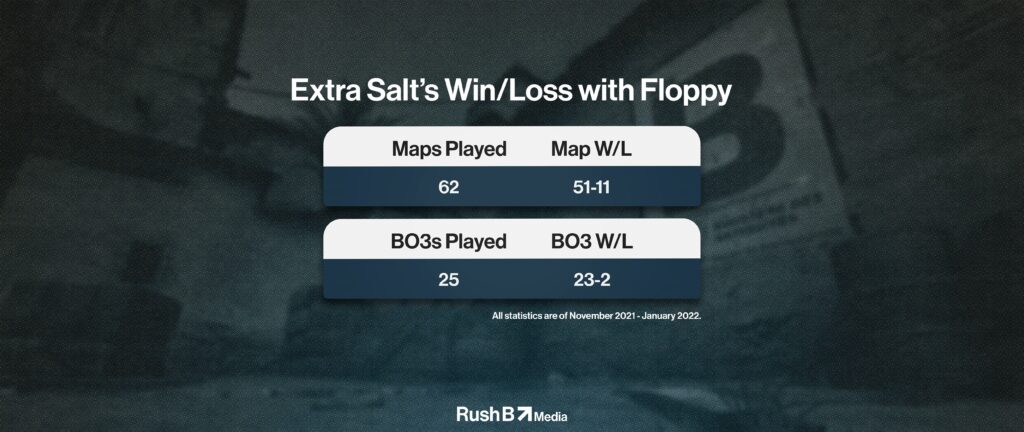 HLTV reported that Complexity are expected to sign the core of Extra Salt, floppy, Johhny "JT" Theodosiou, and Justin "FaNg" Coakley along with Michael "Grim" Wince and Paytyn "junior" Johnson as new additions. If this roster comes to fruition, 2022 could be the year these players prove they have what it takes to break through into tier 1 internationally. With the importance of playing well under an organization of Complexity's stature as an incentive, it is combined with Complexity's state of the art facility in Texas, which could be an ideal setting for this young and exciting team to practice and improve. Playing under Complexity would also provide a great opportunity for this team to prove themselves against international tier 1 talent regularly, as the Complexity organization is a partner of the BLAST and ESL.
An Organization for the Orgless?
If the rumoured move of the Extra Salt roster to Complexity occurs, Extra Salt would be left with imaginably a larger budget when you also consider oSee's transfer fee to Liquid. It appears that Extra Salt are to remain committed to North American CS, as Dust2 reported Extra Salt are currently considering a new roster which was initially headlined by veterans daps and Will 'RUSH' Wierzba. While RUSH is now being considered by EG, the rest of the roster is expected to be filled out with Bad News Bears' and Party Astronaut's players Michael "Swisher" Schmid, Gage "Infinite" Green as well as Marshall "Minus" Sedowicz and Hunter "Lucid" Tucker as the coach. While there is no certainty to suggest that this roster will be successful, on paper it appears to provide a good balance between veteran players and exciting young talent. With daps and his track record for building teams and nurturing young talent, this roster can be a very exciting prospect for the future.
As 2021 drew to a close, there were two stand-out NA teams who are still without an organization: Bad News Bears and Party Astronauts. If the proposed Complexity and Extra Salt lineups are confirmed, both BnB and Party Astronauts will be left with incomplete rosters. However, both teams have players who have proven their worth within the scene, playing without an organization or salaries, even through such a turbulent time in the North American scene. While the option to go to VALORANT remains on the table, there is also a chance we could see these rosters find replacements, or even split up and form new rosters within the scene, hopefully continuing to contribute to the scene in its potentially brightest looking year for quite some time.
A Chance for a Fresh Start
On paper, these potential lineups show a promising future for North American CS. While there are concerns with the addition of shox to Liquid due to role clash with NAF and never having played outside of a French roster, he is an experienced veteran who showed his worth recently in Vitality. Despite this uncertain quantity, however, NAF, EliGE and nitr0 make up the core of the Intel Grand Slam winning team and have evidently worked well previously while oSee is one of the brightest stars in NA and has been waiting for a chance to prove himself in tier 1. EG would have two of the most explosively talented players in recent years with CeRq and Brehze who should thrive in a new environment created by Major winning trio RUSH, Stewie2k and autimatic. When also considering the potential Extra Salt or Complexity rosters, there is a real chance for North America to have three or four consistent top 20 teams in 2022, a step towards stability in the scene.
While practically nothing is predictable and straightforward in Counter-Strike, let alone North American Counter-Strike, the signs generally point towards an upward trajectory for the scene. However, it would by no means be an overnight success. With the potential changes coming to Liquid, EG, and Extra Salt, alongside the return of several top talents from VALORANT and the potential reintroduction of international LANs, 2022 looks like a good chance for the North American scene to revitalise itself and become a more stable component of the international scene.