Finn "karrigan" Anderson is one of the most astute IGLs of all time. His ability to hold his own while leading at the highest level of Counter-Strike has been lauded by CS:GO connoisseurs throughout his career. Having proved his dexterity in different iterations of rosters throughout his career, karrigan makes a case as the best IGL to have ever touched the game. History speaks of his roster-building prowess as every team who picked him up has instantly started producing results, giving rise to his legacy. From his journey that started in Dignitas to his return to FaZe to settle his unfinished business, let's dive into the complications he had to face and how he dealt with them to surge through the world rankings.
Dignitas / TSM / Astralis
Karrigan faced his first big challenge as an IGL when he was asked to lead Dignitas after replacing Henrik "FeTish" Christensen in December of 2014. It would be his first chance to implement a system where he had the freedom to call the way he wanted. With Peter "dupreeh" Rasmussen, the sixteenth best player, and Nicolai "device" Reedtz, the twentieth best player of that year at his disposal, questions were raised if karrigan was the right fit to lead them. One of the main tasks ahead of karrigan was to infuse these young guns with confidence. They needed to recognize themselves as star players who were forces to be reckoned with. That's when karrigan knew that he needed to coach the players in his own way while leading the team from the server too.
Karrigan silenced all the skeptics in 2015 as he started to cultivate results. His aggressive style of calling suited the individuals as things started to bode well for the Danish roster. Some notable achievements include 1st place finishes at FACEIT League 2015 Stage 1 Finals, CCS Kick-off Season Finals, Fragbite Masters Season 4 Finals, PGL Season 1 Finals and 2nd place finishes at Copenhagen Games 2015, IEM Gamescom 2015, IEM San Jose 2015, ESL ESEA Dubai Invitational 2015, and Dreamhack Open London 2015. When HLTV launched its new Global Team Ranking System in October, TSM was already ranked as the second-best team in the world. Even though they had many positives to take from the year, it was unfortunate that they fell short of the prestigious major win at ESL One Katowice 2015 and ESL One Cologne 2015.
device
Karrigan cajoled device into taking a lot more initiatives to find more impact. He wanted to solidify him as the star player the team could play around with. In 2015, device thrived in every context. He was a consistent fragger as he held a rating above 1.00 in 66% of the maps he played. He was effective in finding openings as he increased his opening ratio from 1.21 in 2014 to 1.31 in 2015. And being the star player, he also came through for his team during challenging clutch situations. Compared to device's interview at the beginning of 2015 where Dane expressed his tendency to succumb to pressure, as the year came to an end, device was oozing with panache. He was chosen as the third-best player for both 2015 and 2016 by HLTV while he bagged MVPs at FACEIT League 2015 Stage 1 Finals, CCS Kick-off Season Finals, Fragbite Masters Season 4 Finals, PGL Season 1 Finals.
The Rise and Fall of Astralis
As inner conflicts between the TSM organization and players began to surface in late 2015, the roster decided to find a new backer. The team decided to build their own organization, which we now know as the most accomplished org in the history of CS:GO, Astralis. Even though expectations of the Danish team were high from the start, karrigan's boys failed to live up to them. They failed to qualify for ESL Pro League Season 3 Finals and Dreamhack Masters Malmo which led them to bench Rene "cajunb" Borg and bring in 18-year-old Markus "Kjaerbye" Kjaerbye. However, their struggle continued as they failed to secure top three in seven events. Signs of distress within the team began to surface. In an interview with Fragbite, karrigan explained how he had an approach that differed from the rest of the team. The team's faith in karrigan's leadership faltered as they stopped listening to his calls. And by October, karrigan was benched from Astralis.
FaZe
Every IGL dreams of leading a superteam. When that dream came true for karrigan when he was signed by FaZe, he realized the responsibilities that came with it. The task before him was to create a system where everyone would get enough space to perform to their fullest capacity. After joining FaZe he raised the team from fifteenth in the world ranking to fourth in a span of 3 months. However, the expectation now was to become a dominant number one. But even under all the pressure and responsibility, karrigan didn't falter. Instead of dedicating players to roles or focusing a lot on communication, karrigan envisioned a superteam where everyone would be able to play as superstars and play off of one another He knew that there was no need to micromanage as they were all accomplished players and knew what to do at every point. Thus, he developed a loose structure where he would make decisions on the fly. He believed that Håvard "rain" Nygaard was the x-factor for the team and that the team's formula for success would be his activation. Therefore, karrigan became the primary entry and had rain trade him. He became the necessary sacrifice as he knew that even in 3v3 situations, with the amount of firepower and experience at their disposal, FaZe would have the upper hand against almost every opponent. It worked like a charm for FaZe as they became totally untouchable. They would run over opponents, leaving them to single-digit score lines. During karrigan's tenure, FaZe became immensely successful as they conquered SL i-League StarSeries Season 3 Finals, ECS Season 3 Europe, ELEAGUE CS:GO Premier 2017, ESL One New York 2017, ECS Season 4 Finals, IEM Sydney 2018, ESL One Belo Horizonte 2018, and Epicentre 2018.
NiKo
When Nikola "NiKo" Kovac was playing for mousesports, he was already on bigger teams' radars. He was calling the team around himself after gob b departed the roster. His immense fragging at big events made mousesports a one-man show, but all his mad-fragging never translated to a tournament win. However, once acquired by FaZe, the monster Balkan prodigy was unchained. Playing in a team where everyone had the capacity to turn a round in their favor meant that the team did not heavily rely upon NiKo to carry them through every game. It relieved him of pressure and gave him more freedom to frag out. He was also set up by karrigan in positions where he was tested and NiKo passed them with flying colors. The fact that he didn't drop below 1.00 rating in any event under karrigan gives you an inkling of how consistent he was. He placed second in HLTV's 2017 Top 20 Player Rankings and third in 2018.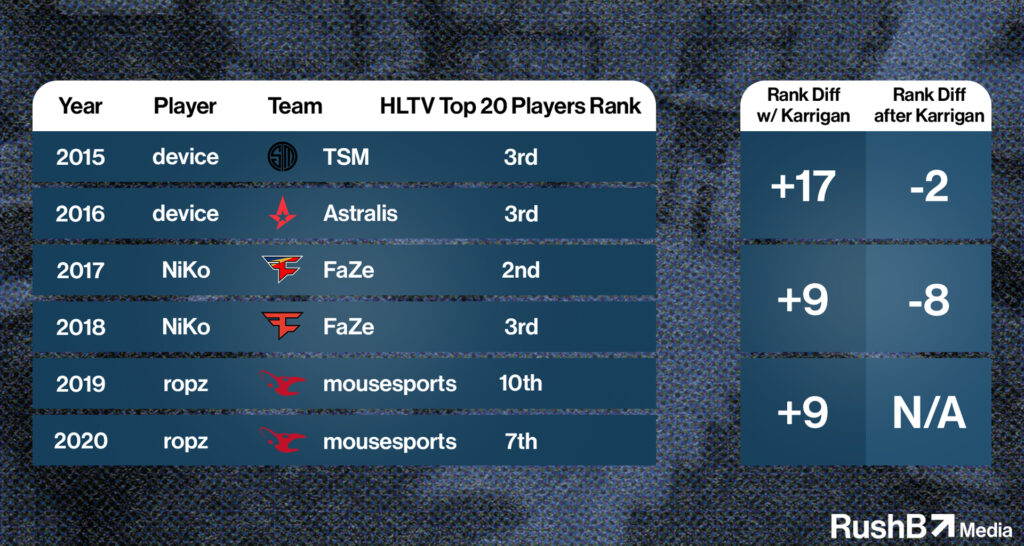 The Fall of FaZe
The domino effect of the infamous fall of the international powerhouse started after the grueling loss to Cloud9 in the ELEAGUE Major 2018. Going into the tournament, they were the indisputable favorites. They went on an onslaught as they didn't drop a map until the finals where they faced Cloud9. Sitting at a 15-11 lead on the final map, karrigan was a round away from claiming his long-coveted major. But in an unforeseen turn of events, Cloud9 came back in triple overtime and upset FaZe to win the Boston Major. The team started to break after IEM Katowice 2018 where they lost the finals in a similar fashion to fnatic. Following that, Olof "olofmeister" Kajbjer temporarily took a leave of absence, leaving FaZe in a dire situation. It was detrimental for FaZe not only because they had lost the glue of the team but also because it stirred up a never-ending cycle of stand-ins. Karrigan took the fall individually as he had to fill in the gaps left behind by Olof. Robert "RobbaN" Dahlstrom's absence from coaching duties due to personal reasons only worsened the situation. The team started to fall apart and karrigan's teammates started to lose faith in his calling. Since RobbaN wasn't present to back him up, karrigan was backed into a corner and since circumstances had become obstinate, a roster change was forthcoming.
Mousesports
After karrigan's brief stint with Envy came to an end, he was picked up by Mousesports alongside Özgür "woxic" Eker and David "frozen" Čerňanský in May 2019. woxic had been immensely consistent in Hellraiser so it made sense to pick him, however, frozen was a surprise pick as he had no tier 1 experience. With a lineup abounding in young and inexperienced talent looking to establish themselves at the highest tier of Counter-Strike, karrigan's shoulders got more burdened with responsibility. As a result, he had to look over them and micromanage tremendously to make sure the young guns fire on all cylinders. And with his keen sense of figuring out people's strengths and weaknesses, he prospered in giving a palpable structure to the team. frozen prevailed in the entry role, ropz thrived in his own unique style of lurking, woxic developed into a star AWPer fueled by his passion, and chrisJ provided experience and stability while assisting karrigan as the secondary caller.
Considering how mousesports started 2019 sitting at fifty-first in the world, they ended the year on an incredibly high note, securing a first-place finish at CS:GO Asia Championship 2019, ESL Pro League Season 10 Finals, cs_summit 5, and a second-place finish at Epicenter 2019. Mouz concluded the year ranked second on HLTV's World Rankings and ropz earned tenth place while woxic placed twelfth at HLTV's top 20 players of 2019. The karrigan effect was in full force and he had taken yet another team to elite status.
ropz
According to karrigan, Robin "ropz" Kool was one of the most hardworking people he ever played with. He would spend hours playing deathmatch, watching demos, practicing grenades, surfing, or doing something associated with the game. It made him one of the most complete players karrigan knew. He developed godlike aim, but also had an excellent understanding of the game, and yet he would show up on the server with a grenade lineup that would even surprise his teammates. However, having not played with a lot of experienced players meant that most of the things he knew were self-taught. The fact that ropz was now playing under an accomplished IGL for the first time gave him a huge confidence boost. He hit the ground running and started taking initiatives by himself and karrigan would be there to nourish his ideas. Even though lurking demands a lot of experience, his infallible nature combined with his hunger for frags made him thrive even in a role that limits one's conduct.
The Fall of Mousesports
In the wake of Covid-19, Counter-Strike had to transition to an unfortunate online phase that affected every player. One of the victims of the online era was woxic who was strained to play with a high ping which ended up causing other issues too. Consequently, woxic was benched from mousesports in August of 2020. However, the organization failed to get an exemplary substitute which left mousesports in a tight spot. As Chris "chrisJ" de Jong struggled to put up numbers on the scoreboard, mousesports saw themselves drop to twenty-two in HLTV's world rankings. To add insult to injury, Reijin was suspended from the coaching position after he confessed to exploiting the coaching bug during his tenure in Tricked. All these things combined with the organization's apathy to spend the big bucks to buy the pieces karrigan needed to rebuild the roster caused karrigan to set sails for FaZe
Return to FaZe
Karrigan returned to FaZe at the start of 2021 chasing the major trophy he has longed for throughout his career. He was handed the reins once again to build the roster how he wanted and he started by bringing back RobbaN. The relationship between a coach and IGL is very distinct and is instrumental in a team's development. According to karrigan, RobbaN helps him "in the way he needs it." He gives a lot of authority to karrigan and is there to encourage him whenever he derails. A dilemma presented in front of karrigan when he rejoined with RobbaN was the lack of aggressive players on the team. Marcelo "coldzera" David and Helvijs "broky" Saukants are known to be passive players and the only naturally aggressive player, rain, was going through a rough patch in form. So in order to elevate rain's performance, karrigan had to once again become the primary entry where he would engage in most of the opening duels and would have rain to re-frag. In an interview with Flashpoint, karrigan admitted to making rain lurk in a couple of matches in order to bring him out of his comfort zone. But as these strenuous efforts seemed to have no effect, FaZe began to drop in rankings as they finished last at Flashpoint 3 and Dreamhack Masters Spring 2021. Left in a desperate spot, FaZe benched coldzera and brought back olofmeister. Even though the move was not well received by many, it worked. rain began to crawl back out of his slump and Russel "Twistzz" Van Dulken started to find more impact. The return of LAN boded well for FaZe as they finished in third-fourth by defeating Team Spirit, Vitality, Heroic, and Gambit at IEM Cologne 2021 to surge from thirty-ninth to fourth in the rankings.
As the Stockholm Major was approaching, FaZe was asked to step up for the final RMR event, IEM Fall 2021 Europe. Things looked dire for FaZe as they were almost ruled out of the major qualification run after losing BO1s to NIP and Fiend. But as a glimmer of hope was still left, they sprung back to life and beat OG and BIG which qualified them for the major. In the Challengers Stage, they comfortably beat Team Spirit, ENCE, and Virtus.Pro to advance to the Legends Stage. A smooth win against EG followed by losses against G2 and Copenhagen Flames meant that they had to win the last two BO3s to stay alive in the tournament. They passed with flying colors against Team Liquid as they trounced them in a 2-0 fashion to set up a rematch against Virtus.Pro. FaZe came out ahead on the first map defeating VP by a 16-13 scoreline. On Ancient, the second map, FaZe started on the T-side and ended the half after notching 8 rounds, making it their most successful T-side on that map. Up 13-8 on the CT side of Ancient, they were in a comfortable spot to close out the map and the match. But once again, the unthinkable happened. Virtus.Pro came back and won 7 rounds in a row and clinched the map 16-14. It started to come tumbling down for FaZe as they lost the final map of Overpass by a 16-11 scoreline and got eliminated in the most excruciating way.
It's clear that karrigan's calling holds a great deal of sway over the team's success. Over the years, he has evolved as a potent IGL capable of leading teams to title contention. Even though FaZe didn't manage to win a single trophy in 2021, the team and karrigan still have a lot of positives to take from the year. Though rain had a rocky start to the year, he has managed to find his form in the last three months, Twistzz and broky are looking like incredible prospects for FaZe going into 2022, and if the rumours circling around the signing of ropz come true, karrigan will have all the assets needed to finally claim his major trophy.