Two weeks ago, the regular season of the ESEA Season 38 EU Premier came to an end. As Week 7 delivered the final standings, there were some surprising results, and positions were shuffled.
Group A
Every team in group A had only one game left to finish their calendar. BLINK faced off against Akuma in a duel between the top and the bottom teams. The match started with BLINK stealing away Akuma's pick by the finest margins, and then they shattered the Ukrainians' hopes of staying in Premier on Mirage. 2-0 to BLINK as they solidified their top position.
Another sweep came from an unexpected team as Apeks got a clean 2-0 against Sangal, pushing the Swedish org up to the relegation competition and the Turkish squad into 3rd place. Following their battle was the Portuguese fight against demotion – sAw vs. DBL Poney. With the French already guaranteed in playoffs and having to prepare for IEM Fall, the Poneys didn't bring their A-game, and sAw grabbed that opportunity, winning 2-1 to stay put in Premier.
To finish group A's affairs, Sprout battled against Enterprise in a match that ended 2-1 to the Slovakia-based org, saving them from instant demotion but having to fight through relegation.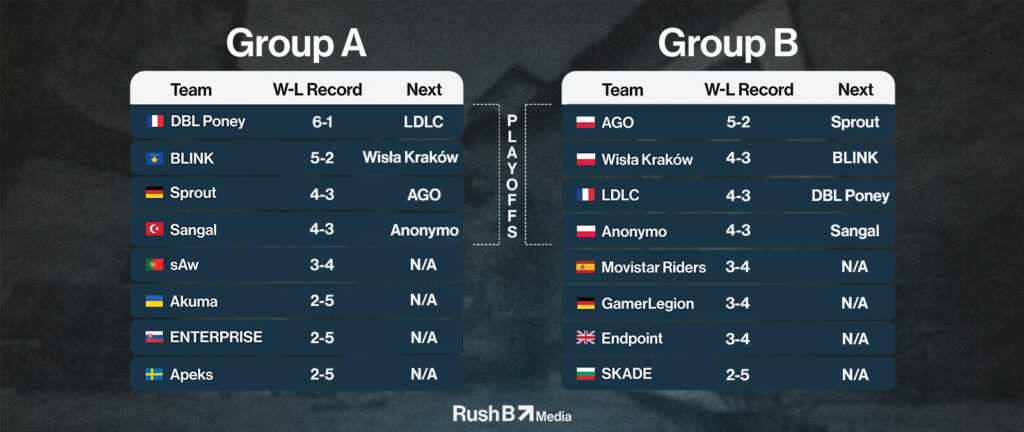 Group B
With some teams still behind in games, the group B final standings were yet unknown, apart from AGO that had already clinched 1st place, even though they lost their final game against Wisla Krakow 2-1. The Krakow-based team had already played that day, but with a very different result. A 2-0 loss against their fellow countrymen from Anonymo could have made things more difficult for them, had they failed to beat AGO.
Anonymo also played twice. Before facing Wisla, they had already reverse-swept the French from LDLC, 2-1. A few hours later, LDLC faced off against Movistar Riders, getting swept by the Spanish. A couple of days before, Movistar had played against Endpoint and had lost 2-0. To finally end all the confusion in the group, GamerLegion managed to beat SKADE 2-1 after an intense overtime win on Overpass, the decider.
To end the season, SKADE finished in last place, Movistar and Endpoint will fight for their spot in relegation and GamerLegion fans rejoice as the team maintained their Premier place. The three aforementioned Polish teams of Anonymo, AGO, and Wisla Krakow advance to playoffs, joined by the French-led LDLC.
Playoffs
Today is the beginning of the end, as the playoffs start with the top four teams from each group facing each other. Everyone is eager to know who will join the ESL Pro League next season, and we will find that out when the final two teams come to blows Sunday the 17th.