After almost a full month, ESEA Premier has made a return in all regions. In Europe, Season 39 has seven new teams: Team Finest, Sinners, Entropiq, forZe, Nemiga, 1WIN and Copenhagen Flames. Eternal Fire, the Turkish superteam, was supposed to occupy Sangal's spot, but the tournament organizers didn't allow it.
The first round of play happened during the PGL Major and as a result, some people definitely missed it. We've got you covered though, so here's a quick recap of week 1!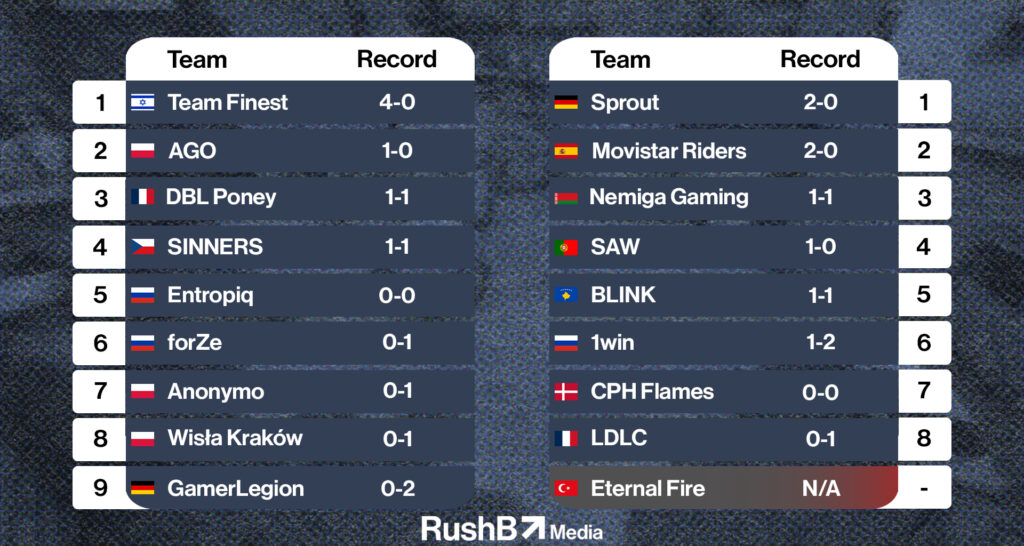 Week 1
Group A
The newly-promoted Team Finest kicked off its season with two convincing wins against Wisla Krakow and GamerLegion. GamerLegion had already lost against Sinners the day before. Sinners, the demoted team from ESL Pro League, started its Premier journey with a win but clashed against the reigning champions the day after, as AGO won that game 2-1. To finish off week 1 of group A, DBL Poney faced off against Anonymo in a match that ended 2-1 in favor of the French.
Group B
In group B, only two games were "played". The first one was sAw vs. Eternal Fire and the second was BLINK vs. Eternal Fire. Since Eternal Fire was disqualified, its opposing teams won the game by default.
The second week of Season 39 brought some group A surprises and finally gave us some group B gameplay.
Week 2
Group A
This week Team Finest played twice again and, again, Team Finest won both matches. The first against forZe and the second versus DBL Poney. The French were cleanly swept by the European mix team in Team Finest.
Group B
The first real game played in Group B happened between Movistar Riders and 1WIN, with the Spanish taking home the victory. The next day, Movistar played against Nemiga, easily dispatching of the team. This Spanish roster is coming strong after a not-so-good Season 38 but with some major experience under their belts after giving trouble to some of the best teams of the world.
Sprout swept BLINK after a close first map, with the veteran Timo 'Spiidi' Richter leading the team to success.
To finish off week two, 1WIN played twice, first against LDLC and then against Nemiga, netting different results from both matches. LDLC nearly beat the Russians, but the French were no match for them during the Ancient decider, with 1WIN getting their first win. In the match versus Nemiga, the 1WIN faced off against a formidable force in Artem 'iDISBALANCE' Egorov. iDISBALANCE finished the 3-map series with a 1.65 rating and a +39 K/D difference. It's safe to say that iDISBALANCE lead his team to the victory over 1WIN.