Another week of Season 39 EU Premier has passed, and this time not many games were played. We finally got to watch the Copenhagen Flames play this season, but underperformed in their season debut. Across all the games, we were also treated to some amazing individual performances.
Group A
During week 3 of this season, two games were played, and both involved forZe. The Russian squad first played against DBL Poney in a match where the French had no way to stop Andrey 'Jerry' Mekhryakov and Alexandr 'shalfey' Marenov during the first map, Inferno, which ended 16-12 in favour of forZe. During the second map, Aleksandr 'zorte' Zagodyrenko put on a show, carrying his team over the finish line, winning the map 16-8, and the series 2-0. Their second match came a few days later against Anonymo. Unfortunately for the Russians, they weren't able to replicate their performances from last time, and the Polish team, even though they lost the first map, took home the series on the back of brilliant showings from Janusz 'Snax' Pogorzelski during the second map and from the team as a whole during the Nuke decider, which forZe surely want to forget. The map ended 16-1 for the Polish, winning them the series.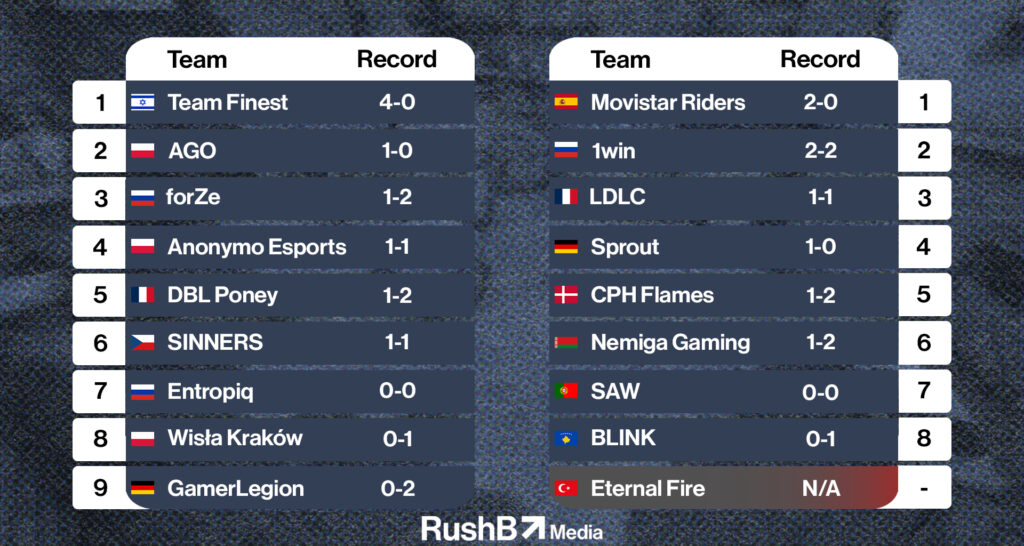 Group B
Over in Group B, a similar incident happened, where CPH Flames played in all games of the week. Their first match of the three played was against 1WIN. It was a balanced series with both teams stealing each other map picks and the Vertigo decider going to overtime. Even though the Danish were deemed favourites they couldn't close out the OT and 1WIN took the series, winning the decider 19-17. Next up was the Belarusian squad of Nemiga, who were quickly dispatched by Fredrik 'roeJ' Jørgensen and company. To finish off the week, CPH Flames played against LDLC in a series that went down to the wire. After the first two maps going to the chooser, Inferno to LDLC and Ancient to CPH Flames, the Mirage decider saw all 30 rounds being played in a back and forth affair between the teams that culminated in a 16-14 final result in favour of LDLC.