ESIC have announced that Nicolai "HUNDEN" Petersen will receive a 2 year suspension from all competitions organized by ESIC members; the ban follows his termination from Heroic at the end of July. According to the press release, Petersen is receiving the suspension for the sharing of anti-strat tactics with competitors, as well as his public admission of said actions, which are found to be a breach of ESIC's Code of Conduct.

The incident was initially reported to ESIC just prior to IEM Cologne where the body's concerns were a potential "perceived or actual threat" to the integrity of the tournament, the integrity of esports more broadly, and the reputation of ESIC's member, ESL. This prompted an investigation to be commenced due to a potential breach of Article 2.4.5 which refers to incidents damaging the reputation of ESIC or it's members.
2.4.5 Where the facts of the alleged incident are not adequately or clearly covered by any of the above offences, conduct that brings Esport, the Game, Event, ESIC or a Member into disrepute.
The investigation, which involved a forensic report by an expert firm as well as numerous interviews with all potential stakeholders, found that the information has not been accessed by the recipients—a fact which was previously confirmed by an ESL representative. The report concludes by saying that Petersen has been offered a "plea-bargain," at the discretion of the commissioner, which sees his sentence capped at 2 years. It also notes that he is free to appeal the sanction but at the risk of a stronger sanction at the discretion of the appeals panel.
This suspension will not be Petersen's first after initially being handed a 12 month ban in September last year for exploiting the infamous coach spectating bug in two matches in May of that year. Although the duration was later reduced to 8 months due to his help with the further investigation of other coaches, Petersen still received a ban from Valve for the next five Majors.

After his ESIC ban expired in May this year, HUNDEN returned to his coaching position at Heroic for just three tournaments. One of these tournaments was the Flashpoint 3 RMR where he was not allowed to interact with the team during their matches following the Valve suspension on coaches in all online RMR tournaments. Prior to their next upcoming tournament, IEM Cologne, Heroic announced that they would be attending with their performance coach, Troels "robl" Robl, rather than HUNDEN although they did not initially specify the reason for his removal.

At the same time, a report by HLTV.org indicated that HUNDEN was the prime candidate to fill the void in Astralis after their coach, Danny "⁠zonic⁠" Sørensen, was reported to be leaving the team at the end of the year. A tweet by Petersen followed a few weeks later, on July 28th, where he confirmed that he would not renew his contract with Heroic and would instead look to "begin a new chapter of [his] life"; this seemingly gave more credence that he would in fact be joining Astralis.

Much to everyone's surprise, this was not the largest story to come out of the tweet as Petersen publicised that there were rumors being spread claiming he had potentially shared Heroic's strat book with other teams. This was news to almost everyone in the community as the rumors had not been publicly shared elsewhere prior to the tweet. He further went on in the tweet to "categorically deny" the rumors but admitted to having shared anti-strat material with other teams in the "context of sparring."

The following day, Heroic released a statement in which they announced the termination of his contract and listed a plethora of issues they had faced with Petersen as well as making it publicly known that they had started legal proceedings against him for the actions he had taken. The most egregious issue Petersen allegedly undertook was blocking the team's access to their strats prior to IEM Cologne on top of the already spread rumor that he had shared Heroic's tactics with other teams.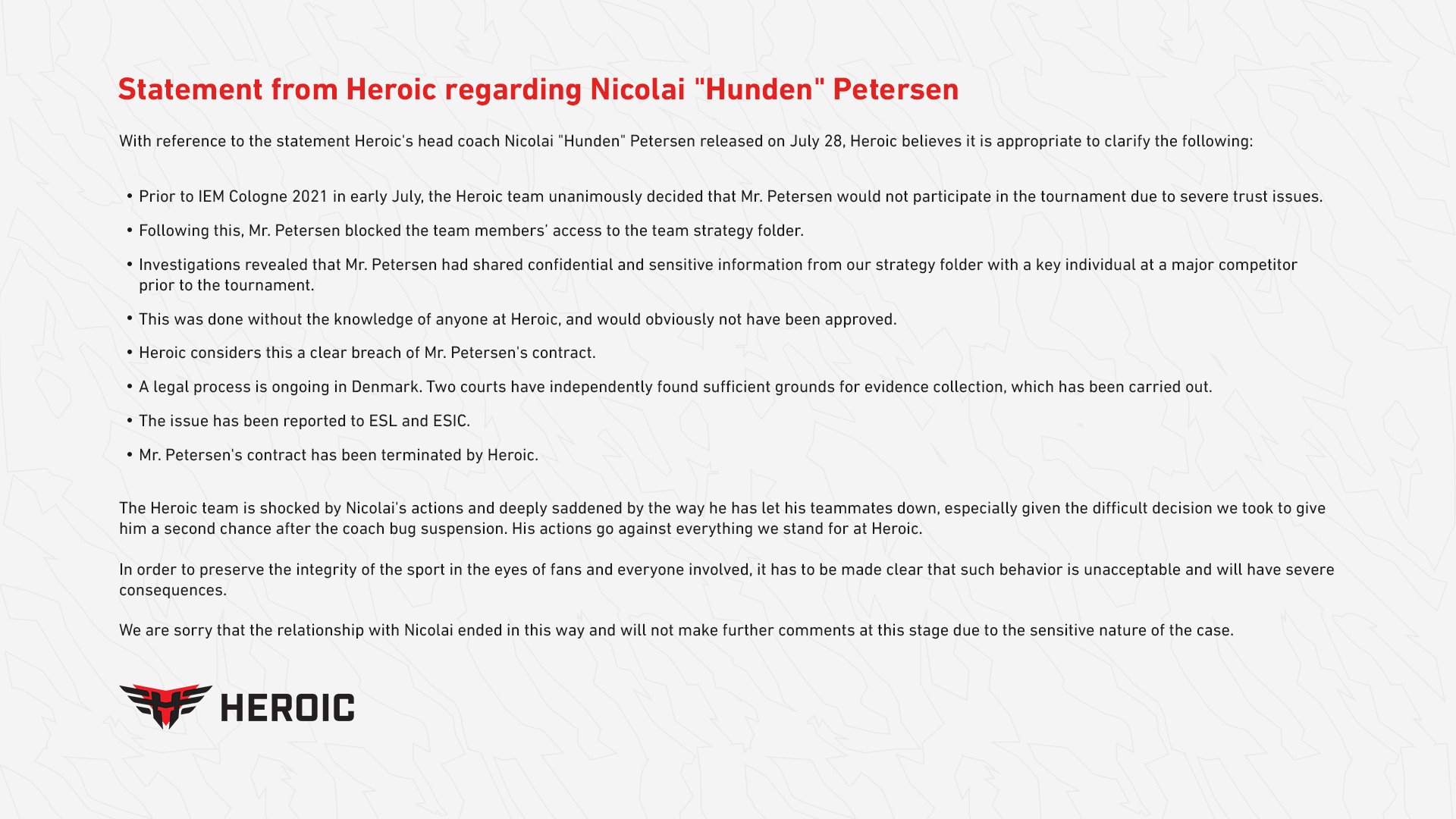 Since then, in an interview on Danish TV channel TV2, Petersen claimed that ESIC did not communicate with him during the process—an allegation which the ESIC report strictly disputes, stating that communication had been ongoing since 19th August but that he had "failed to provide ESIC with any reply of substance relevant to the charge made against him." He also went on to retract his initial statement that the players on Heroic did not know that he had exploited the coach spectating bug—an accusation which was denied by Heroic's CEO.

Unfortunately, the ESIC report makes no mention of the latter accusations, although TV2 claims to have evidence which implicates at least some of the players. The evidence was reviewed by Jacob "Pimp" Winneche who revealed he was inclined to believe HUNDEN was telling the truth based on the material he was shown.

As HUNDEN's new ban is set to expire on 24th August 2023, his potential position as coach at Astralis looks unlikely unless he were to successfully appeal the decision. ESIC has also asked all non-member tournament organizers to also honor the ban; this would make no difference to HUNDEN or Astralis as both almost exclusively compete in ESIC sanctioned events.
ESIC issues sanction against Nicolai "HUNDEN" Petersen

ESIC has issued a 2-year ban to Nicolai "HUNDEN" Petersen for engaging in behaviour that threatened harm to the reputation and competitive integrity of esports.

Read: https://t.co/muOjVkv3e3 pic.twitter.com/emSUrTN005

— ESIC (@ESIC_Official) August 27, 2021