Mathias "MSL" Lauridsen is one of Denmark's greatest ever in-game leaders. Yet, after terminating his contract by mutual agreement with North in February 2021, he has remained a free agent for eleven months.
MSL has a track record of developing talent, having gotten career-best form out of Philip "aizy" Aistrup, Markus "Kjaerbye" Kjærbye, and Kristian "k0nfig" Wienecke. He has won two S-Tier titles as the underdog, even receiving an MVP in the second at DreamHack Stockholm. Despite that, he is yet to find a new home. Even older teammates Nikolaj "niko" Kristensen and Valdemar "valde" Bjørn Vangså passed him up recently in their search for an in-game leader at OG, going with Nemanja "nexa" Isaković instead. 
Read more: nexa: "I would like to play NAVI… for sure it will be a spectacle"
Much of this is a cycle of misfortune, with the pandemic causing teams to keep their rosters far longer than they normally would, waiting for LAN to reveal their 'true level'. By the time we had those LANs, the perception was that MSL had been out of work for too long; no matter how many demos he watches there will always be a belief among players that it is better to get in-game-leaders who have first-hand experience of the current meta.
But it must go deeper than that. MSL should have found a suitable team by now in spite of the pandemic. So why hasn't he?
Does MSL use too much structure?
MSL is a victim of another self-fulfilling prophecy. Because he has never been the in-game leader of the best team in his region (other than a short stint in 2016) or a star-studded international lineup, he does not have the experience managing the very best players in the world. It's like getting your first job after university; you don't have the experience that every employer requires and you have no feasible way to gain that experience.
Another drawback of spending most of your career around the bottom of the top ten is that your players are, generally, just less capable. To combat the mistakes inexperience brings, MSL did what many captains do: he increased the structure and frequently micromanaged. Take Aleksi " Aleksib " Virolainen as another example; he has been criticized for micro-managing too much in ENCE and OG but at G2, with superstars like Nikola "NiKo" Kovač, he has no need to micromanage anymore. He told HLTV that the "Kovač cousins don't need [micromanaging] at all" as "we know the kind of freedom to give to them because you need NiKo to be a superstar".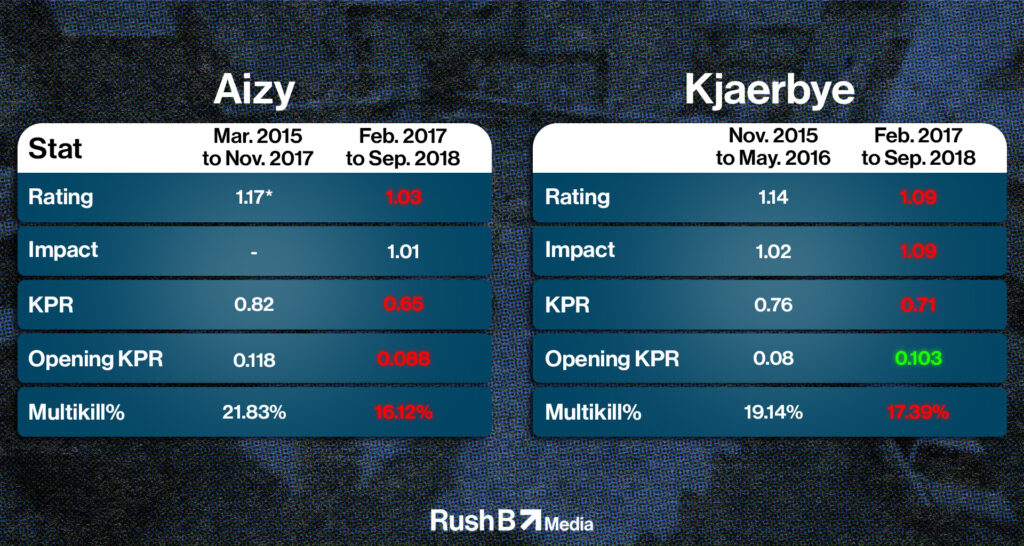 MSL has never had the chance to play with the NiKos of the world – his star players in the last few years have been a demotivated Kjaerbye and aizy at North. According to his recent Reflections interview with Thorin, MSL only agreed to join OpTic and to re-join North because of a promise of new signings. However, the COVID-19 pandemic left North without any budget at all just a few months after MSL returned to the organization. OpTic's acquisition by Immortals – who already had a CS team in MIBR – resulted in a similar fate. Their lineup was also frozen immediately after MSL had joined, infamously resulting in MSL and Marco "Snappi" Pfeiffer operating within the same side.
It is easy to see why adding more structure was a natural retreat for MSL; he simply could not trust his players to find openings in the same way the very top teams can. In the same interview, MSL told Thorin of how, in a squad with "decent" but not "very strong players", MSL felt they "could never win" once it was "four against five". MSL also bemoaned the "very poor multi-fragging stats" of his last few teams, another tell-tale sign of a lack of firepower. Structure is a natural fallback in this situation: you stay 5v5 for longer, and it is your system and tactics that generate advantages rather than individual skill.
The counter-argument: Dignitas 2016
When he had the players to justify it, MSL has shown the ability to lead looser systems. In the autumn of 2016, plenty of freedom was given to the star duo of k0nfig and Emil "Magisk" Reif. MSL's tactics were finally wedded with true firepower and Dignitas were victorious at EPICENTER Moscow 2016 – defeating a NaVi side fresh off their win at ESL One: New York and the number one team in the world in the final, Virtus Pro.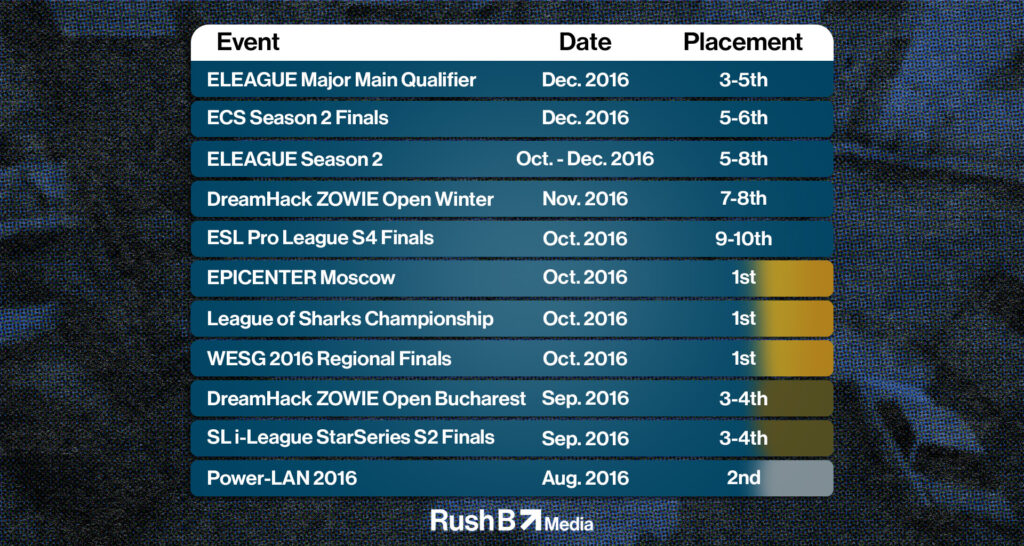 It was not a one-off performance either. MSL's squad were top four at the stacked StarSeries Season 2 and won WESG 2016 Europe & CIS finals (albeit with aizy standing in for Ruben "RUBINO" Villarroel). After their win at EPICENTER, they had strung together enough good results to be ranked second in the world. And this would not be possible without MSL allowing Magisk and k0nfig the freedom to make the plays they needed to.
When Rush B Media asked MSL how he got the best out of Magisk and k0nfig, as well as Kjaerbye and aizy in the past, he said "everyone understood and believed in" his structure, and it was one that "gave them confidence and trust". He also credited both the players themselves for "improving a lot" and the "tactics" that put them in "an advantage[ous] position a lot of times". The star duo was still raw at this time – Magisk's removal in summer 2017 did not have much to do with his performances in-game – but their fragging was a luxury MSL has rarely been able to draw from since.
"I just made them believe in themselves, giving them confidence and trust, together with me a lot of times going first and allowing especially k0nfig and aizy to trade and when you get maybe 1 easy kill per round, it's a lot easier to feel confident and get even more kills."
The most interesting part of his response, though, came later: "with me…going in first and allowing k0nfig to trade [he] got maybe one easy kill per round, making it a lot easier to feel confident and get even more kills". This is not a new concept; most eco-farming is done for rhythm as much as it is for stats. Yet it shows the thought process of MSL as a leader, with him devoting a lot of energy to making sure his stars are both comfortable and confident.
Part of that comfort includes letting his aggressive riflers off the leash: MSL told Thorin that "a player like k0nfig will make two very bad mistakes but he will also have rounds where he just goes crazy and wins the round [for us]". Micromanage a player like k0nfig too much and you restrict the unpredictability that teams with less firepower, like the later North projects, lack.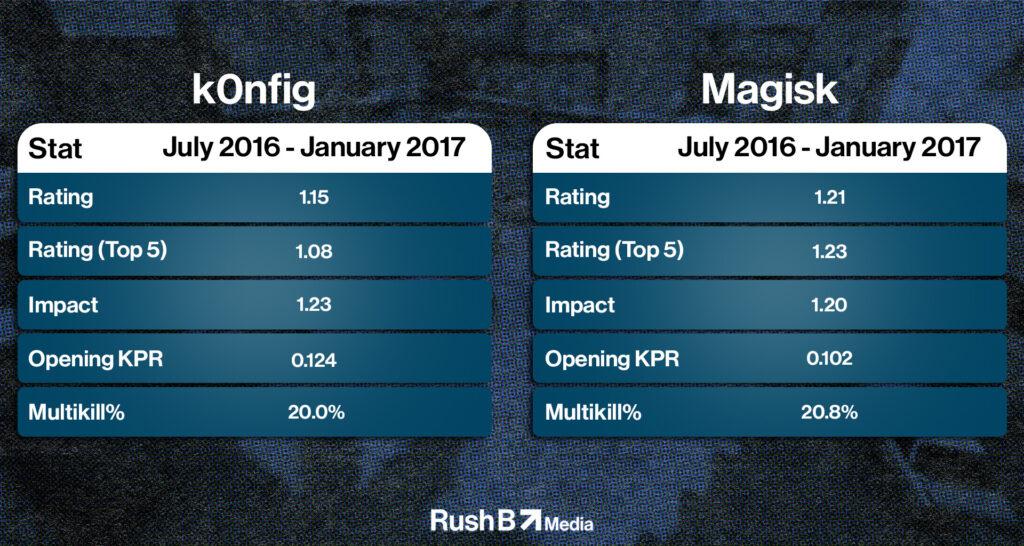 Dignitas' peak did come with the caveat of the scene being in flux: FNATIC had a stand-in, Astralis and EnVyUs were in freefall, and SK's internal issues had them reduced from clear #1 to a consistent top-four team. Once the scene had exited this turbulence, Dignitas' flaws were made clear. Firepower was a consistent problem even with the star duo, with MSL's close-to-zero emphasis on his own individual play becoming a glaring problem as Magisk's form tailed off from his superstar form of late 2016.
This is a flaw that might not necessarily be true now, however: MSL told us that he has "learnt a lot throughout the years" and believes his experience AWPing helped him "realize how to think on his own and play better individually". MSL does need to be a star player to be a good IGL, but an increased focus on his individual play is clearly a benefit.
"getting on the AWP, helped me realise how to think on my own and play better individually, while still having focus on the team… I have gotten a lot smarter and I'm sure I would be able to put up good numbers while still doing the best for the team sometimes. "
The AWP
His individual level, as well as failing to build a network within the scene in the way a more extroverted character like Finn "karrigan" Andersen may explain why MSL never got his chance in a top-five team but it does not answer why he is still a free agent. Many of the teams in the top twenty do not have an in-game leader with anywhere near as much pedigree as the Dane.
Despite all the valid excuses around the lack of investment into his rosters, there is no denying that MSL's reputation has taken a hit since his win in Stockholm. One point of attack many have picked up on is that he continued AWPing after his MVP despite diminishing returns, with Jacob "Pimp" Winneche summarising this school of thought: "You need a strong AWP presence on most modern teams. MSL is not bad, but he ain't a game changer".
Yet, MSL would not have AWPed for so long if there was not a scarcity of Danish snipers, with the ones that did become available often being impossible to get out of their contracts anyway.
"It's only a plus to have a star AWPer … I just have never had that luxury, so I tried to make it work as [well] as possible with a more supportive AWP'er in René "cajunb" Borg and later myself", MSL told us. "I think especially when I was the primary AWP, it made it possible to play a lot of maps with 5 AKs on the T side, which allows you to make a lot more fast plays and fast tactics; on maps like Overpass, Vertigo, or Inferno it can be beneficial to have 5 AKs. I do think it's much better, in general, to have a strong AWPer though".
"It's only a plus to have a star AWPer, I just have never had that luxury"
Another question we had for him was regarding what type of role, in an ideal world, he would take. Unsurprisingly, he did not mention the AWP:
"I would say my ideal way would be in the entry-pack but this time without just suiciding myself for the teammates. Obviously, you have to do it sometimes but I have gotten a lot smarter and I'm sure I would be able to put up good numbers while still doing the best for the team sometimes … I think being in the entry-pact obviously gives you the most information as an IGL and allows you to make better calls both in the beginning and in the middle of the round".
"I think being in the entry-pack gives you the most information as an IGL"
This is the type of IGLing that is 'trendy' in modern Counter-Strike – info gatherers like Lukas "gla1ve" Rossander, Vladislav "nafany" Gorshkov, and Hampus "hampus" Poser all reflect this need for captains to gather their own information. MSL, despite what some have said, is not stubborn. He is not set on AWPing; he is already better individually than he is given credit for – his KPR in 2019 was about the same as FalleN's in 2021. Poor fragging is a stick used to beat many an IGL but the value his calls provide – and the fact that many IGLs in the top 20 are just as lackluster individually – show that MSL does deserve another chance, which begs the question:
Where can MSL go?
MSL has experience with international teams with Rogue, and "honestly didn't have any problems with [calling in English]". He continued, "I stumbled sometimes explaining stuff, but then we would just laugh about it [and] people would still understand me. I think in the beginning it could be a bit hard in the matches but after a month or so it felt natural to me". With a dearth of organizations, MSL is more "open to a team with an organization". Building a team from scratch is likely to go the route of Gorillaz or his very own South – just look at how long it took a successful DBLPoney to find a home.
After wasting, through little fault of his own, the last three years of his career in doomed projects, one can forgive MSL for making sure his next move is the right one. Comfort (while he's out of a team, anyway) comes in the fact that when teams fail, IGLs are the ones that are usually sent to the chopping block first. With the player break over, MSL might have to wait a short while for this to happen – but there are plenty of teams teetering on the edge.
"As I had a pretty bad experience with South, I'm mostly open to a team with an organisation, as there are so many problems with creating your own team from scratch."
MOUZ would be an interesting project, with Christopher "dexter" Nong eleven months into an unremarkable stint leading the team. He has had the spectre of Robin "ropz" Kool's departure to worry about but in 2022 that excuse is gone. Nong deserves a chance to rebuild the team around Ádám "torzsi" Torzsás and David "frozen" Čerňanský but results need to improve, and quickly. If he fails, the prospect of MSL nurturing torzsi (and surely Dorian "xertioN" Berman soon) is a mouthwatering prospect
ENCE and APEKS are also options. It would be harsh on Snappi and Asger "AcilioN" Larsen but the fact of the matter is that MSL is an upgrade on either of them. This move might not happen tomorrow but, like with MOUZ, it would in an ideal world; It's only loyalty and contracts that prevent it. The same can be said of a team like Complexity, though Johnny "JT" Theodosiou has far more potential to grow than the known quantities of Snappi and AcilioN.
MSL believes in himself too much to turn to coaching just yet, and he is right to. He has not had a competitive, well-balanced, squad for years – even the one that miraculously won DH Stockholm punched far above its weight.
The last three years of MSL's career should be compared to karrigan's stint in EnVy. Did anyone really believe karrigan was suddenly a bad in-game leader because he didn't make a star player out of Noah " Nifty " Francis or Josh " jdm64 " Marzano. The difference is that karrigan was only in EnVy for a few months; MSL was stuck with a firepower deficit for years.
Part of that was his own fault – his faith in Kjaerbye and aizy, in hindsight, did not pay off – but a lot of it was out of his hands. Acts of god — like the pandemic and the Immortals acquisition — derailed exciting projects. Even outside of that, MSL was promised players that were not delivered. MSL will admit himself that he AWPed for too long, but the scarcity of Danish AWPers left him with little alternative.
If you listen to the players MSL has played with, you get a far more rounded picture of his leadership than the community impression; there is a level of respect there that is more than just PR. He has made mistakes along the way – all captains have – but MSL deserves a squad as well-rounded as 2016's Dignitas again. Good in-game leaders are too precious a resource to let a great one like MSL become a coach, let alone a streamer. MSL has more to give. We just need to let him.