Tier two is in a great place at the moment with fantastic players, well-run organizations, and consistent rosters from top to bottom. We've never had this many incredible tier two teams at one time, and we saw upset games all over 2021 that nobody expected. However, if you had watched enough tournaments over the year, then you might have been able to predict just how well some of these teams would play. The level of competition in tier two is at an all-time high.
Firstly, it's important to clarify what tier two is and where tier one begins. Tier two is a much bigger spectrum than in tier one. It's hard to define it in terms of HLTV rankings because it depends on form. A good measure of tier two is that you have big organizations that don't quite crack into the top tournaments consistently and then you have teams like Copenhagen Flames and Entropiq who have some upset wins, but aren't playing a level of consistency enough to be considered tier one.
On top of that, you then also have all of the teams in ESEA Premier, Pinnacle Series, Malta Vibes, Funspark ULTI, etc. For this discussion, we will be saying that you must be finishing high in tier one tournaments; by breaking into the round of 16 consistently, and occasionally going further to go elevate from tier two.
ROAD TO TIER ONE
The main thing that always holds tier two scenes back in esports is the lack of a path to the top. In League of Legends, for example — where spots in the main divisions are bought — it may seem hard to break through. With the Louvre Agreement and ESL's "partner teams", it seemed as if this might become the case with CS:GO too.
However, now more than ever the European tier two scene is showing a clear-cut way to make it to the top with examples to go along with it. The grind has been something that has always existed in CS:GO but it wasn't something that always paid off. If you look at the North American ESEA Advanced and Premier scene you can see that many aren't getting sustainable opportunities. Nevertheless, Gambit Youngsters proved that it would pay off through competing in multiple tournaments and carving their way through tier two.
Through hard work and sheer determination, Gambit have currently ranked as the second-best team in the world. At first, it seemed like a fluke — or, at least, it was just down to a well-run organization and an exceptional group of players — but when Endpoint had a good showing at ESL Pro League, or more recently when Entropiq and Copenhagen Flames had incredible runs at the Stockholm Major, it proved that competing in tier two and working your way through tournament after tournament could prepare you to compete in tier one. This is likely why we are seeing teams from other regions come to compete in the European tier two, as the level of skill is so high that they can improve whilst also fighting to make it to tier one.
It is not only teams that now have that road to tier one, but also players. Endpoint's players are a good example of this. In the last year, we saw Thomas, flameZ, and mezii all find their way onto tier one organizations trying to break into the top tournaments. We've seen multiple players break out in tier two this year, or even break out on academy teams and be signed to some of the most well-known organizations in the scene; m0NESY to G2, faveN to BIG, dev1ce to NIP, Jokes aside, it's been a historic few months, let alone year for the number of players competing on tier two rosters to then get signed by the top dogs. Just to support this claim even further, we are seeing top tier talent sign to tier two teams, like nawwk to Apeks, because they know if they can play well at a tier two level that their team either has a chance of breaking into tier one — or they could be signed by a tier one team again.
Tournaments
In the online era of 2021, we saw an influx of tournament organizers in tier two which brought about a higher frequency of tournaments but also much larger prize pools than ever before. Relog Media, the organizers behind Pinnacle Cup, the Home Sweet Home series, and many more being the perfect example. Across 2020, the average prize pool was $45,000 compared to the $75,000 of 2021. Compare this to their two tournaments with a combined prize pool of $13,286.50 and the fact that they have a LAN event with a $250,000 prize pool planned for 2022, and you can see the massive growth that tier two tournaments have had. With the increase of tournaments and cash cups happening, it is now viable for organizations to stay and compete without immediate hopes of major contention. They don't need to rely on the money of big-name sponsors or tier one tournaments to survive, instead, they can compete in tier two, further growing an ecosystem that has become self-sustainable.
The money through the sheer number of tournaments has had a ripple effect through CS:GO. On one side we have tier one organizations not pulling out if they aren't succeeding right away in tier one, because they know they can rebuild and still be financially stable, like Dignitas or MAD Lions. And on the other side, you have tier three teams in regions that have never been able to have more than one salaried team getting more and more opportunities to play CS:GO and get paid. Into The Breach is a great example; we can look at Dota 2 as a comparison, where there's no money in tier two and therefore it doesn't seem worthwhile to invest in it. All their money goes into their major tournament; whereas in European CS:GO there are plenty of opportunities to compete in tournaments and cash cups alike, making it worthwhile for orgs to invest.
The influx of tournament organizers into tier two means that teams can compete against each other in a competitive environment, hone their skills, play better as a team, and learn what it takes to win.
When asked whether we have ever seen a European tier two scene this strong, Max "MiGHTYMAX" Heath, the IGL of Endpoint said; "I think the Tier 2 landscape is in a very healthy place right now, there are lots of tournaments to participate in so teams are improving every month. If you look at the recent tournament placings there are some very good teams coming through. I think ever since more TOs came into the space to provide more tournaments; teams have been grinding everything they can. I always go back to the example of Gambit Youngsters last year who played through all of Tier 2 throughout the year and became one of the best teams in the world. I can't really recall the last time Tier 2 has been this competitive."
Academy Teams and the Rapid Increase of Talent
With the introduction of the WePlay Academy League, the place for academy teams seems set in CS:GO. They have been toyed around with for a while but with the introduction of a league specifically for them, we have already seen an increase of teams using them, even tier two organizations such as Eternal Fire. With the quality of the players in these academy teams increasing, it only improves the tiers as a whole. Especially with MOUZ NXT breaking into the top 30. It only increases the amount of talent as a whole in the entire scene, meaning that there is now too much tier one talent and it will leak into tier two, increasing the talent and competitiveness of tier two even further.
As time goes on and more players come through the academy teams, as well as naturally through the tiers, we will see more organizations come in, a higher level of play, and most likely an increase in the number of teams we will consider tier one. We can already see this happening with the signings of academy teams to tier one and the integration of academy teams into the main rosters, such as MOUZ currently and the Gambit Youngsters which we know today as just Gambit. In terms of the talent pool increasing, now is probably the best time for organizations to invest in the European tier two. We have teams without organizations that have proven they can compete with the best that tier two has to offer like DBL Poney but also teams and players further down the food chain, in tier three, that with the right investment could make monumental leaps forward. A couple of examples that come to mind are the ex-Aura Esports players and the recently ex-Coalesce roster.
When it comes to the state of tier two, former MOUZ analyst and assistant coach Colin "koi" Thor had this to say; "Tier 2 is in a really interesting state. During the online era, it felt like T2 and T1 were very separate, but now with more academy programs popping up and solid T2 teams breaking into qualifiers (and putting up great results), T2 feels like it's back and ready to challenge some of the established T1 brands for their spot at the table." koi has since been appointed as head coach of Team Finest — an international European team competing in many tier two tournaments.
Players on the Rise
With the talent pool forever increasing, there will always be tier two stars that are ready for a tier one opportunity, there are so many names that fit into this category. However, as we are in the middle of the off-season, it's good to look at current free agents that still have a lot to offer in tier two. We've seen recently in the case of nawwk that tier one players will go to tier two. So, here's a list of free agents that would dominate in T2 either through fire-power, experience, or raw untapped potential:
The Case for Jackinho: The Unpolished Gem

The Case for Golden: How Brains Can Best Brawn

The Case for mir: The Best Player on the Bench
Regions to Watch Out For
We are seeing regions that have never been considered one of the major CS:GO areas, have more and more rosters getting paid and competing at a high tier three or tier two level. This only bolsters the amount of talent and organizations that make it into tier one and it grows the entire CS:GO ecosystem. Here are some of the regions that are on the rise: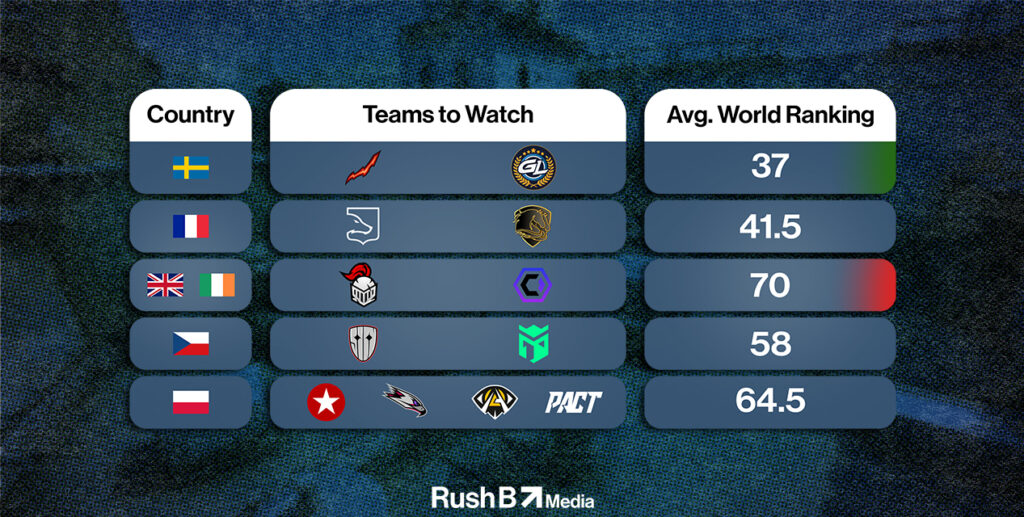 Conclusion
European tier two is clearly in a good place. However it's important to know one final fact; this is only one chapter in a long history of CS:GO. The increase in quality of CS overall will only continue as the meta changes; popularity increases and more organizations take risks on lower-ranked teams. In a year or so, this article might sound utterly ridiculous as the quality of the tiers will have been upped again. With more tournament organizers and more prize money, the overall ecosystem of CS:GO esports will grow in depth. Who knows how many teams will be getting paid to compete in a few years from regions all over the world? The overall point of this article is to highlight the underdogs — the players who won't make the top 20 this year but are set to dominate tier two in 2022 but also to say that this level isn't the end, only the beginning.