The Rush B Media awards are awards chosen by our staff members to be given to players in a number of categories, and next up is 'Golden Gun' – our rifler of the year, Nikola "NiKo" Kovač
2021 started like any normal year for "NiKo" – with ridiculously high ratings. There were a few blips early in the year, with 1.05 and 1.08 HLTV event ratings amid roster uncertainty and a brief stint as G2's primary AWPer at ESL Pro League Season 13. But after the summer, with NiKo back in his rifling role, it was back to normal service for the Bosnian: being the best rifler in Counter-Strike.
His ceiling of 1.48 at BLAST was as high as his best years in 2016 and 2017, cementing his place as one of the best players, let alone riflers, of all time. His main competition for this Golden Gun (the best rifler of the year) award came from Denis "electroNic" Sharipov and Valerii "b1t" Vakhovskyi but not only did NiKo achieve a higher rating throughout the year, he did so in a team that won far fewer matches. electroNic and b1t are, of course, key reasons NaVi could win so many matches, but in a team as dominant as NaVi numbers are always going to be inflated slightly. For NiKo, there was no such luxury.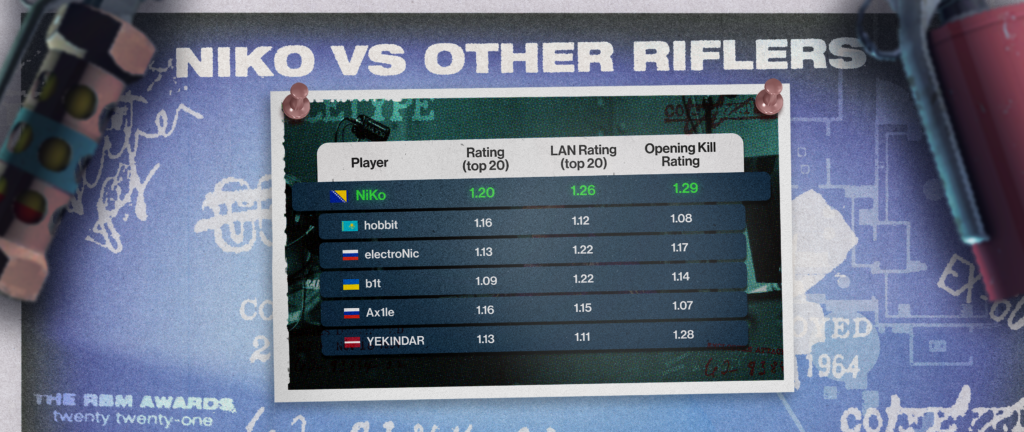 NiKo's performance in the last few months of 2021 was on the level of his own 2016, or Oleksandr "s1mple" Kostyliev's 2018; if G2 were to succeed, NiKo had to over-perform to an extraordinary level. And he did, going above even his sky-high standards. In a run of seven events at the end of 2021, NiKo did not drop below a 1.26 rating. 6 events were above 1.3; 2 above 1.4. These are superstar numbers on the level of s1mple or Mathieu "ZywOo" Herbaut, but without the AWP.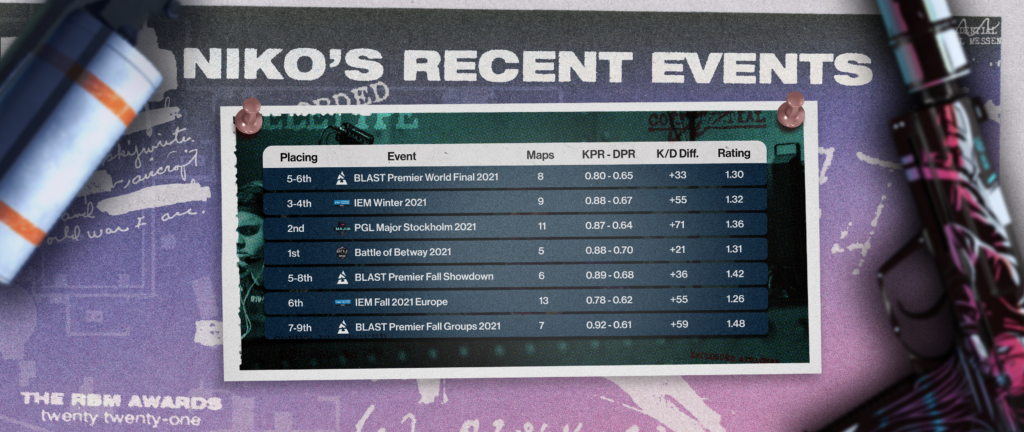 Nowhere was NiKo's extra-terrestrial run of form more clear than at the PGL Major Stockholm 2021. A 1.36 rating is ridiculous anyway, but it needs to be emphasized just how remarkable back-to-back 1.44 and 1.48 ratings, in close series against #2 NIP and #5 Heroic, are. There was no confidence-boosting 16-7 stomps or time to eco-farm. And these are all high impact kills, too: a 1.42 opening kill ratio and 1.58 impact rating are two stats that prove as much. So does the fact he attempted 33.1% of G2's opening kills at the Major.
We could gush about his numbers all day, but NiKo passed the eye test too. How often would he pop up with an entry on a default, a multi-kill on CT side, or key trade frags? And how good did he look doing it? There is simply nobody with better crosshair placement and mechanics than NiKo. He might not have the flicky aim of s1mple but that's because he doesn't need to – his crosshair is already in the right place. 
NiKo has as good a first bullet as anyone in Counter-Strike. And he's had as good a year on LAN as anyone – even s1mple – in 2021. The undoubted best rifler in the world wins Rush B Media's first-ever Golden Gun, and we doubt it will be his last.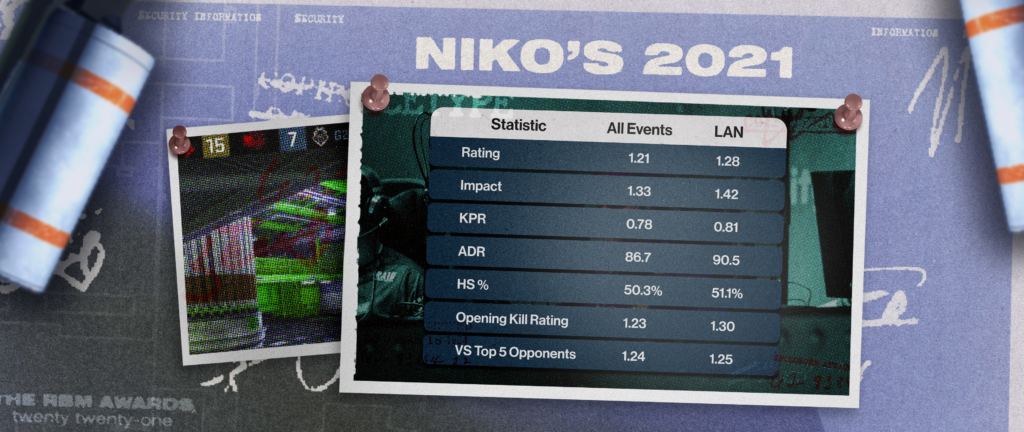 2021 RBM Awards:
Golden Gun: NiKo
Silver Scope: Coming soon
Sasha Award: Coming soon