2021 was a great year for Counter-Strike. Not only did we see the return of regular LAN tournaments, but we saw a number of new players take the spotlight and demonstrate their talent. The Rush B Media awards are awards chosen by our staff members to be given to players in a number of categories, and the best way to start off the year is to crown both our offensive and defensive players of the year. Slight problem with that though; s1mple won both.
For context, NaVi has maintained a dominant reign atop global Counter-Strike – a reign that resulted in seven event victories and a victory at the PGL Major in Stockholm. S1mple's talent stood head and shoulders above everyone else. It wasn't even close on either side of the game.
s1mple's efficiency on the T-side has been unmatched by even the greatest individuals in the game. Being consistently positive on the offensive end of the game is already rare in pro-CS, but his offensive output was unlike anyone else across the upper echelons of the game. He amassed a +485 kill-death difference across 198 maps over 2021, which comes out to +2.4 on every map. This output is untouched by even the second most efficient offensive player, Gambit AWPer Dmitry "sh1ro" Sokolov. sh1ro's impressive +431 kill-death difference comes over the span of 245 maps, which comes out to +1.75 per map. Although impressive, it pales in comparison to s1mple, and he has a further lead from the rest of the competition.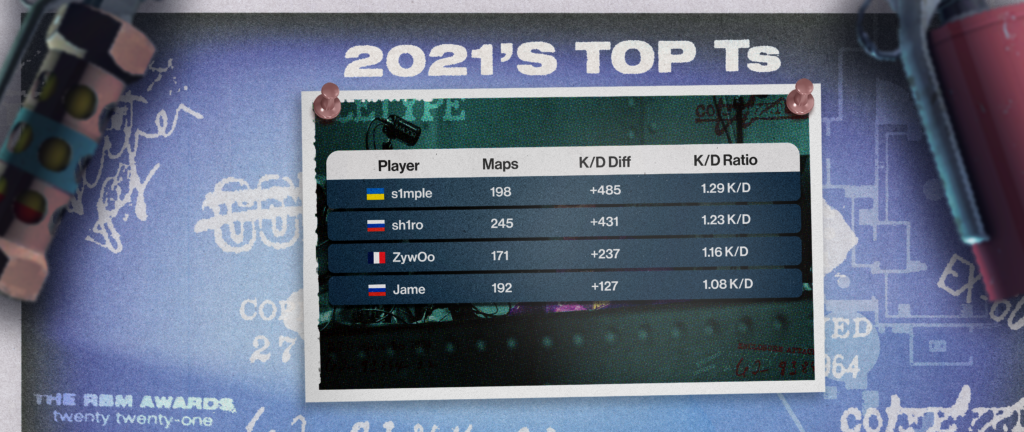 While it's true that other players saw a massive jump in their efficiency on the defensive side, s1mple maintained the world-best form on the CT side that mimicked his T side output, and in some, surpassed it. Many heavy hitters in top CS have eye-popping statistics on this end of the game when compared to the T side, but s1mple dominated in ways no other player can emulate on the CT side last year. His kill-death difference doubled to +1,002 on defense, as did his kill-death per map up to +5.1. No matter what side of the game he was on, there was truly no way to avoid the presence of s1mple in 2021.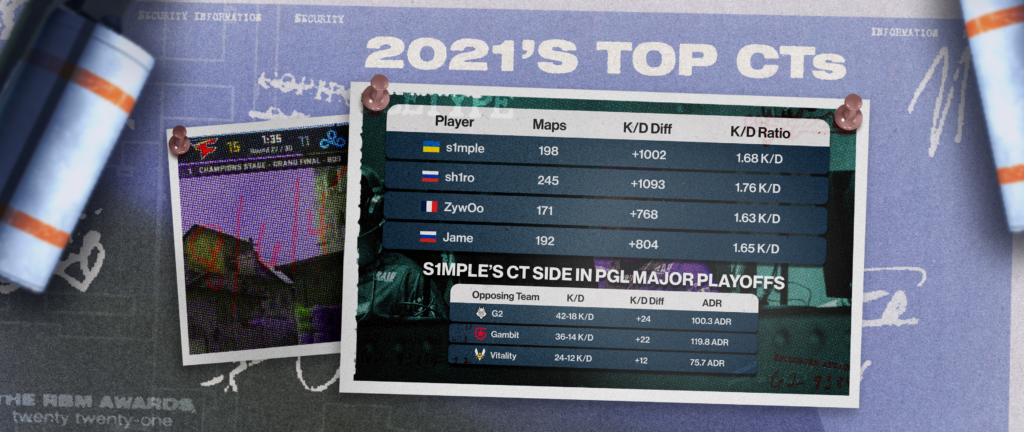 These performances scaled across the best teams in the biggest competitions. He was a force against the top teams at the PGL Major Stockholms playoffs on the CT side, trouncing his opponents on defense in three playoff 2-0s to win the Major championship. Against the best talent the game has to offer, he was unphased by their offensive attempts, again reminding everyone why nobody could touch s1mple last year.