Nicholas "nitr0" Cannella is back. The narrative is an easy one to write: Captain America has returned from Valorant to save an ailing Team Liquid. But this article will not focus on that storyline. Instead, I'll focus on a facet of his return there has not been discussed much as of yet – that nitr0 will no longer be AWPing.
The addition of Joshua "oSee" Ohm as primary AWPer means that Team Liquid are returning to a more traditional structure and role balance: a star lurker in Keith " NAF " Markovic, an entry duo of nitr0 and Jonathan "EliGE" Jablonowski, with Richard "shox" Papillon somewhere in the middle, probably lurking on some defaults but in the pack for others, akin to the role of an Emil "Magisk" Reif or Denis "electronic" Sharipov.
On CT-side, shox is unlikely to get the space of either of those two given that NAF is more of a Marcelo "coldzera" David than an Andreas " Xyp9x " Højsleth, but you catch my drift: on T-side, he will be the link between the entry pack and NAF's more conservative, solo, work.
But it is the role of the IGL that is most interesting. In CS:GO history, team captains have placed themselves in various spots on T-side. Traditionally, the IGL was one of the team's weaker players – think Mathias "MSL" Lauridsen or Markus "pronax" Wallsten – but two major winning sides showed this did not need to be the case.
First was Vincent "Happy" Cervoni Schopenhauer, whose 4-1 'deathball' fired LDLC (in dubious boost-gate circumstances) and then EnVyUs to major victories in 2014 and 2015. Happy, of course, was always the 1 in that system – a passive lurker who everybody knew was coming, but was still very hard to stop. This style, though, always seemed to rely on the success of the entry pack more than Happy.
Happy would get his numbers win or lose, but the impact was harder to find – there's a reason so few teams operate with such a style today. The closest might have been Benjamin "blameF" Bremer at Complexity, but even he has now departed for Astralis, with IGL gla1ve in the entry pack.
A more relevant innovation was that of Gabriel "FalleN" Toledo, who won back-to-back majors in 2016 while having a concrete claim to being both the best AWPer and the best IGL in the world, at the same time. The model of Luminosity/SK is another popular one, with Casper "cadiaN" Møller and Dzhami "Jame" Ali leading and AWPing for teams in the top tier of Counter-Strike. Essentially, having the IGL, traditionally one of the teams' weakest fraggers, AWPing you can build teams with far more overall firepower.
"If one can put the AWP on the IGL, that allows for more maneuverability with the other four players … it means on the CT side, a team can have four or five good fraggers"

Elliott "Aizyesque" Griffiths for Rush B in January 2019
But, compared to even a few years ago, far fewer IGLs are wielding the big green. After the watershed moment of MSL's MVP at DreamHack Stockholm, more and more IGLs realized that the AWP is just easier to frag with than a rifle, taking even the worst fraggers from 10 kills to 15 kills on a map.
The team that nailed this formula was Team Liquid. Replacing Epitácio " TACO " de Melo with Jake "Stewie2k" Yip gave them firepower that few could match – nitr0 was their weakest fragger, but might have been another team's star. With nitr0 on the AWP, and carried by the impeccable rifling of the four others Liquid won an Intel grand slam in just 63 days.
Yet, they never quite, truly, proved that this was the way forward. They only beat Astralis once in this period, at ESL Pro League Season 9, and proved to be a false dawn. At the Starladder Major, Liquid's old nemesis Astralis swept them 2-0 in the quarter-finals. Much has been made of how Liquid's status as perennial bridesmaids, with many attributing it to a mental block. This, of course, definitely played its part.
But there is a more simple explanation, as I defer once more to Aizyesque: "Ever wonder why Astralis always beat Liquid? Device vs nitr0 is the only real mismatch in terms of skill but it's enough to dominate and make the game easier."
The stats bear this out: nitr0's 0.91 rating in 2019 against Astralis was his lowest of any opponent. Why nitr0 could put up a 1.09 and 1.08 rating against NaVi's s1mple and Vitality's Zywoo but fail so consistently against Astralis in the same year is a question for another day – and probably to do with your stats being inflated by your team winning the vast majority of rounds – but 2019 made clear the drawbacks to the 'role compression' of Team Liquid.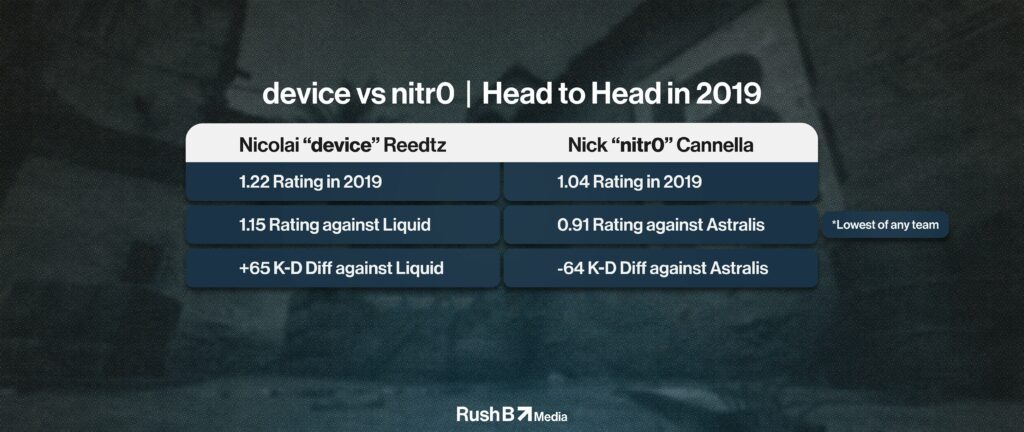 In July of 2020, nitr0 stepped down from Team Liquid. The NA superteam had gone further than any before it, but they remained in Astralis' shadow. Now, in 2022, nitr0 is back. But, what was made clear by device's dominance against Liquid has only become more of a feature.
As s1mple's dominance continues, top teams are scrambling for superstar AWPers. NIP signed device for $1,000,000; G2 m0NESY for $600,000. It is no longer enough to have a 'good' AWPer. Astralis may have gla1ve AWPing for now, but that does not seem like a long-term solution. In July 2021, the same man said that "since we don't have [a consistent AWP player] I don't see us taking the No.1 spot for quite some time," and despite his actions since then it's clear he is right.
Whether oSee will be that AWPer to take Liquid back to the heights of 2019 remains to be seen – and has been covered by Tommy "vizion" Ly – but nitr0 (and FalleN) certainly couldn't, and Liquid showing faith in a talent (real faith, not like signing Michael "Grim" Wince, immediately giving him terrible roles, and then being surprised he underperformed) is a positive step.
It also releases nitr0 to return to his original entry-fragging role from which, in 2015, he emerged as one of North America's best players. Even while the primary AWPer, Liquid ran with five rifles a fair amount – 39.4% of device's kills in 2019 were with the AWP, but nitr0 had just 19.7%. Part of this is device's status as a superstar; Astralis needed to save money for that AWP, but Liquid's true firepower lay in its riflers, giving the North Americans terrifying force buy potential.
However, nitr0's role in the new Liquid is still a complete change from the last time he played professional Counter-Strike. He did rifle a lot, but in 2022 he will be tasked with what has become the norm for top IGLs: information-gathering. In 2019, nitr0 got just 12.5% of Liquid's entry kills in won rounds, and a relatively low 0.62 DPR (deaths per round).
Now, as a rifling IGL, that will have to change. It is still unclear how much of nitr0's skill remains, given he was hardly a star player in Valorant as of late. But, at the very least, he will be an intelligent player familiar with entry pathing from his past as a star entry and be willing to sacrifice himself for EliGE.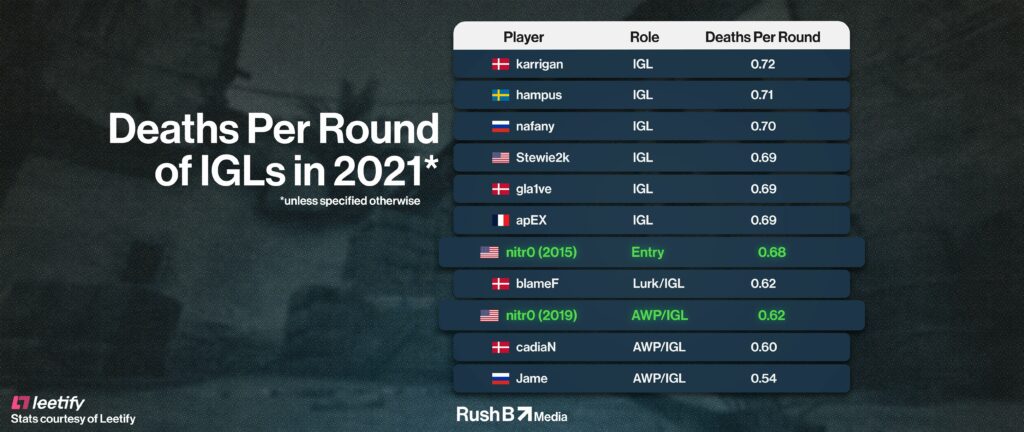 The benefits of the IGL being the one to gather information is obvious; they can make reads based on what they see with their own eyes, and if they die early in the round they can take a macro view of the map and not worry about their crosshair. This helps explain why so many of the players with a high DPR are IGLs. gla1ve is a great example, with Andrei "arT" Piovezan taking this principle to an extreme in FURIA's peak.
If anything, nitr0's passive AWPing was a distortion of FalleN's model, alike Inter Milan's free-scoring catenaccio of the 1950s becoming synonymous with boring and defensive systems (you'll have to forgive me for that analogy). FalleN's DPR in 2016 and 2017 hovered around 0.6, similar to nitr0, but FalleN was one of SK's key playmakers. This is not a criticism of nitr0 – god knows Liquid had enough playmakers. It is more to say that nitr0 will now have access to plays and information he never used to.
Naturally, there are many question marks around nitr0. He is an IGL that has only had a month or so to catch up to the meta. But, leadership is more than the tactical side of the game. It will be a visible change in approach from Stewie2K's more combative leadership style, and one more likely to suit EliGE and the inexperienced (for tier 1) oSee.
But, despite it being billed as the 'return of nitr0', this will have to be a very different nitr0 to the 2019 version. Liquid have finally returned to the traditional role structure of CS:GO. The squad is a little reliant on oSee coming good and shox rolling back the years, but with an entry duo of nitr0 and EliGE and the stable consistency of NAF, we should be careful to count out Liquid too early.
Defining "success" for Liquid in 2022 is difficult: they are NA's premier team, which might imply they need to aim for the number one spot but they quite simply do not seem to have the firepower on paper to match the Vitalitys and G2s of the world, let alone NaVi.
A more realistic goal is to win the odd tournament, break into the top 5 but most of all, restore some pride to North America after an online era in which the grassroots scene was decimated and Liquid, the shining beacon, crumbled.
It is no easy task for nitr0, especially considering his new role. But do not underestimate the captain that brought NA its greatest ever team – you only need to look at how quickly internal conflict infected the team after his departure to see his impact.
He is more than just EliGE's mate. He is Captain America, returned. What's wrong with a little bit of myth?