Amidst glowing results, with or without a stand-in, speculations and trade rumors, and an upsetting Major Finals defeat, G2 faces a much larger dilemma than anyone else in the CS:GO scene.
The Dilemma
How can G2 compete with a NAVI roster with the likes of the (inarguable) GOAT of Counter-Strike, Oleksandr "s1mple" Kostyliev, the reigning PC Rookie of the Year, Valerii "b1t" Vakhovskyi, their long-lasting star second man, Denis "electronic" Sharipov, and two of the best supporting players in the game in Ilya "Perfecto" Zalutskiy and Kirill "Boombl4" Mikhailov?
Tournament Droughts Remain
G2 have the longest drought of Tier 1 Tournament Wins out of any organization to remain in the HLTV top 15 teams for the entirety of 2021 (NAVI, Vitality, Gambit, Heroic, Virtus.Pro, and G2), lasting 4 years and 3 months since September of 2017.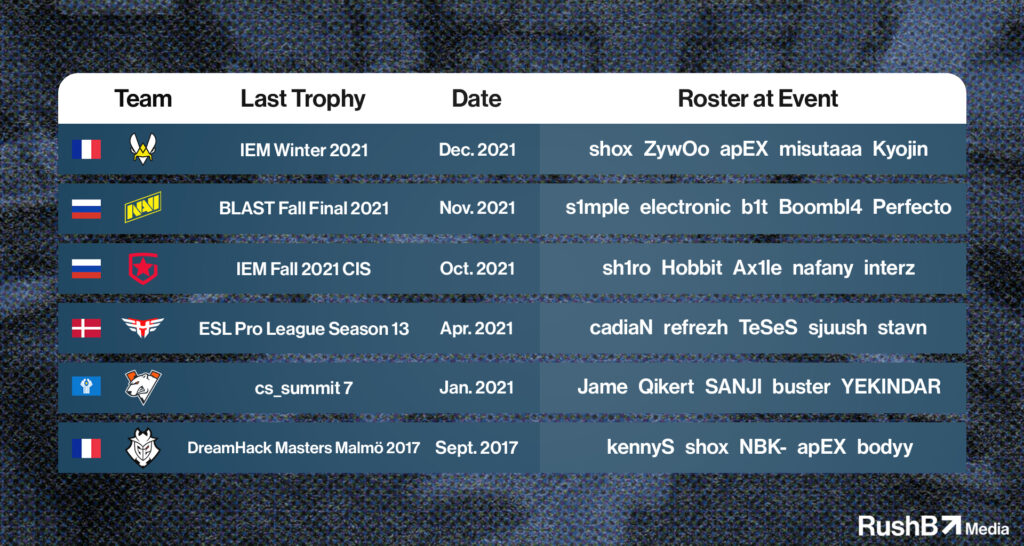 Spending Money, Failing to Yield Results
In each year since the organization's entrance to CSGO, G2 has spent large amounts of money on attempting to obtain the "missing piece" each year. Yet, trophies have failed to fall to them despite a 7-month stint where the team reached 7 top 3 finishes or a more recent 4 month period with 7 more top 3 finishes.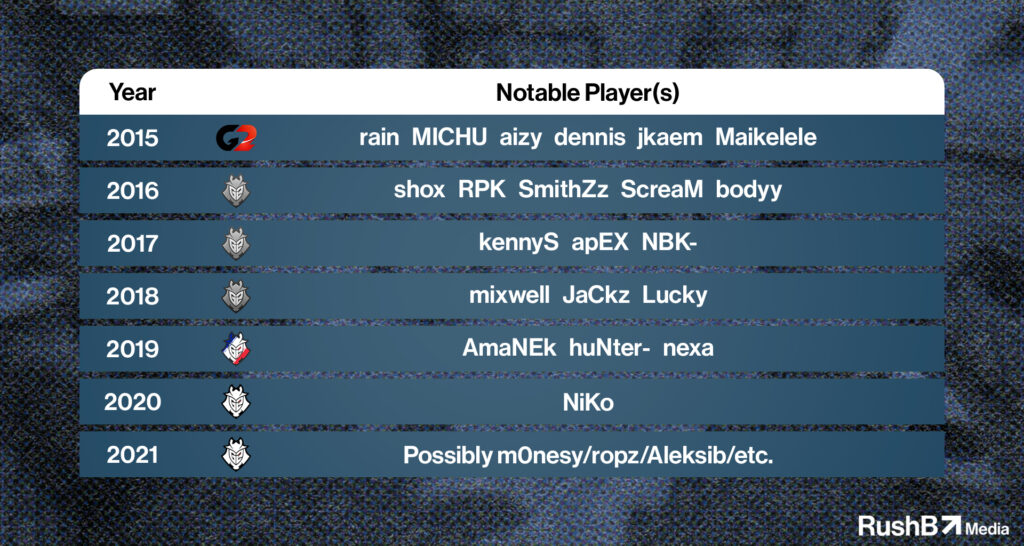 So in this article I will ask, and attempt to answer, how could G2 possibly compete with NAVI?
Before I go into roster moves and possible role changes, I want to take a deeper look into the players that are currently on G2's active roster (and unfortunately, kennyS will not be an option). As it stands, the G2 roster is a mixture of stars who are capable of single-handedly winning a series and players who have not played at their own standards for a while.
The Safe Haven
Nikola "NiKo" Kovač has always and for the foreseeable future, will always play at the level you expect from him, and without a doubt, he is a player G2 would bend over backward to keep on their team, especially when he's putting up numbers good for the 3rd best player of 2021 in big events, just 0.01 HLTV Rating points behind Mathieu "ZywOo" Herbaut (and a whopping 0.19 behind expected #1, s1mple).
The second safe player on the current team, and likely the safest player on the team, is Nemanja "huNter-" Kovač. Even with his role getting crowded when the team originally added NiKo, huNter- has continued to perform at a consistent, and high level that most teams would aspire for their second-best player to have, especially with the 7th best HLTV Rating of 2021 in Big Events, and with the same criteria, the 6th best T Side performance.
More Than Likely to Stay
Onto the only player who isn't safe, yet at the same time isn't on the immediate hot seat, esteemed fragging IGL, Nemanja "nexa" Isaković. Throughout 2021, nexa has averaged an exact 1.0 HLTV Rating, however, he has recently bolstered his resume with a 1.06 Rating over the last 3 months. While the calling of the leader has been called into question by some, it isn't a question that nexa directly impacts the team positively, both from a firepower and mentality perspective, meaning that losing nexa has interesting potential results but would most likely mean the team loses a vital component of the machine.
The Hot Seat
Both Headshot Machine Audric "JaCkz" Jug and Mac-10 Masterclass François "AmaNEk" Delaunay have received their fair share of criticism and praise for the recent G2 results. While statistically having a seemingly poor form and negative influence on the team, they also have been touted as two underrated players who keep the gears turning behind the scenes.
Before the addition of NiKo, JaCkz held a staggering amount of impact based on statistics, holding an opening kill rating of 1.02, an opening K/D of 0.89, and a total of 32 rounds where he gained 4+ kills, all throughout 202 maps in 2019/20. Since the team added NiKo however, the Frenchman has had a 0.97 opening kill rating, 0.8 Opening K/D, and 21 4+ kill rounds over 172 maps.
AmaNEk has gotten praise from some of the biggest analysts currently serving as event talents, especially from people like SPUNJ, Maniac, and Pimp, who have said that without stats, he is likely the best player on G2. A recent upturn in form (going on the same increase as nexa did, from 1.0 in 2021 to 1.06 in the past 3 months), along with the versatility in being able to play as an entry fragger, support player, AWPer, and even being capable of IGLing, means AmaNEk has a lot of contribution to the team that isn't seen at first glance.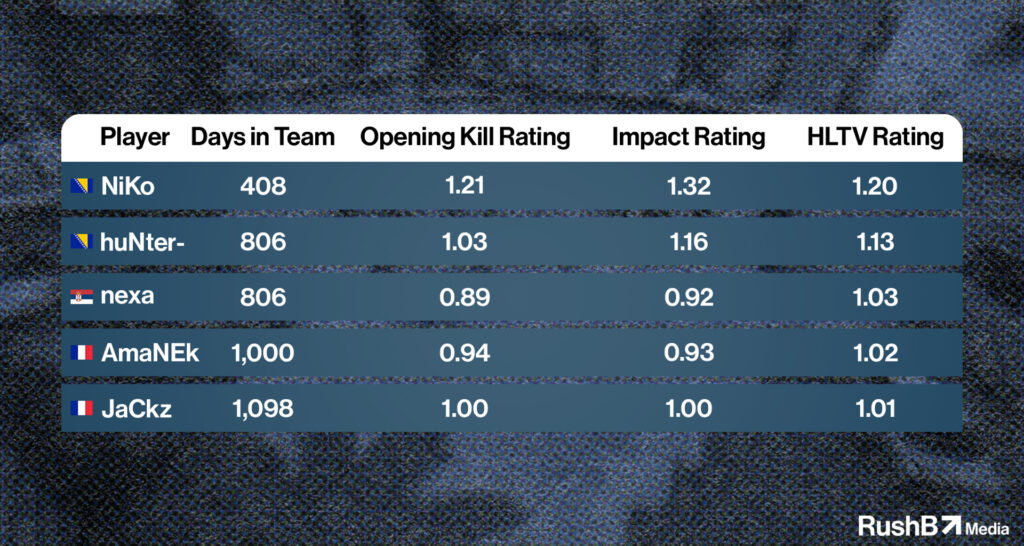 Finally, it's time to look over what notable, reasonable, and popular speculations could affect G2 and their title race.
The Prodigy AWPer
Contradicting most people's opinion, the 16-year-old AWPer,Ilya "m0NESY" Osipov, holds an outstanding LAN rating in his career (1.23), and only 6/20 maps played with an HLTV rating of 1.14 or lower. For any naysayers who think this was only against tier 2 academy teams, might I direct you to a stellar 1.32 rated performance against established Abdulkhalik "degster" Gasanov (currently on Team Spirit) and his Espada roster which would then go on to gain a major spot with 2 of the 5 players at Rio 2020 before the major's cancellation. If that isn't enough, m0nesy's first-ever LAN start on HLTV was against pro100 with a player recognizable by most, Mareks "YEKINDAR" Gaļinskis, where m0nesy recorded a 1.17 Rating. Oh, and this was when he was still 14 years old.
Of course, m0nesy would come with a high price tag for a 16-year-old, speculated to be around the price of $600,000 by reputable journalist neLendirekt and CIS scene reporter OverDrive, and his experience is more than lacking in comparison to every other reasonable addition to G2.
These are more than fair points, but fortunately for G2 and the young Ukrainian, neither of these would be a worry for the organization as G2 have been big spenders for the entirety of their span in esports, and not many established players looking to join a team on the edge of a major would be as cheap as 6 figures. On top of this, the team does not need experience, especially considering the roster was the oldest at the PGL Major. He would not need to come in and light the server on fire, all G2 needs is for him to consistently play okay at worst, learn over time, and not be a detriment to the roster.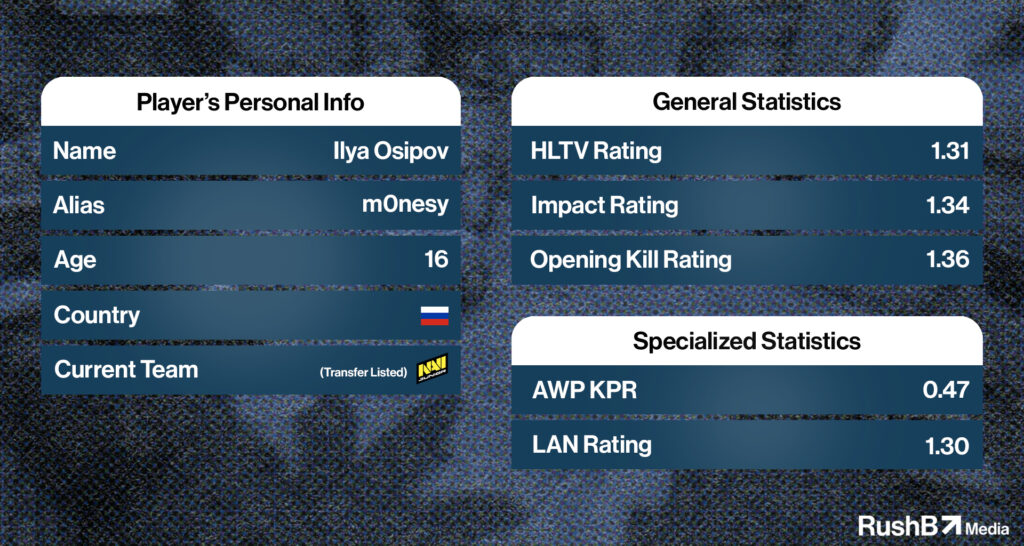 Crossing the "Finnish" Line
A change that the organization was rumored to be looking into is bringing in current OG Esports IGL, Aleksi "Aleksib" Virolainen. According to a 1pv.fr report earlier this month, G2 is looking into the IGL position for possible players, implying that either nexa could be gone, or the more likely answer that he may simply not wish to IGL in the next rendition of the roster. 
Aleksib in 2020 and 2021 had an average HLTV Rating at 1.01 each year, signaling that G2 wouldn't be picking up quite the same firepower nexa would offer while leading the squad. However, the hope would be that he can give the Serbian enough space to elevate his game and provide much more firepower than he already does. There's also the potential for Aleksib to return to his form in ENCE, where he posted an HLTV Rating of 1.05 at LAN, making him an even better addition to the team.
Atop of the statistical information, one of the most revealing reasons why G2 may be interested in the IGL would be NiKo's previous and possible current interest in playing under the Finn. According to an interview with HLTV, when FaZe picked up Helvijs "broky" Saukants they were also poking around into how Aleksib could fit into the team, and while he revealed that it wouldn't have been a match at that time, it very well could be that he believes his current team would be a better fit.
Even with the lack of issue money is for the notable org, we have seen G2 be turned off from signings due to buyout prices (seen with the breaking of discussions between FunPlus Phoenix for coach Luka "emi" Vuković), and the estimated price tag the European team has placed on Aleksib is likely too high for G2 to continue pursuing the IGL.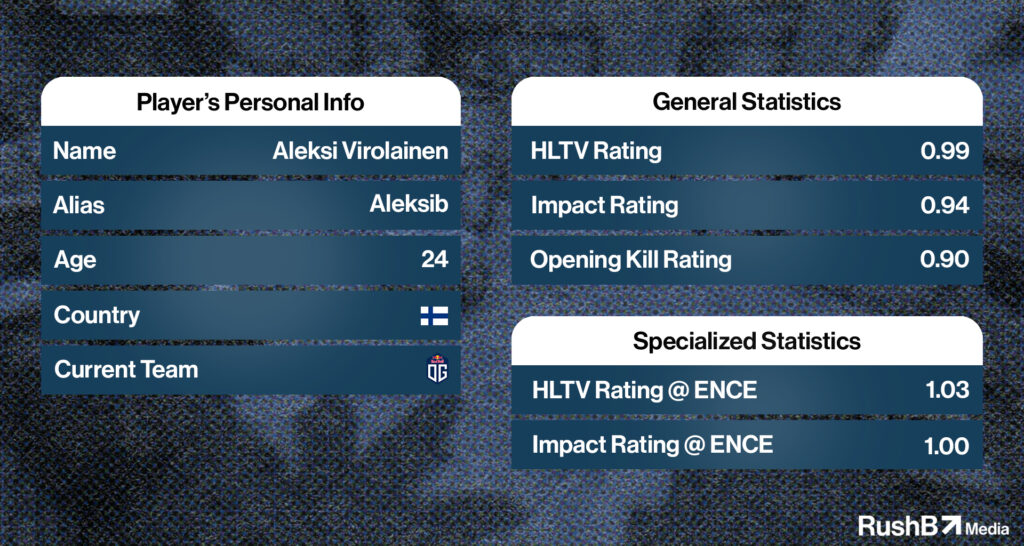 EU Mix Leftovers
With frustrating results over the past year, the departure of star rifler Robin "ropz" Kool from MOUZ in recent reports led to speculation of G2's interest. The 7th best player of 2020, according to HLTV, achieved mind-blowing statistics throughout 2021, reaching his career-high 1.16 rating (tied with 2019), and just 9 BO3s with a negative K/D ratio (for reference, that's 15.5% of his total BO3s this year, playing 58 in total).
Since the Estonian's contract is expected to come to an end near the beginning of 2022, ropz is easily the cheapest of the 3 options mentioned. Atop of the price, for a team who has many players available and ready to run into the action, a more passive player like ropz who has also averaged a clutch won in 27.7% of maps played in the year could be extremely impactful.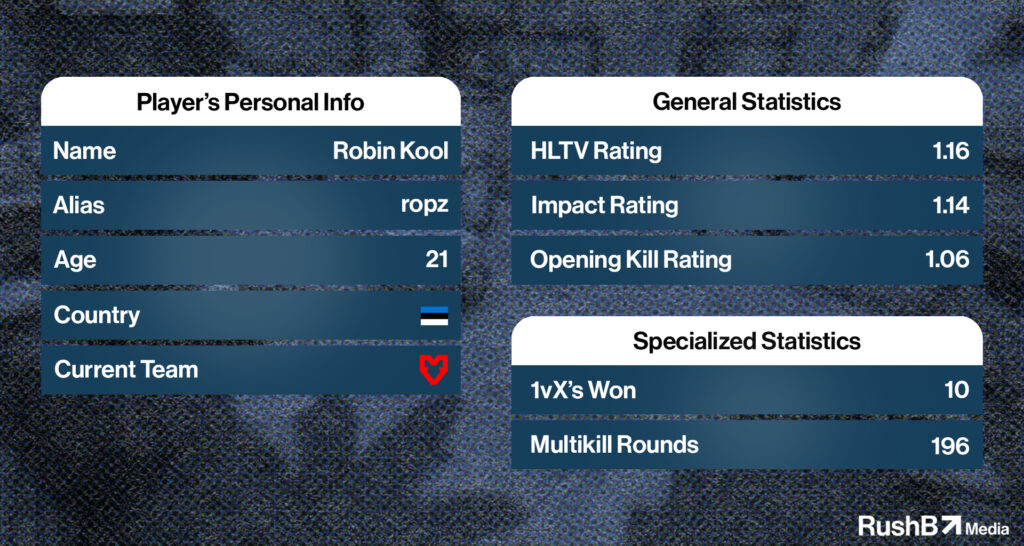 Organically Grown Talent
The best place G2 can look for talent at the moment might be France, as there's a specific player who plays for an unsigned team and just qualified for ESL Challenger Anaheim 2022 with DBL Poney, and would carry more experience in higher tiers than m0nesy.
The player in question would be 22-year old Aurélien "afro" Drapier, the French squad's main source of firepower, leading the team with a 1.11 HLTV Rating across 316 maps in 2021. If an AWPer is what G2 is looking for, why not bring in someone who's already gotten the chance to learn from former G2 up-and-comers Alexandre "bodyy" Pianaro and Lucas "Lucky" Chastang.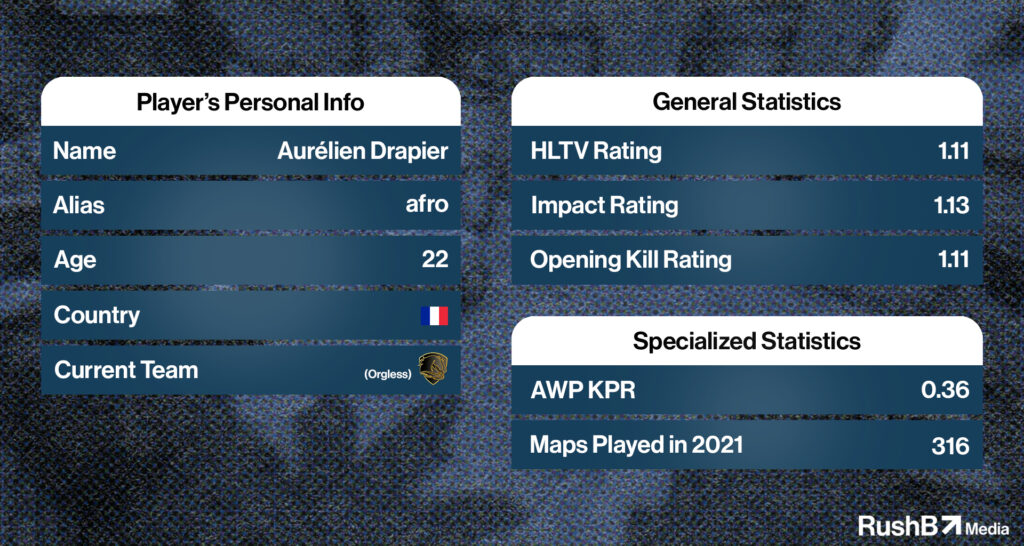 And while they're at it, why not sponsor the orgless roster or give them a great player in return 😉
Simply AmaNEk
The most boring but normal response I have for G2's potential changes is just relying on AmaNEk's progression as an AWPer, as his current issue seen by the numbers is consistency. He constantly has hit within the range of 1.25 HLTV Ratings just to drop back down under 1.0 from map to map, and if he can keep his form under control, G2 could very well bring a shock to NAVI.
Along with this, he is technically the cheapest option since he's already on the team, and his ability to co-call with the team and translate from coach to players while coaches can't speak to the team is unmatched by almost any player in the scene. Simply put, AmaNEk could very well be the best option for G2 to get better.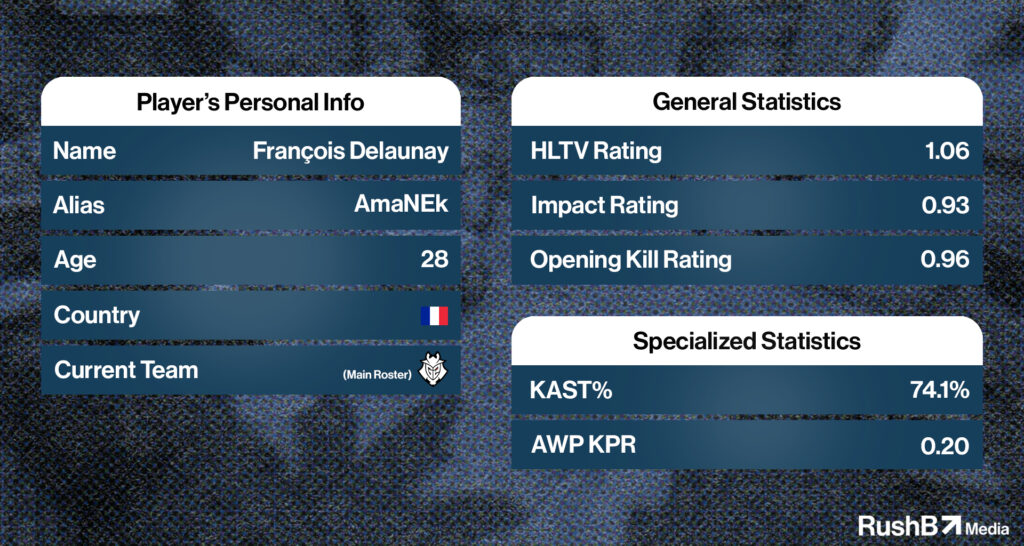 Who really knows?
Realistically no one can tell just how any of these players would do in G2. Either it's a young player who has a lot of potential and a great opportunity for input to the team, yet aren't exactly guaranteed to make it in the Tier 1 scene, or it's a question of whether the veteran's scheme or role would match in G2's dynamic systems and playstyles. Players would have to keep up with the speed of NiKo and huNter-, which is a tough task for almost anyone to handle.